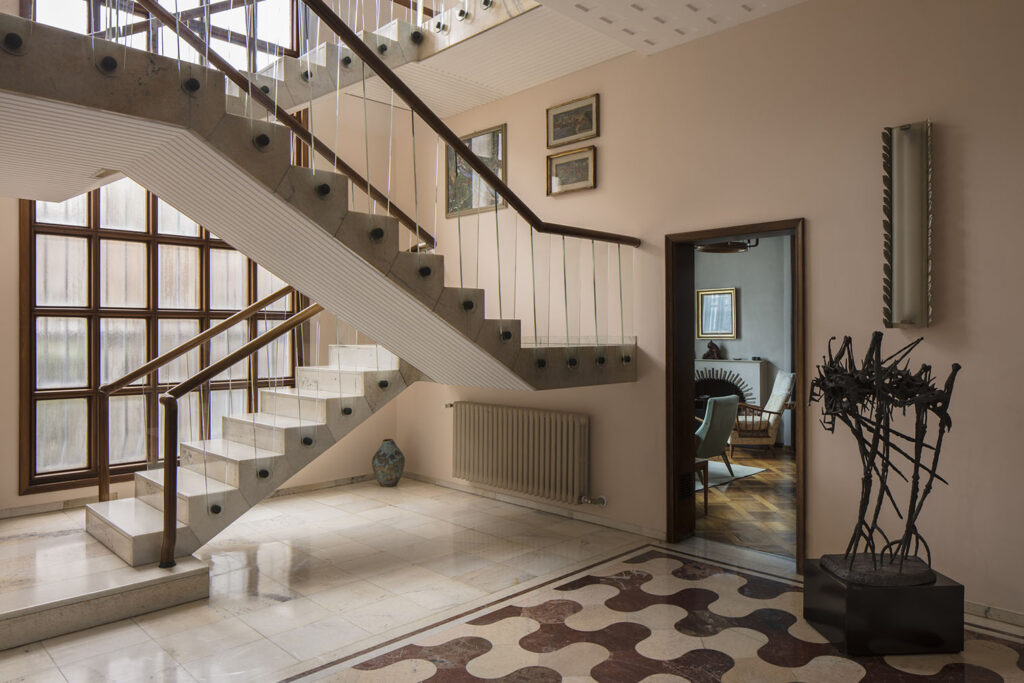 No mere photograph can substitute for an in-person experience, or fully capture the essence of architecture. I see this over and over, particularly in modernist architecture, where the surface is less important than the volume, light, air, and space. These elements must be experienced in person. Architecture has the power to make us feel, and to affect us emotionally and intellectually, no different from music or poetry. When we stand in front of a building, we are able to think and to feel, and the foundation of architecture—the scale, space, shape, and memory—can only be captured in a limited way through photography. Pilgrimage, therefore, is the only viable means of fully appreciating architecture. Today, I visited an iconic house, a masterpiece which Italian modernist Osvaldo Borsani (1911-85) created for his own family outside of Milan in the 40s, his testing ground for modenism. I had long known of the house from photographs, but nothing prepared me for that powerful experience.
I first fell in love with the work of Borsani when visiting the groundbreaking retrospective opened in 2018 at the Triennale di Milano, where his talent as an architect, entrepreneur, and designer was illuminated and fully explored. Osvaldo Borsani was an accomplished Milanese star whose career achievements spanned five decades. His legacy, however, has regrettably been overlooked. It was not until the retrospective and the book with which it is associated, that his genius, creativity, innovation, and contribution to the story of Italian design were revisited and fully recognized once again. The man behind that memorable show is his grandson, architect Tommaso Fantoni, who together with British architect Norman Foster (who created his famed Nomos table for Borsani's firm Tecno) initiated and co-curated the show. Tommaso hosted me when I visited his family's private home, brilliantly designed by his grandfather in the 1940s.
Tommaso spent many holidays and summers in this house, an impressive modernist structure covered in stucco and brick, with some beautiful ivy-covered walls and stunning garden, just 30 minutes north of Milan. Taking a private tour of this classic modern interior with Tommaso, filled with family memories, was certainly a once-in-a-lifetime experience, and was my favorite activity when traveling there. The sheer perfection of this expansive house and its interiors can only be achieved when creating the authentic and the humble. The house is a testimony to Borsani's passion and is filled with objects that represent all stages of his career and the people with whom he collaborated. The centerpiece is the ceramic fireplace, sculpted by Borsani's friend and collaborator, Argentinian-Italian sculptor and painter, Lucio Fontana, founder of the Spatialism Movement.
Borsani was present throughout all the important intersections in the story of Italian modernism. He was a member of the Rationalist Movement of the 1930s, a maker of artisanal furniture, he participated in the industrial revolution of the postwar—moving from wood and lacquer to steel and rubber—and with his twin brother, Fulgenzio, and founded the industrial company Tecno s.p.a., identified with the engineering, design, craft, and technological innovation. His entire aesthetic evolution can be traced in a tour of the house, which he initially built for his father Gaetano, who planted the seeds of the furniture empire in the form of a woodworking atelier just next door.
It was a true family house. The factory was next door; all of the kids worked in the factory and had lunch at the house. Osvldo's daughter, Valeria, and her husband, Marco Fantoni (parents of Tommaso and Giacomo), eventually joined the company, as did Fulgenzio's son, Paolo, so the boundary between the factory and the gorgeous house was virtually nonexistent. Thus, the story goes beyond design, and is fully integrated into the family. It reminded me of the house that my grandfather, Jacob Reich, built on Mount Carmel. Equally large and modern, filled with art and beautiful Biedermier furniture, surrounded by Haifa's most beautiful garden, and yes, covered with ivy and wisteria, filled with German culture, music, art, and spirit. Thank you, Tommaso, for a most extraordinary visit.