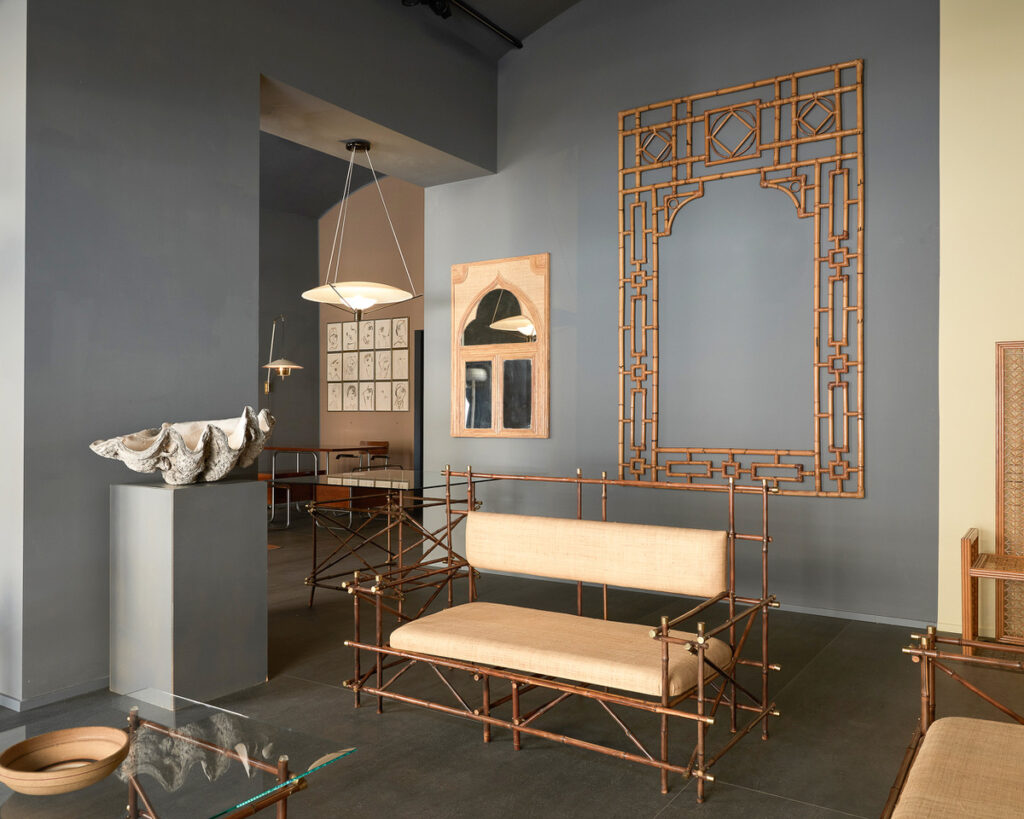 Any travel to the world's capital of design must include a visit to Galleria Rossella Colombari, Italy's leading specialist on Italian 20th-century design, where there is always something fresh and special to see, visits filled with surprises and great historical discoveries. The gallery was founded by Rossella Colombari, third generation of a family of antiques dealer originated in Turin, who in the early 1980s was among the first to rediscovered, study, and sell Italian mid-century design. She acts as the gallery's director and main curator and her spectacular taste, scholarly approach, and meticulous aesthetic choices have come to shape the gallery's program.
For this summer, Colombari has curated a small and jeweled exhibition entitled 'Idea Mediterranea, Giusto Puri Purini's 1970s and his Vision of Interior-Outdoor.' With a suite of furniture and accessories arranged as a domestic interior, the show comes to present the vision of the Italian architect, where he successfully merged Mediterranean spirit with 1970s allure. Puri Purini believed in capturing the personal narrative of his clients, famously claimed that an 'individual with experience and will, can find his own way to live in harmonious balance between autonomy and housing multiplicity.'
The exhibit comes not only to showcase Puri Purini's beautiful furniture, all meticulously crafted in brass and bamboo, but also to demonstrate how the architect's multi-cultural travels, and his love for Dolce Vita lifestyle and the cinema environment during the 60s and 70s, allowed him to broad his vision of the interior space. We learn that at the beginning of the 1970s, Puri Purini began his collaboration with Vivai del Sud, a company dedicated to garden furniture. It was time in Italy, when materials, such as bamboo and wicker were utilized for furniture design, and to him, it was a great opportunity to forge a continuity between interior and exterior.
His furniture demonstrates the cultural sources of inspiration, to which he was exposed in his extensive travels, and which he utilized in formulating his own personal language: Mediterranean, Chinese Feng Shui, ancient, Islamic, North African, tribal African, and the Indian culture of Vastu Shastra, were all woven into a unique aesthetic expression. Puri Purini's furniture was regularly showcased during the 70s in fairs and exhibits by Vivai del Sud, and his pieces were regularly featured in fashion and lifestyle magazines, but they have fallen out of taste, they were forgotten. With this show, Rossella Colombari has demonstrated the power of the vintage to add layers to the contemporary interior and the excitement of rediscovery of past eras.
Photos by Federico Torra, courtesy Galleria Rossella Colombari.