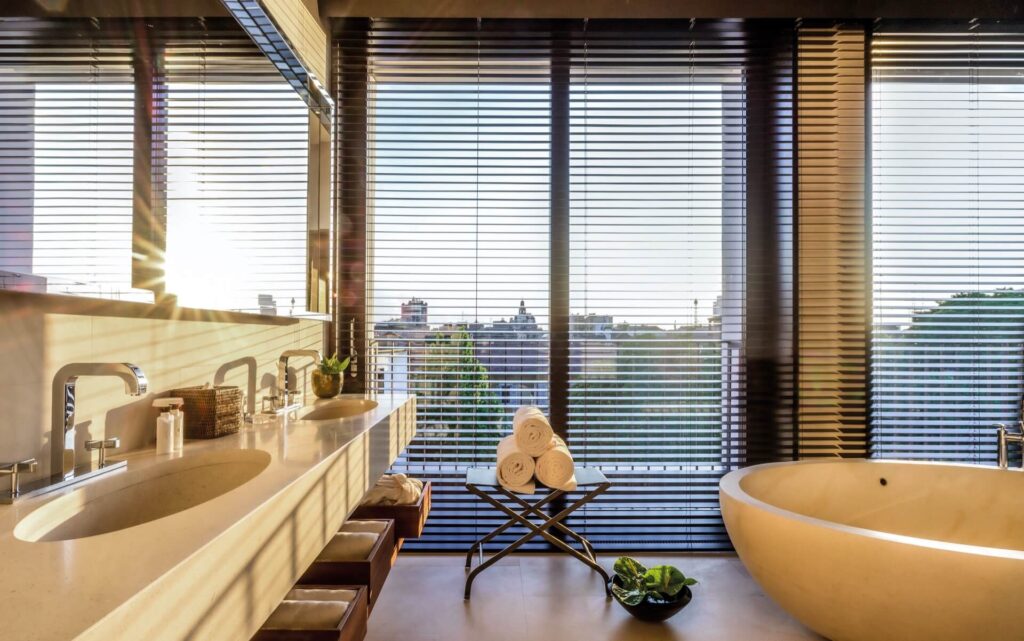 When I visit Milan on a design mission, I want to have that cotemporary Milanese experience combined with the luxury and peace of a great retreat. Therefore, my choice for a hotel is the one and only – The Bvlgari. Of course, Milan has its classic traditional wonderful grand hotels that make you dive into the Northern Italian old world, but there is no other place where you can fully integrated into the Milanese essence of today than the Bvlgari. If Milan is the capital of the contemporary design world, a melting pot of the old and the new, and a paradise of hidden gardens, then the Bvlgari embodies these notions. Because it relies on the philosophy that a hotel, any hotel should be fully integrated within its surroundings in order to evoke the local experience in its most elegant and authentic sense.
Like the iconic brand, the hotel is nothing less than a timeless glamour. Bvlgari was founded in Rome in 1884 as a Jewelry shop and had quickly made its name for magnificent Roman jewels filled with colored gems, formulating a worldwide reputation for Italian excellence and its traditional and exquisite craftsmanship. The founder, Sotirios Voulgaris was born in 1857 and came from the Epirus Village of Paramythia, the largest Aromanian center of silversmithing in the Balkans. The company's international success had evolved into a global and diversified luxury purveyor of products and services, ranging from fine jewels and high end watches to accessories. The hotel brand was established in 2004 and the Milanese location was the first.
The hotel was built on a site of a historic convent dating back to the 18th century and designed in the Italian neoclassical style of that era. In fact the entire lobby an the core of the hotel is situate in that old structure The story of this building is fascinating as in 1813, both building and its magnificent gardens became the home of Milanese family Lucini Passalacqua. The mind behind the exceptional and seamless blend of the old and the new is the architecture firm of Antonio Citterio Patricia Viel, while the stunning garden the work of Sophie Agata Ambroise, a Swiss landscape designer.
The Bvlgari is a hotel in black and white, fresh, airy, filled with natural light, and immaculate attention to detail, making you feel like you are at your stylish home away from home, because it is so comfortable. Having breakfast in the garden, the stunning spa, the Italian cuisine, the lush linens, for all of these reasons, when I visit Milan on a design mission, the only place to I want to be is the Bvlgari.