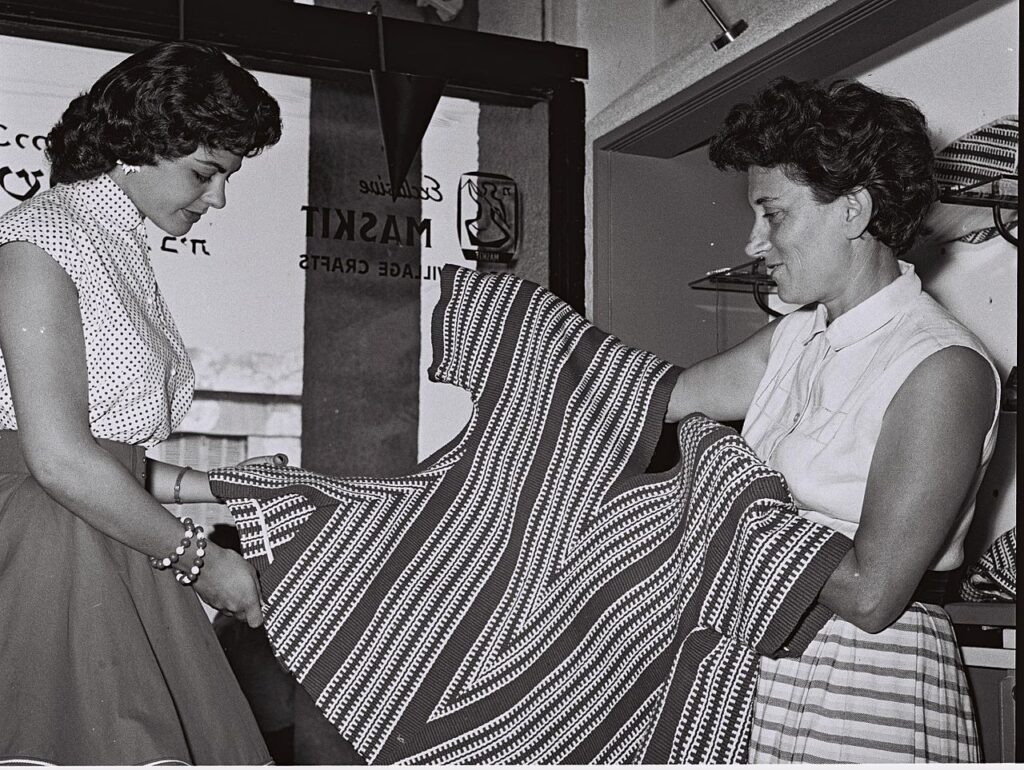 Let's remember a giant woman who died this weekend at 104. Ruth Dayan was the founder of Maskit, a decorative arts and fashion house, the first of its kind in Israel. She was also the first wife of legendary Israeli Foreign Minister and General Moshe Dayan, and is remembered as a true liberal Zionist and a social activist, for which she received dozens awards.
Maskit was her remarkable accomplishment, where she exemplified how crafts and nation building should intersect and support one another; it was named after the Biblical word for ornament. Dayan was the initiator and founder of this governmental venture, which was born in 1954, just a few years after the foundation of the State of Israel. The missions were providing jobs for new immigrants, preserving the Jewish ethnic crafts and culture brought to young Israel from Yemen, Bulgaria, Morocco, Iraq, and Europe, and ultimately, forging a craft movement and a national style.
Maskit produced dresses adorned with traditional embroidery techniques, beadwork, rugs produced in Bedouin methods, jewelry crafted in Yemenite silversmithing, brought from the diaspora and practiced in Palestine for centuries by the Druze, the Palestinians, and the Bedouins. The success was enormous. Maskit was responsible for thousands of jobs for immigrants, and its brand became known internationally; it had ten retail stores across the country and one flagship shop in New York. Its products were the preferred choice for official gifts, and were found in every Israeli home and in many Jewish homes across the globe. The dresses were designed in the latest fashion, but their patterns and colors were inspired by Israel's landscape and ethnic local touchstones. Its famed Desert Coats were worn by movie stars, and it had been considered an ultimate Zionist project, an achievement of an 'Israeliness' in style and spirit. Its products were sold in Bergdorf Goodman, Neiman Marcus, and Saks Fifth Avenue, and were often featured in the world's leading fashion magazines. Maskit became synonymous with Israel, and lasted for four decades, until it closed down in 1994 with the decline of the international craft movement (it was recently revived as seen in the video below).
Let's remember this amazing woman, Ruth Dayan who built a memorable project against all odds, whose respect to heritage resulted in melting pot. She was the epitome of an era of national building, and she was filled with grace, elegance and courage.