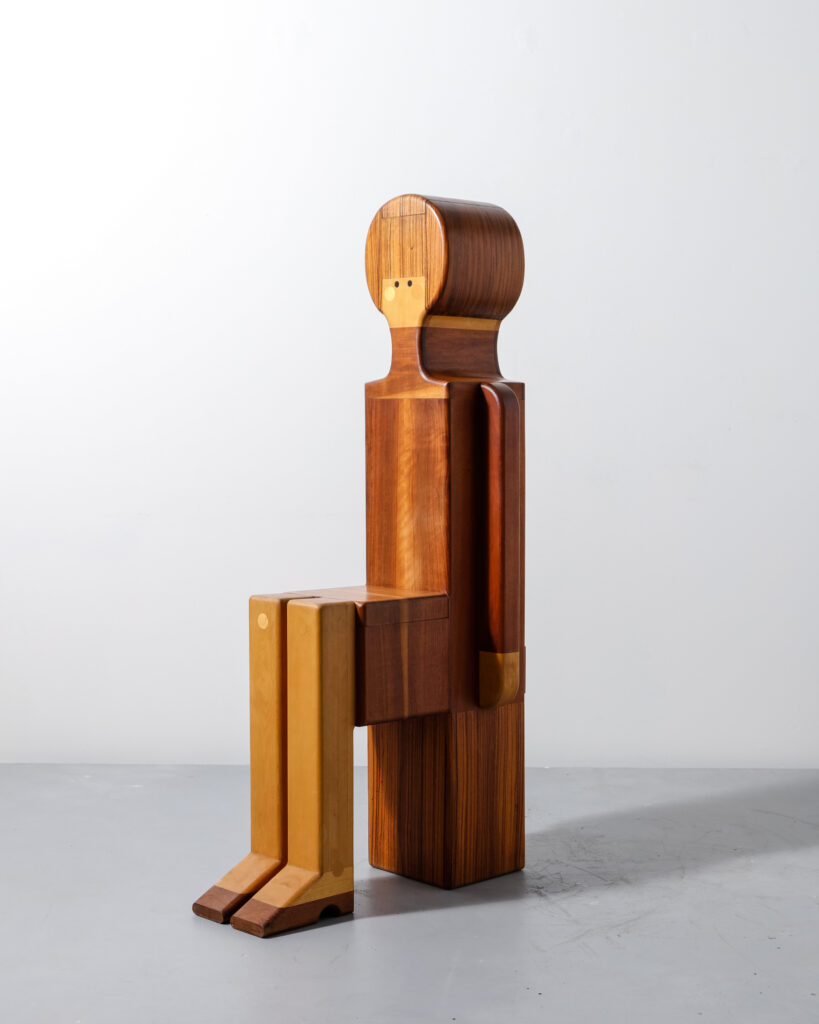 Chinese American artist Jade Snow Wong grew up in the heart of San Francisco's Chinatown in the mid-century. She refused to be forced into an arranged marriage, and her mother told her years later that the perspective husband was not a good match because she was "born too tall" for him. Since she published her memoir Fifth Chinese Daughter in 1945, the coming-of-age story of the Chinese American girl has become a classic depiction of women's struggle to achieve professional recognition in mid-century America, and an inspiration for future generations of women artists. Born Too Tall is the title of the exhibition opened last week at R & Company, brilliantly co-curated by James Zemaitis and Evan Snyderman. It presents a fresh and important material culture and seeks to shed light on the work of a female designer active in mid-century California.
This small jewel of a show was born out of Objects: USA 2020, the encyclopedic and ambitious survey that presented generations of American craftspeople based on a historical exhibition by the same title that traveled the US during the late 1960s. With a focus on female practitioners, it demonstrates the struggle and determination of artists seeking to express their voice through furniture, tapestries, jewelry, and objects. Their works are innovative, interesting, and filled with narrative. It is those female artists who pushed the boundaries and succeeded in all-male fields, participating in the modern design movement and creating historically important design in mid-century America. I have to admit that the work of some of these talents and practitioners were unknown to me—for that, and for situating their work in the wider context of mid-century material culture and design scholarship, I bless R & Company.
I particularly loved the two pieces by Pamela Weir-Quiton, one of the handful of women who participated in the American Studio Movement. Having studied under Ralph Evans, she made functional wood sculpture by utilizing precious woods and creating furniture that looks more like wooden toys that belong in a playground than traditional furniture for home décor. Her pieces are both fun and radical—an expression of the way artists of the 1960s sought to challenge conventions by revolutionizing design form and reinventing establishments in the light of the great social, political, and artistic revolutions of the decade. Her pieces are so personal and compelling that I find myself wishing I had her Georgie Girl chest of drawers in my bedroom.
The most famous of the artists represented in the show is without a doubt Ray Eames (1912-1988) who, together with her husband Charles Eames, forged a 37-year partnership and created some of the most influential pieces of furniture in mid-century design. While responsible for much of the groundbreaking furniture, graphic design, textile design, and film that was created at the Eames Office, she was never given credit for her immense contribution. In the show, she is represented by a biomorphic sculpture in molded plywood, which she created in the couple's home studio in the 1940s. She sought to experiment with the material and explore its constraints before utilizing it for the blockbuster furniture. I was somewhat disappointed when I realized that the sculpture is a reproduction under the license of the Eames Office and looks entirely new. I do not want to see a reproduction in a historic and scholarly exhibition on the high level of R & Company. I was further disappointed when I saw the label where she is still not fully recognized as the maker of this sculpture, as required by the Eames Office Foundation.
This is the type of exhibition that brings a smile to my face because it represents to me the efforts to expand design knowledge and scholarship, allowing the unknown to be revealed again and to illuminate the story of modern design. It represents the work of 14 artists who are united by their relationship to California where they lived, worked, studied, taught, and were inspired by the state's natural beauty and creative energy. The women presented here were indeed "born too tall"—they were born with an overwhelming amount of integrity and drive to succeed in a man's world. They stood tall, took chances, and broke boundaries. Despite the fact that I was not familiar with some of the artists, through the lens of the show their work shines with their aesthetics, craftsmanship, narrative, and concept; hopefully, this show will bring them forward from the margins and into the heart of the collectible market.