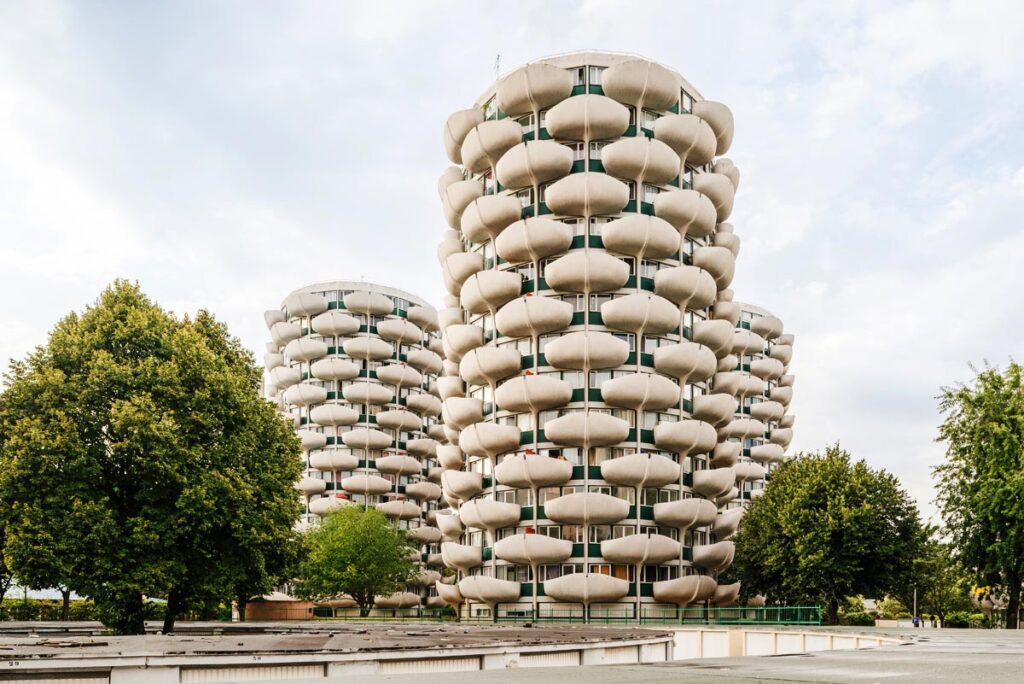 All the buildings featured in the new book The Tale of Tomorrow, Utopian Architecture in the Modernist Realm (published by Gestalten) are photogenic, memorable, somewhat eccentric, and spectacular. They capture the golden age of utopian architecture – from the end of WWII through the early 1980s – when architects, stimulated by the prosperity of the time and by the Space-Age sought to create visionary buildings that stimulated that generation to dream of a brilliant future.
It was not a style or movement that encompassed all practicing architects into one, common notion of mode, but it was rather the spirit of the time, which brought architects to push boundaries. They built all over the world, from the US to Europe, to Japan, to Israel, marking a fascinating and exceptional chapter in the story of architecture. Some were built as houses, others as churches, sports facilities, political headquarters, social housing projects, libraries, schools, museums, towers, exhibition pavilions; some focused on new technologies, others on untouched landscapes, or on space imagery. What they all had in common, is search for daring expressions that went beyond modernism.
This expansive and elaborate volume brings together buildings which are famous and have entered the pantheon of 20th-century radical architecture, illustrated in both vintage and contemporary photographs. Each chapter focuses on one architect or on a project, teaching us about the organic, lyrical and well-crafted residences by Bruce Goff, the geodesic domes and experimental Dymaxion House of visionary inventor Buckminster Fuller; the amazing houses by Herb Greens in the Midwest, crafted of locally sourced materials and their connection to the legacy of Frank Lloyd Wright; and some of Japan's most beloved and radical buildings, including Kenzo Tange's Yoyogi National Gymnasium.
The first chapter in The Tale of Tomorrow, dedicated to cutting-edge architecture of the pre-war, such as Rudolf Steiner's whimsical Goetheanum, and Le Corbusier's Villa Savoye, as well as Le Corbusier's postwar landmarks, seems to be outside the scope of discussion. The buildings featured in this chapter represent very different spirit and mode, representing orthodox modernism and might confuse the reader.
e book provides an exposure to a precious and bright moment when architecture of freedom and social change was enabled thanks to the zeitgeist and to architects who dared to dream and who believed that good architecture could improve society. Loved seeing Walter Forderer's St. Nicolas Church; Ant Farm's House of the Century; and Robert Bruno's Steel House, all examples of breaking the boundaries between sculpture and architecture, along with buildings you expect to see here, such as Bertrand Goldberg's Prentice Women's Hospital in Chicago; Kisho Kurokawa's Nakagin Capsule Tower in Tokyo, and Monsanto House of the Future, built at the Disney's Tomorrowland in California, all are illustrated with spectacular images, teaching us to dream again. Perfect read as we are on our way out of Pandemic.