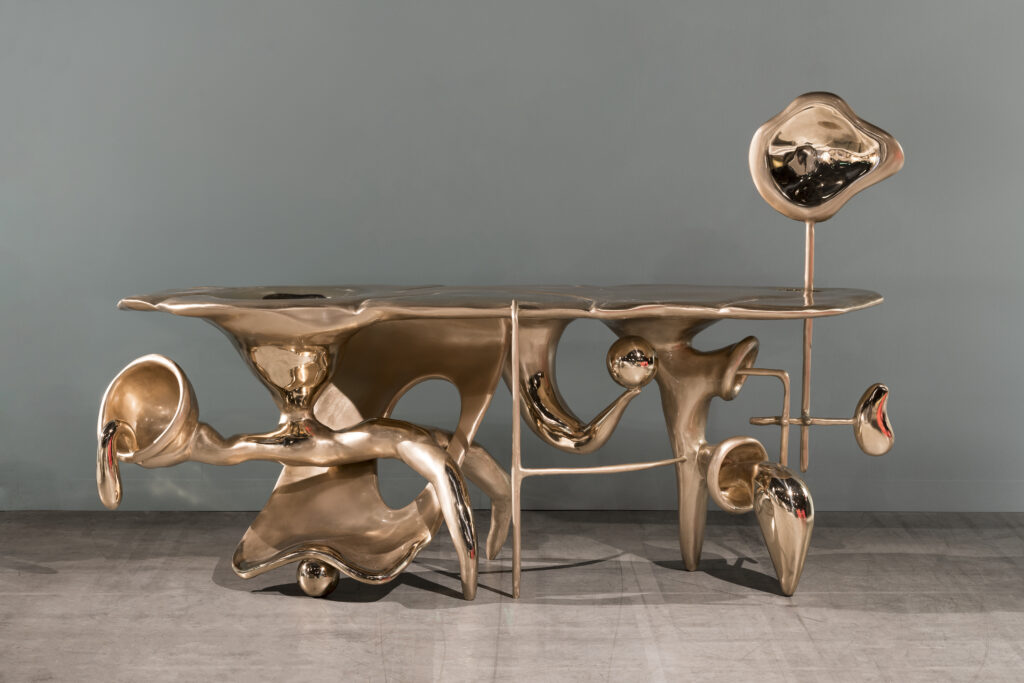 Just one look at the schedule of Misha Kahn for 2022 and you know that something important is happening at the Brooklyn studio of the 32 year old designer– Under the Wobble Moon: Objects From the Capricious Age, a solo show at Museum Villa Stuck in Munich; Style Without Substance, a solo exhibition at Friedman Benda; and Startling the Echoes at Objective Collection in Shanghai, a solo booth at Design Miami Basel, are enough to keep any designer busy, and that's in addition to private commissions, museum commissions, new experimentations, and an upcoming book with the publication Apartamento.
What is the secret of Misha Kahn that has turned him into the darling of the collectible design world? What has enticed Christie's to collaborate with him on the first design NFT ever? And what has turned his studio to a pilgrimage site for collectors and interior designers alike? I spoke to Kahn one morning this week during a visit arranged by his gallerist, Friedman Benda, and found the answer—freedom. Freedom from conventions, from languages, from categories and boundaries, from materials, from classifications, from distinctions of high and low. This is his secret. It is hard to believe, but Kahn retains that purity—a kind of innocence—all the while, commanding a strong presence in the marketplace, in the business of art. In his own sweet way, he has created an entire world, and his studio in Brooklyn is the embodiment of this universe.
l first met Misha Kahn seven years ago. He was 25, and had a small solo show at Friedman Benda called Return of Saturn: Coming of Age in the 21st Century, his first collaboration with the influential gallery. It was already clear then that the recent graduate brought a new freshness to the world of design that marks a new direction never seen before. He was daring and determined, not afraid to be up front with his design statements and to express biographical and emotional narratives. This was the beginning, and his voice was defined even then, although I am not sure he knew it at the time.
He has since frequently been in the spotlight, and his name is often mentioned in regard to museum acquisitions, exhibitions, and other events. I often see his objects in homes of collectors, some of whom are willing to wait many months to receive new commissions. When I visited his studio this morning, it was apparent that Kahn had succeeded in taking his work to new horizons. Think about robots, digital printing, wood carving, gel baking, glass blowing, clay sculpting—they are all found here, because to Misha Kahan, the materiality and process is as creative as the form itself.
He was born in Duluth, Minnesota and graduated from the Rhode Island School of Design in 2011 with a BFA in furniture design. In recent years, his name is often mentioned as a renowned talent, and a source of great pride for this art and design school in Providence, Rhode Island. He belongs to the millennials, a new generation of designers. They are web savvy, and grew up in an electronic and online environment which resulted in their eagerness to acquire new skills. But they are also open minded and value experiences. This explains Kahn's spiritually and freedom.
You cannot define Kanh's work stylistically or conceptually, yet it is personal and distinctive. I have heard colleagues describe his work as whimsical, chaotic, pop … but I disagree. To me, it is about the freedom, and yes, it is fascinating; it is cotemporary; it is spontaneous; serious and deep; it exemplifies the spirit of his generation, representing the zeitgeist. As a design historian, looking at his work, I find it fascinating to see how the world of design has moved on from where it was in the first decade of the 21st century.
Yes, there is something to say about the gallery. I know that this phase of history has not yet been written, but let's not forget that the contemporary design market was not in existence 20 years ago. It is the gallery which allows Kahn to enter the realm of art history. It is the gallery which recognized the talent, that took a chance, that remained fully committed, that released his vision into the world, through support, guidance, exposure, exhibition, and introduction to museums curators, allowing him to be creative without boundaries; through experimentation and the fulfillment of dreams. Thank you, Friedman Benda, for hosting this studio visit.