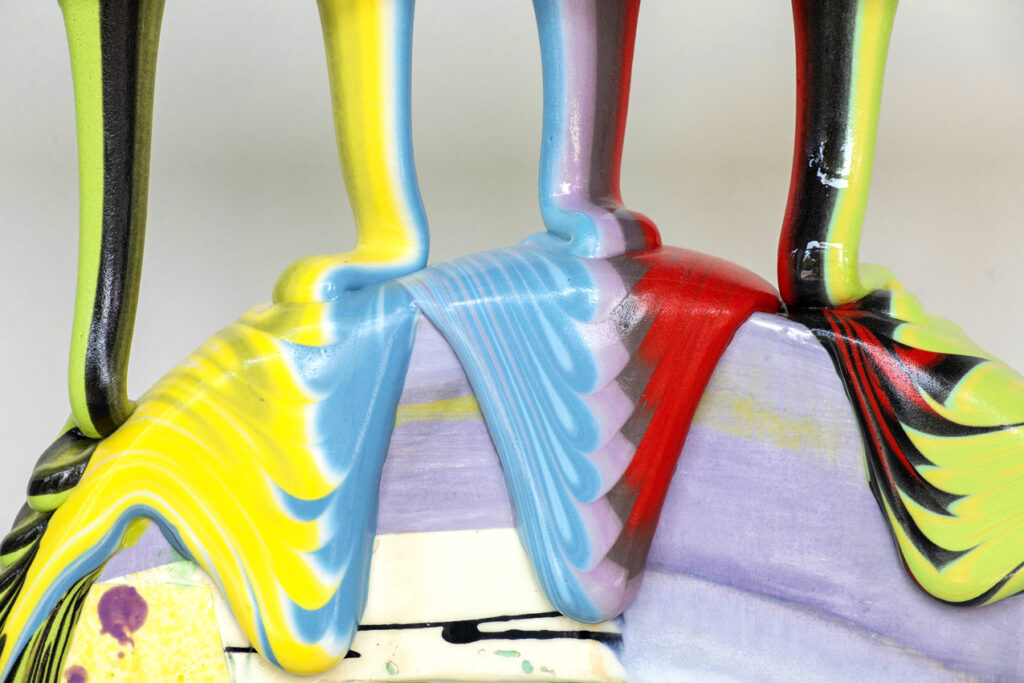 d
This morning, I visited a summer collaborative exhibition between NY-based Heller Gallery and North Adams, MA- based Ferrin Contemporary. Entitled 'Melting Point,' this group show includes contemporary glass and ceramics by those whose use of the melting point is central to their oeuvre. The exhibition is shown in both locations simultaneously, featuring nearly 100 works by 20 conceptual artists who explore the physical qualities of materials that are formed and shaped by melting.
What is 'melting point'? According to the Oxford Dictionary, it is 'the temperature at which a substance melts when it is being heated.' It is the moment when a solid becomes soft on the way toward its conversion to a liquid state, and that moment has come to determine the works included in this show. In the art and practice of clay and glass, melting point is substantially formative – glazes melt, glass softens, and melting make forms and surfaces malleable. Thus, the collaboration between Heller Gallery, the temple of art glass by living artists, and Ferrin Contemporary with its focus on clay art is particularly relevant, bringing depth to the exhibition's theme.
I would like to illuminate a couple of artists whose work I found intriguing, and which represented new, personal, and fresh directions in art glass. Amber Cowan (b. 1981) is the perfect fit for this show as she revisits history by using ready-made vintage press glassware, traditionally produced in American glass factories – cups, vases, dishes, plates – which she finds in thrift shops and on eBay. She uses those exquisitely colored objects, takes them apart, and by melting them, refabricates them into sculptures that are rich and stimulating, looking like grotto. Her sculptures are formed of dense layers of leaves, flowers, and patterns, into exuberant and surprising objects, transforming the inexpensive kitsch into new contemporary art filled with elegant, daring narratives.
I fell in love with the work of Sydney Cash (b. 1941) who has worked in Marlboro, New York since 1982. He uses flat industrial sheets of glass, and through the process of bending and melting over structures of fine wires and suspended sculptures, he achieves the most extraordinary sculptures. In his five decades as a successful glass artist, he has mastered the art of manipulating glass and turning it into abstract, refined, elegant sculptures. Heller Gallery has been representing his work since the early 80s.
In his glass sculptures, Norwood Viviano deals with the population and cartographic shifts in American cities. Entitled 'Cities Underwater,' the work in the show (which is just one part of a larger installation), investigates the predicted loss of land in the coming centuries. The installation included sets of nesting blown glass cylinders which represent coastal cities, and by presenting scientific projections, they show the loss of land mass due to the inevitable rise in sea levels.
The exhibition Melting Point gives a glimpse into the richness and variety of expressions used by artists in glass (and clay) today. Forget about decorative, pedestrian objects— art glass has grown as a tool to express ideas and narratives, and it is as critical as any other form of contemporary art. The show exemplifies the way in which glass and clay artists explore possibilities of the molten material which shatter boundaries. And may I commend Doug Heller and his wife and partner Katya, the co-owner of Heller Gallery. Their passion for glass, and their incontestable expertise, have been the driving force behind much of the best of art glass in the world today.