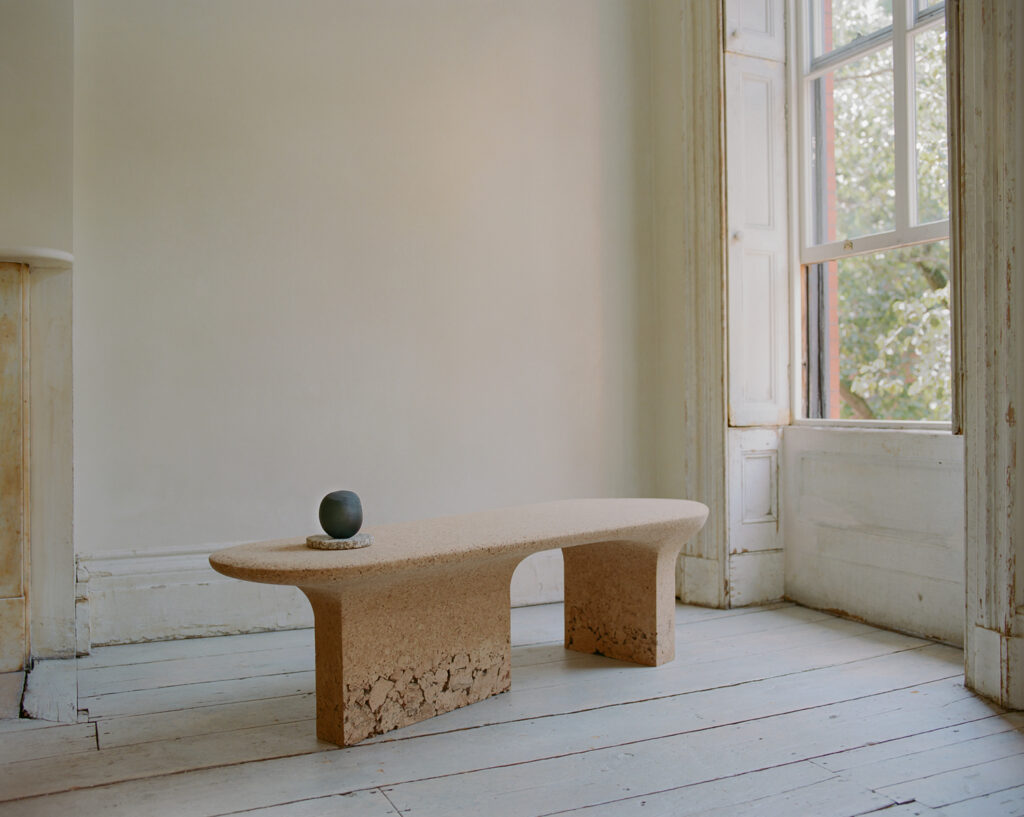 The Slow Food movement was founded to promote locally sourced food and traditional cooking, for the purpose of preserving regional cuisine. They encourage farming, support local businesses, and advocate for a sustainable local ecosystem. Now consider this exact concept being applied to design; this is what French designer Noé Duchaufour-Lawrance did upon moving to Lisbon five years ago. He began exploring the native crafts and local materials—traveling throughout the country and visiting artisan studios in his search for indigenous inspiration. This led to his personal tribute to Portugal displayed in two collections: one in clay, the other cork. You can find them currently exhibited in a new solo show named "Made in Situ" at Demisch Danant Gallery.
The work on display is charged with a strong narrative. Upon his arrival Portugal—after driving his car from France while his family flew in—he faced the deadly wildfires that devastated the country in the summer of 2017. He witnessed the chaos, torched forests, people left without homes, but he also saw how cork protected the trees from burning. It was this tragic and powerful event that he sought to capture, and so he began exploring the possibilities in utilizing the burnt cork in furniture design. Portugal is the world's largest producer of cork, being responsible for over 60% of the volume of all exports and has an area of cork oak equivalent to a quarter of the total amount on Earth. Cork is a wonderful material—not only it is completely sustainable, but it also feels warm to the touch, and its beauty is hard to match. Cork was used in the 1930s as new material for bathroom tiles—as famously seen in Frank Lloyd Wright's "Fallingwater"—and was recently revitalized for furniture design. This series of furniture is superb and unique, resulting from merging the burnt cork with fresh cork. He developed a site-specific collection of furniture called Burnt Cork, made with burnt cork alongside digital technology, thus merging the artisanal with the digital. Through this he tells the story of a new immigrant discovering the locale: the places, people, cultures, and traditions. "The designed pieces," he says, "are the fruits of my adventures, explorations of geological and biological textures, patterns, materials and their related techniques."
Born in the south of France in 1974, Duchaufour-Lawrance followed the footsteps of his father, pursuing an academic training in sculpture from the École Nationale Supérieure des Arts Appliqués et des Métiers d'Art, followed by earning a degree in furniture design from the renowned Les Arts Décoratifs. His furniture has a strong sculptural identity, and the results demonstrate his ability to work with the three-dimensional: merging materials and forms.

The collection Barro Negro—his furniture designs since moving to Portugal—is a series of handcrafted black clay vessels, crafted by master ceramicists Xana Monteiro and Carlos Lima using the ancestral practice of open fire. There is a strong mythical essence to those vessels, placed in a large round pit in the middle of the gallery and filled with black sand. Each piece embodies the mythical spirit of "Serra do Caramulo" in central Portugal with a sense of camaraderie around the traditional practice of soenga, which predates Neolithic times, where pottery is fired with burning pine and then buried in soil. The two collections tell the story of a talented designer exploring a new place, connecting to it, capturing its essence, and becoming a part of it. The exhibition opened this week and will close on October 22nd.