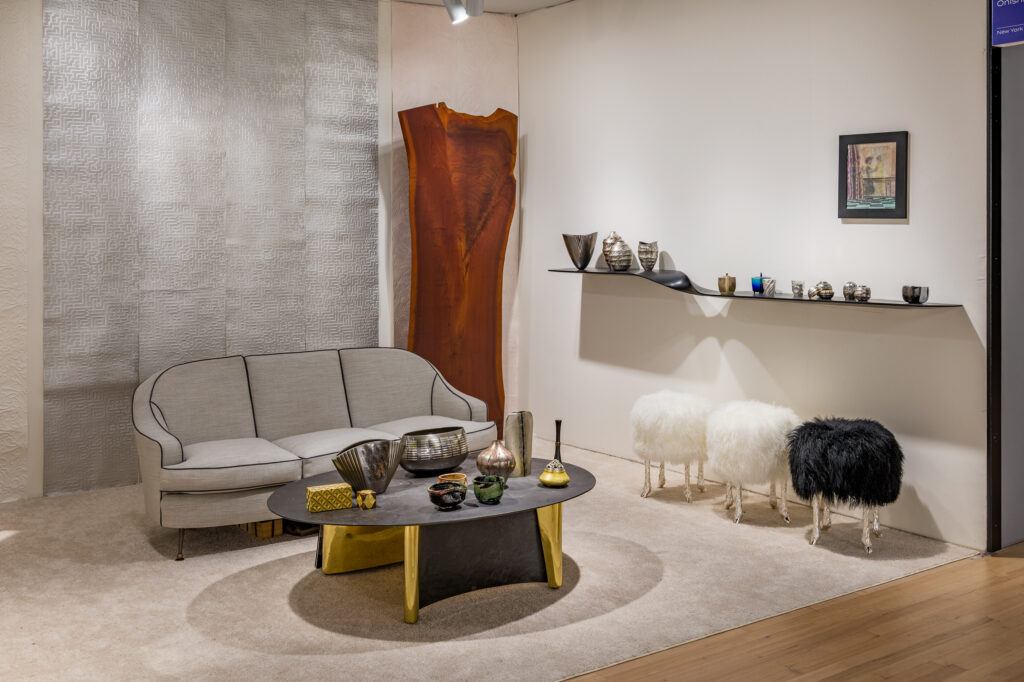 Long before I learned the Japanese word kōgei, I fell in love with Japan's handicrafts, where the greatest talents are considered national treasures. The term, which means 'traditional arts and crafts,' – textiles, paper, ceramics, lacquer, wood, bamboo, metal art – has been used in recent years to describe those products by artists who use traditional crafts in creating contemporary art. They elevate the crafts practiced by their ancestors to new and innovative levels, constantly challenging the set boundaries in the process of bringing Japanese kōgei crafts to new horizons. Honored to be asked to curate a booth for Onishi Gallery at the upcoming Salon Art + Design (November 11-15 at the Park Avenue Armory) and entirely dedicated to kōgei metal art, I have found the opportunity to dig deeper into its magical world and fall in love again with these exquisite gems.
Exploring kōgei is my favorite activity when traveling to Japan. I love visiting studios in remote areas throughout the country, watching them work, and discovering what make Japanese crafts so special. The highest level of skills has been enabled by both the traditional and the historical system. Kōgei artists devote their entire lives to practicing their craft, and many of them have inherited those skills within the family, while perfecting their abilities over their lifetimes. The crafts are highly respected and officially acknowledged. Those with outstanding skills are designated 'Living National Treasures,' certified as the preservers of intangible cultural properties by the government, which provides annual subsidies to protect their crafts. Their work—unparalleled in terms of quality, craftsmanship, innovation, and beauty—is collected by museums worldwide. They are regarded as the preservers of Japan's cultural heritage. Only when one of these artists dies, creating a vacancy, can a new craftsperson with a particular set of skills be designated.
Titled 'The Eternal Beauty of Metal,' the exhibition I curate for Onishi Gallery comes with a dual goals: to showcase the exceptional metal art by Japanese contemporary artists – mostly Living National Treasures—and to demonstrate how to live with these objects; not in Japan, but here in America. It comes to reveal the seamless way in which these objects live in peace in a sophisticated New York City home. The challenges of introducing Japanese products to Western urban homes has been addressed since the early 20th century, when the government initiated programs to help Japanese craftspeople export their products. The most famous of the historical efforts was when French designer Charlotte Perriand was invited by Japan's government in 1940 to direct the production of the arts. Those efforts continue to this day.
The artists included at the show are currently represented in 'Japan: A History of Style' at the Met. Onishi Gallery is the only gallery in the United States which focuses on contemporary Japanese metal artists, Living National Treasures. These vessels are sophisticated, adding eccentric detail to the interior, glam, style, and personification.  Weather-crafted by hammering, casting, or chiseling, these objects demonstrate the artists' unbelievable skills and passion for the material, and a lifelong commitment to the crafts. They exemplify the new directions in Japanese Kōgei, metalworking techniques and textures, with attention to details and precision that creates the Japanese Kōgei myth. All images curtesy Onishi Gallery. Installation images by GION.