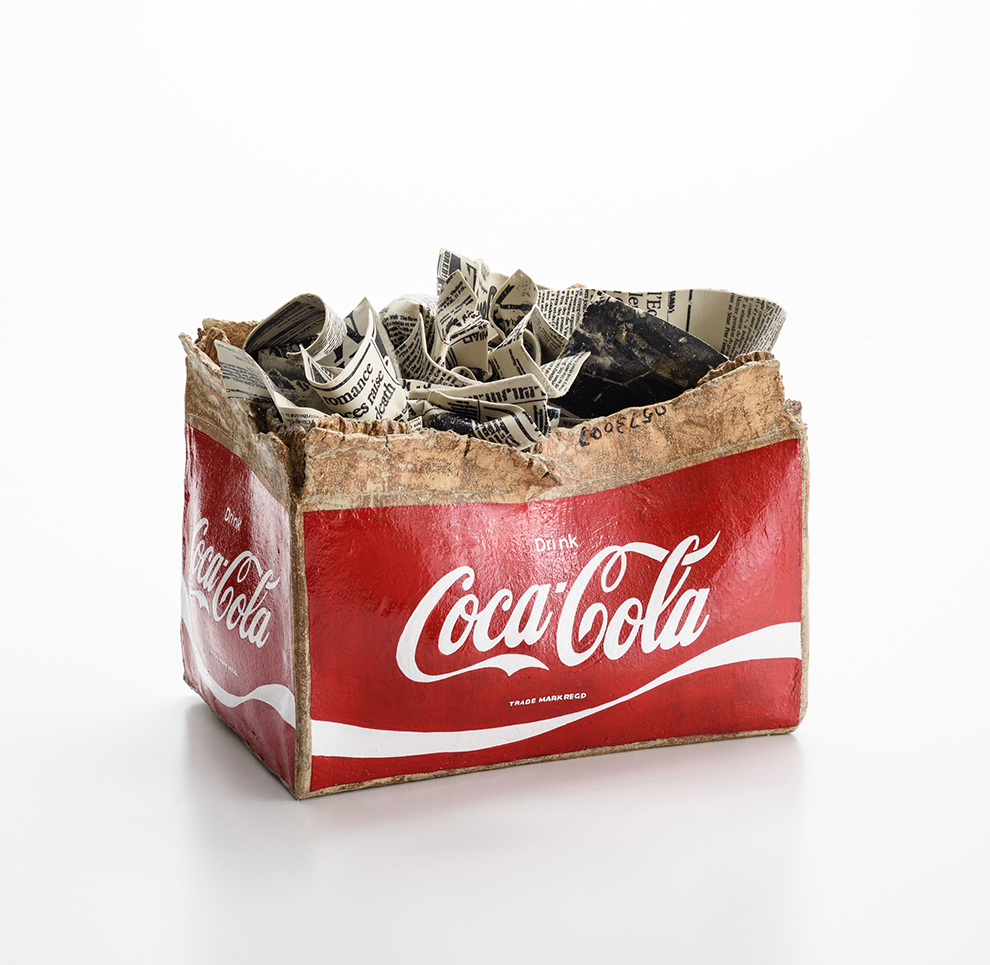 In the world of Japanese ceramics, Mishima Kimiyo (b. 1932) stands on her own. She was never a member of any of the Japanese schools of the avant-garde—not Gutai, not Metabolism, not Hyperrealism, not Pop Art, not Mingei, and not any of the legendary regional streams in Japanese contemporary clay art. Perhaps Kimiyo should not be classified as a ceramics clay artist at all. She is a contemporary fine artist who utilizes clay as a canvas and silk prints pop imagery in a singularly personal way.
Her subject matter includes realistic images of newspapers, magazines, boxes, telephone books, comic books, cardboard boxes, and industrial waster, touching on political, social, and critical issues, and offering commentary on today's culture. Kimiyo does to Japanese culture today what Andy Warhol and Claes Oldenburg did to American culture in the 60s and 70s. Her work is so unique and intriguing with personal aestheticism, these rarities have become collectible and desirable by museums and private collectors alike. A recent show at the Sokyo Atsumi Gallery in Tokyo celebrated the career of the 89-year-old artist, with works that represent her long tenure of creativity.
'Kimiyo Mishima Solo Exhibition 1950s – 2021,' opened in conjunction with the group show, Another Energy: Power to Continue Challenging – 16 Women Artists from around the World at the Mori Art Museum, where her masterpiece Work 92-N is currently exhibited: an enormous rectangular form in ceramics, containing prints of newspapers piled up on a scale. For this occasion, Sokyo Atsumi has published a book—an exhibition catalog—that comes to finally reveal this enigma in English. Composed as a conversation narrated by Swiss art curator and critic Hans Ulrich Obrist, this piece of oral history, a part of Obrist's' Interview Project,' is an ongoing series of interviews with artists. In his own charismatic voice, the current artistic director of Serpentine Galleries helps us to fully understand the narrative behind Kimiyo's oeuvre, inner world, and daily work. On the verge of 90, the Japanese artist opens up intimately about the fears and anxieties that give birth to her sculptures. Her so-called 'breakable printed matter,' come to express her fear of information. 
It became clear to her as a young dance student that she did not like anything rigorous. She started her career in the 50s, and by the 60s began incorporating mixed media into her art, using newspapers, discarded cardboard boxes, and magazines, seeking to express and incorporate news into her art. I loved reading the story on how it was the technique of making udon noodles from flour that she employed in her earliest piece in ceramics, crafted with thin layers of paper, using kitchen tools. In this fascinating and expansive conversation, Kimiyo reveals the process of making her clay sculptures, her research, methods of printing, and how instant ideas in her everyday life come to form art objects.
The world of Japan's ceramics art is rich and diversified, filled with provocative expressions. As ceramics are a substantial expression of Japanese culture and history, this book is a brilliant account of a multifaceted world. The book can be ordered at Sokyo, and will be also offered at the upcoming exhibition at Tsutaya Book Store, opening in January 2022 in celebrating her 90th birthday. All images Courtesy of SOKYO ATSUMI.