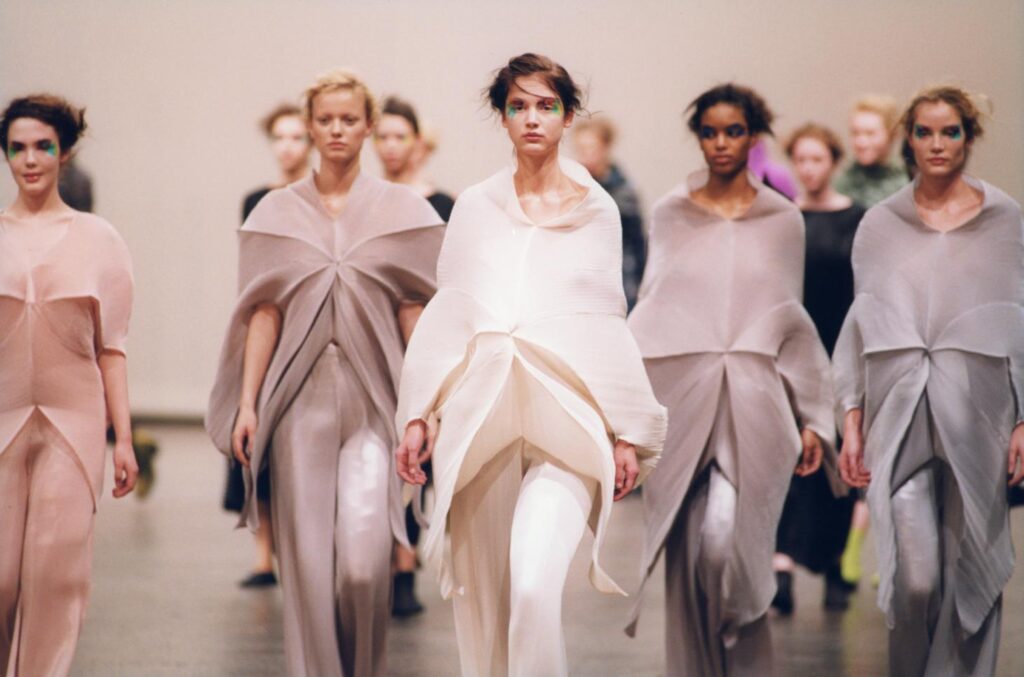 There are those handful gifted revolutionaries, who have created the pivotal moments that came to change the face of history. Japanese fashion designer Issey Miyake, who died this week at 84, was one of them. His timeless pleats have made it into the pantheon of the fashion history since the 1980s, for their beauty and for merging the traditional with groundbreaking techniques. Miyake was hailed for giving Japanese identity and craft a new twist.
I clearly remember when Miyake first opened his design museum 21_21 Design Sight in Tokyo's Rappongi district in 2007. It was the result of a collaboration with his friend, Japanese architect Tadao Ando, who designed this concrete building. While the Museum has since expanded with exhibitions and projects that explore the role of design in enriching daily life, its most memorable show was devoted to Miyake's personal design collection, an intriguing event which came to reveal his personal taste in design. Entitled 'Shiro Kuramata and Ettore Sottsass,' it illustrated the story of those the two giants who collaborated and who took on heroic roles in the evolution of Postmodernism in Japan and in Italy. "I met Sottsass in Paris in the 1960s,' he wrote in the exhibition catalog. 'Sottsass was as naturally a gifted artist as he was an architect, designer, poet, and photographer. He told me that feeling and touch are most important elements in design, despite the fact that people tend to act using their brains. I initiated this exhibition to introduce a new generation of designers to the designs of both Shiro Kuramata, whose aesthetic transcended space and time; and Ettore Sottsass, by whom Kuramata was influenced.'
In the late 1980s, Miyake developed a new way of pleating by wrapping fabrics between layers of paper and putting them into a heat press, with the garments holding their pleated shape. Tested for their freedom of movement on dancers, this led to the development of his signature 'Pleats, Please' line. Years later, he asked designers to create a piece of furniture where they find a new use for the waste paper. Oki Sato's Cabbage Chair came out of this project.
Miyke was born in Hiroshima in 1938, and at the age of seven, the bomb that was dropped on the city left him with a pronounced limp that would follow him through adulthood. Determined not to be labeled as the designer who escaped the atomic bomb, he didn't mention his traumatic childhood until 2009, when he wrote about the experience in support of nuclear disarmament in a published article in the New York Times, entitled A Flash of Memory. 'On Aug. 6, 1945, the first atomic bomb was dropped on my hometown, Hiroshima,' he said. 'I was there, and only 7 years old. When I close my eyes, I still see things no one should ever experience: a bright red light, the black cloud soon after, people running in every direction trying desperately to escape. I remember it all. Within three years, my mother died from radiation exposure. I have never chosen to share my memories or thoughts of that day. I have tried, albeit unsuccessfully, to put them behind me, preferring to think of things that can be created, not destroyed, and that bring beauty and joy. I gravitated toward the field of clothing design, partly because it is a creative format that is modern and optimistic.' It captured the imagination of those generations who have not experienced that trauma.
Miyake studied graphic design at Tokyo's Tama Art University before moving to Paris in 1965. There, he enrolled at the renowned tailoring and dressmaking school, École de la Chambre Syndicale de la Couture Parisienne, where he met Hubert de Givenchy before moving to New York to apprentice with Geoffrey Beene. In 1970, he founded his own design studio in Tokyo, and the rest is history. Miyake, who died of liver cancer on August 5, made the world think differently about contemporary fashion. Let's remember this special soul who rose from the ashes of the atomic bombs to the world's stage.