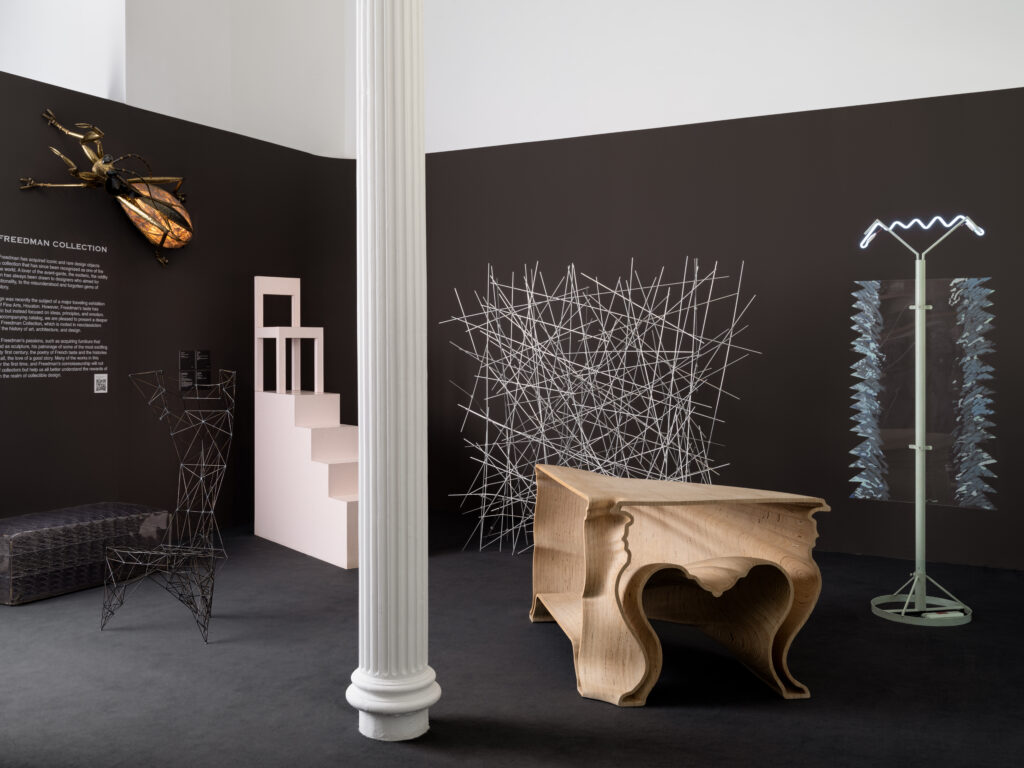 Dennis Freedman knows design and taste, and he knows them well. For nearly two decades, as the founding creative director of W magazine, he traveled the world for their famed photoshoots. Later, as the creative director of Barneys New York, he devised the store's iconic windows. Freedman has always been surrounded by fashion, music, style, and design—as matters of taste have become the essence of his identity. Yet, collecting design, he says, is a whole different animal. To become a serious collector, you need to be researched, and knowledgeable—that is the only way to develop a critical eye. A collector must invest in excavation, be ahead of the curve, unearth the forgotten, and develop a deep, almost academic understanding by always seeking; passion is non-negotiable.
For the past 25 years, Freedman has emerged as a vital player in the market of collecting design: one who is not only an original thinker and ambitious collector, but also the first to recognize greatness and discover talents of the past. Since buying his first piece of furniture in 1998, living with great design has been his way of life. Now that highlights from his personal collection are being exhibited and offered for sale at R & Company, it is a great opportunity to look into what it takes to become a real collector. This exhibition marks a special moment in collectible design since it has become one of the most dynamic and influential territories in the international marketplace. Standing at the forefront of style and taste, the curated interior of the 21st century and its market has emerged as a global barometer to foresee new trends and signify the high-brow domestic culture. When design is mostly acquired by interior designers, collectors of that type are a rare find.
When his collection of Italian Radical Design from the 60s and 70s was recently the subject of an exhibition and a book at the MFA Houston, his preference for and connoisseurship of the quirky objects created in Italy by the proponents of the postmodernist movement (Archizoom Associati, Lapo Binazzi, Ugo La Pietra, Alessandro Mendini, Gianni Pettena, Ettore Sottsass, Studio Alchimia, Superstudio) was fully revealed. The exhibition presented rare prototypes, traveled to the Yale Architecture Gallery, and much of its contents were acquired by the museum.
As we have become accustomed to thinking about Freedman as synonymous with Italian Radical Design, the new exhibition at R & Company reveals a different side of Freedman the collector; it demonstrates how he brilliantly utilized the expertise he acquired for Italian design to expand his collection to new horizons. We learn that in past decades, he was busy taking on a serious exploration of the world of contemporary and vintage design. His eye for greatness in contemporary design led him to travel across the globe to visit the studios of those he believed to be original thinkers and the designers of the zeitgeist. Just as he did with Italian design—learning and investigating, buying objects by the heroes of their time when the market was in its infancy—so he did with living designers. Among the highlights of the show are some of the most powerful design images in recent memory: Joris Laarman's Aluminum Bone Chair, which he acquired directly from the designer shortly after he created it in 2006, fetching nearly $1 million and is considered the most valuable design object of the 21st century; the very first example of the Sushi Sofa by Fernando and Humberto Campana, acquired directly from the designers; and the most exquisite and unique suite of table and chairs sculpted in resin by Martine Boileau, which was acquired by Elie de Rothschild.
The exhibition, co-curated by Freedman with Evan Snyderman (co-founder and principal of R & Company) and James Zemaitis (the gallery's director of museum relations), is fascinating in many ways. Every object is a masterpiece, added to the collection after a thoughtful process. Each one is a brilliant expression of its time; each could be a remarkable addition to any new collection. It will be open throughout the summer.