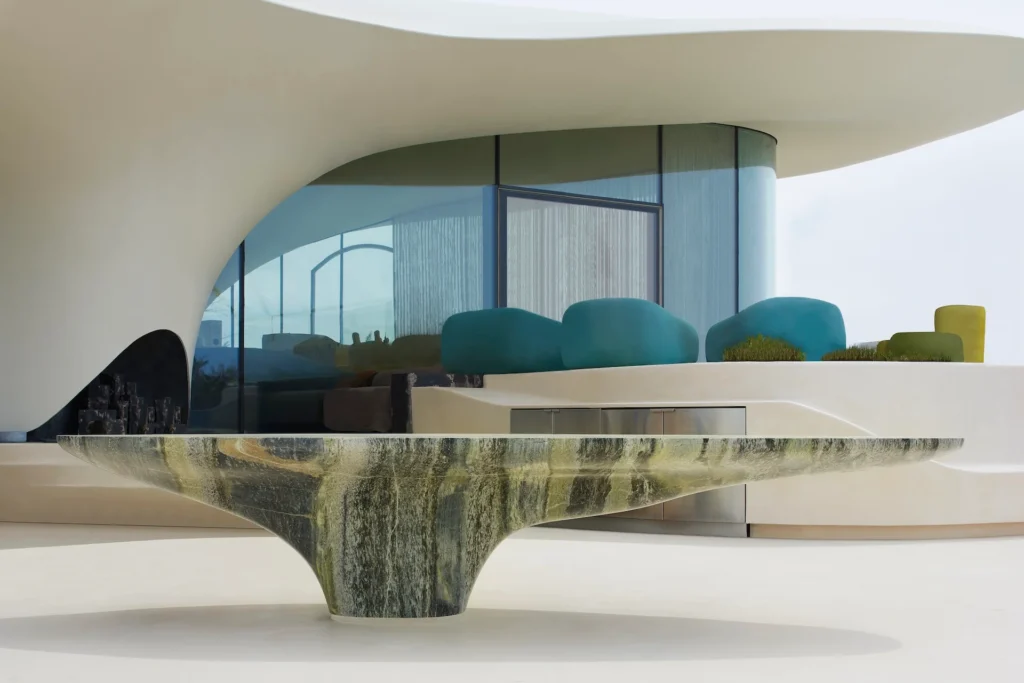 "Most people who become unsurpassed in several categories by the age of thirty slow down a bit. Not Joseph Walsh. At a remarkably early stage in his career, he was already a leader in the Irish design and craft scene. Since then, he has branched out in many other directions—both literally and figuratively—as a sculptor, a conveyor of ideas, and an architectural collaborator. My experience collaborating with him on the annual Making In conference, held at his beautiful studio in County Cork, has been one of the highlights of my own recent career. And he's touched so many others similarly. He's a true polymath, a true craftsman, but above all, an inspiration."  
—Glenn Adamson, curator, writer, and historian
Master craftsman and innovative designer in equal measure, Joseph Walsh, my recent Materials and Furniture: The Legends guest, has carved out a unique place in the landscape of contemporary creativity. At just 44 years old, this County Cork-based multitalent has already made a significant contribution to defining the 21st-century zeitgeist by combining heritage artisanal production with high-tech tools, science-driven experimentation, and advanced engineering. In Walsh's capable hands, traditional materials like wood, marble, and bronze are transformed into highly complex, dramatic, otherworldly forms, spanning the spectrum from functional furniture to sculptural installation art.
Walsh's way of working is as extraordinary as the work he produces, thanks in large part to the strengths of his personality: deep-thinking, risk-taking, outgoing, inquisitive, and ambitious. Unlike most of his peers, he collaborates directly with collectors and commissioners rather than relying on representatives and agents to promote his practice. With the exception of a few, limited gallery relationships, Walsh and his team of 25 handle everything from start to finish, including development, pitch presentations, research, fabrication, and installation, operating from his eponymous design studio-workshop-showroom in rural Southern Ireland, near the family farm where he grew up.
Walsh was trained as a woodworker by his grandfather. He launched his workshop in 1999 in a small building on his family's farm and soon began to push his craft past its traditional limits. Within 6 years later, he had developed what would be seen as his signature biomorphic aesthetic, but the Irish market, it seems, wasn't ready. So Walsh turned his focus outward, presenting his work to international audiences that were more conversant in the burgeoning field of collectible design.
In 2003, Walsh received his first serious commission, a dining suite for the Japanese embassy in Dublin on the occasion of the Japanese emperor's upcoming visit. Encompassing 20 chairs, a dining table, and a sideboard, all crafted in sycamore, the ensemble featured rectilinear silhouettes that nodded to traditional vernacular vocabularies, such as exposed mortise and tenon joints, combined with highly sculptural bentwood components. Like his Suaimhneas Rocking Chair, produced the following year and now found in the National Museum of Ireland, this early project foreshadowed Walsh's ongoing engagement with Japanese material culture and his penchant for poetic forms that elicit an emotional response.
Once Walsh felt he had mastered wood, he began to explore other materials, first local green marble and cast resin and more recently cast bronze and glass. Walsh loves nothing more than investigating materials, defying their limitations, and discovering new possibilities. He told us that John Makepeace, the venerable British furniture maker, is his hero. When Walsh discovered a book on Makepeace's work three years before opening his studio, it was a profound revelation. He had never seen visionary, artistic furniture like this before, nor since, he said. Many apprentices in Walsh's studio are graduates from Makepeace's world-class School for Craftsmen in Wood in Dorset. Walsh recently started his own training program, called DALTAE, which offers participants from around the globe the opportunity to learn a wealth of skills while immersed in the Joseph Walsh Studio ethos of integrity, mutual respect, and a commitment to continuous improvement and growth.
The dedicated collectors that Walsh attracts also share an ethos: holding the handmade in the highest regard and living with good design as an essential way of life. They fly from all over the world to meet him in his remote studio. Witnessing there firsthand the studio's sophisticated research methods, innovative production techniques, and extraordinary mastery of materials, they fall in love all the more. They can see that, for Walsh, furniture making is about forging powerful relationships: between artist and patron, between objects and space, and between objects and their users. Walsh's pieces converse with their surroundings—whether traditional, cutting-edge, minimalist, or maximalist—in the most sensitive yet dynamic ways. The charisma and excellence of his work imbues interiors with an unforgettable spirit.
Walsh's most famous patrons are the 12th Duchess and Duke of Devonshire, who have an extensive collection of contemporary art, design, and ceramics installed in both the public and private wings of their historic, 126-room estate, Chatsworth House. Notably, the Devonshire family has been patronizing the arts for centuries, and the current Duchess and Duke are committed to carrying on the tradition, mixing contemporary expressions with treasured antiques and expanding one of Britain's most important private collections. The Duchess and Duke, true connoisseurs and dream clients for any designer, commissioned some of Walsh's most impressive designs to date. His relationship with them, Walsh told us, began with the acquisition of two chairs. By the third commission, he was asked to create site-specific pieces that respond to Chatsworth House's architecture, interiors, and history. It was here that Walsh began to fully appreciate the potential of engaging with collectors directly to transcend boundaries and achieve something great together. Walsh's work at Chatsworth House integrates flawlessly with the layered context and enhances the story of the family's museum-quality collection spanning the last 500 years.
Walsh relishes working directly with his collectors to tailor his designs to the specific character and needs of their homes. In turn, these patrons are willing to wait up to two years to receive their pieces. Clients frequently remark that living with Walsh's work is transformative, and as their bond with Walsh strengthens, they often order more from Walsh over the years and attend his annual Making In seminar to learn more about contemporary craft culture. A passionate community has formed around Walsh's studio. "Acquiring a piece of furniture from Joseph Walsh is not merely a commercial transaction," Toronto-based art collector Nancy Lockhart told me. "Instead it is an entry into his world of wonder and creativity. It is almost a sacrilege to call his creations furniture; they are functional, yes, but also sensual and spiritually uplifting. Everyday as I pass his furniture in my home, I stop to touch the curves or run my hand along the grain. Joseph is endlessly curious, thoughtful, gentle, and kind. He is generous in his willingness to explore options and, through his Making In events, exposes his clients and friends to other artisans who share his sensibility."
Over the past two decades, Walsh has participated in numerous solo and group exhibitions, but among the most memorable—the most exquisite—was his first solo show in Tokyo, organized by A Lighthouse called Kanata in 2018. The gallery's owner, Wahei Aoyama, specializes in contemporary Japanese kogei (glass, bamboo, clay) and has played a vital role in bringing this body of work to international recognition. For Walsh's introduction to the city, Aoyama wanted to do something special to express, in his words, "the epitome of Walsh's vision." The show, called RINN, took place at Tokyo's Sōgetsu Art Center, in a granite rock garden known as Tengoku (heaven), commissioned by Sofu Teshigahara, founder of the Sōgetsu-ryū school of Ikebana, and designed by the legendary designer-maker Isamu Noguchi in 1978. One of the magical aspects of the show, Walsh noted, was when the students at the Ikebana school created sculptures in flowers, inspired by his furniture, a testimony to the kindness of the people of Japan. "Joseph Walsh's flowing silhouettes are beautiful manifestations of nature and the natural," Aoyama told me. "They are odes to a singular aesthetic vision that has been realized by a cherishing of materials and the culmination of technique." 
This article was published in Forum Magazine.