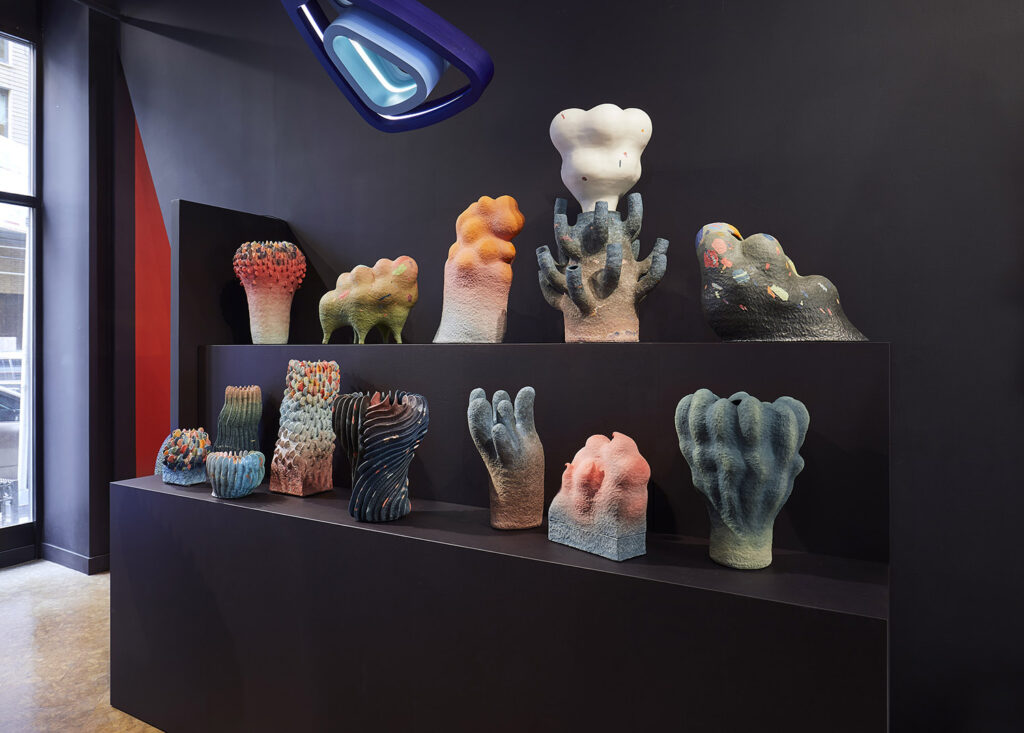 When you look at her pristine, colorless, light-filled Manhattan interiors, you won't be able to guess what the clay vessels of this architect-turned-ceramicist look like; they are colorful, sensual, romantic, and dreamy. As ceramics begin to take a central role in contemporary art, the path has opened up for artists working in clay to explore many new possibilities. Clay has gradually become the material of the moment, with artists of unlimited potential shifting perception and challenging the long history of ceramics. A newcomer to the world of clay art, the 50-year-old NY-based Korean American ceramicist Janny Baek recently began her voyage into the world of ceramics. She has triumphed with her first solo exhibition, The Pleasure of Growth, at the Culture Object.
Walking through a narrow lane of vessels at the newly opened Manhattan gallery, you feel like you are walking into a science fiction reality filled with lush plants growing in right front of your eyes, colorful clouds, and creatures come to life. The gallery, which was designed by its founder Damon Crain to look like a salon, features walls in deep, jeweled colors and an atmosphere that adds to this fantastic experience as you step in from the ordinary streets of midtown New York and enter the extraordinary.
Visiting Baek's studio was helpful in understanding her story—the techniques, inspiration, and her journey into making art. She was born in Seoul before she and her family moved to New York when she was still a young child. Studying ceramics at RISD was the first step in her career as an artist. Upon graduation, she went to work in animation: creating sculptural creatures for animated films. She eventually went back to school and received a master's degree in architecture from Harvard Graduate School of Design. As an independent architect, Baek co-founded McMahon-Bake Architecture with her husband, architect Thomas McMahon. The couple made their names with high-end residential projects in Manhattan; colorless spaces crafted of beautiful stones, wood, and glass—furnished with modernist design icons.
During the pandemic, Baek went back to her original love, ceramics, and established a spacious studio in the back of the architecture office situated in the Flatiron District. It is here, in this light-filled space, that she began to experiment with clay, hand-building, and glazing, finding her voice within the expanding possibilities of the medium—following both her admiration for Japanese clay art as well as her own instincts. She uses the ancient Japanese technique of pottery in multi-colored clay, called Nerikomi, which she makes her own by mixing porcelain with pigments. She builds her vessels and integrates the ornaments. She met Crain through Instagram during the pandemic when she was just experimenting with sculptural forms. Two years later, when she moved to making vessels, the two began working together, and a star was born.  The exhibition will be opened through May 20th.