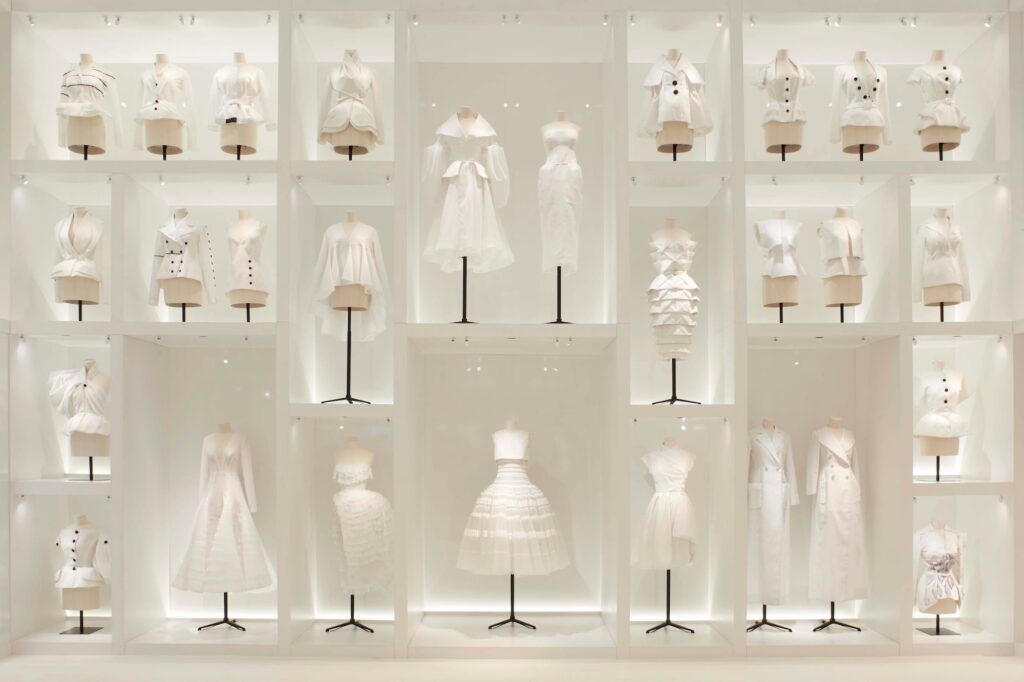 We have much to learn from Christian Dior. He was a brilliant couturier who was able to quickly respond to the zeitgeist and to shape the fashion of the years following WWII. He changed the face of fashion history and secured his name and his eponymous brand in the pantheon of postwar culture. Every woman during the 50s was dressed in the feminine and stylish silhouette that Dior invented: swirling full skirts, nipped-in waists, and fitted jackets. But the best lesson we can learn from Dior is the power of opening the door to the next generation. His entire career as a couturier lasted barely 10 years until his early death at the age of 52. Dior's legacy has been perfectly preserved, and much more so than that of his contemporaries – Jacques Heim, Schiaparelli, Jacques Fath. By hiring 21-year-old Yves Saint Laurent, Dior cemented his name in history. Now, the Brooklyn Museum celebrates that legacy in a mega exhibition called Christian Dion: Designer of Dreams. Last week, I went to the Museum with a small group of design lovers, to meet curator Matthew Yokobosky and to learn about the creation of this ambitious show.
The exhibition is stunning, overflowing, a pure experience of elegance and beauty. It evokes the feeling of a fairytale—a metaphor to our own time. We are just now emerging from interminable  lockdowns—a time when the evocative fashion statements were sweatpants and pajamas—and are now waking up with fashion in our lives again, similar to Dior who brought elegance and glamour to a wounded world after the War. I am sure that he would be flattered. The museum's central atrium gallery, a neoclassical hall designed by McKim, Mead & White in 1913, proves to be the perfect setting for showcasing the recent collection.
The show begins with the story of Dior's debut collection, "The New Look"—originally named "Corolle,"—which brought him dazzling success overnight. He became a global name, synonymous with French chic, and the curator started with his story in America. He was invited to Dallas to accept an award, traveled throughout the US for weeks and fell in love. He soon launched his brand in America, opening a flagship store in New York, and became the source of inspiration to all Seventh Avenue manufacturers. Yokobosky brilliantly juxtaposes the fashion with masterpieces of contemporary American art by Louis Nevelson and Charles and Ray Eames to embody the spirit of the time.
The next section of the show presents later generations—those fashion designers who reinvented Dior's tradition and kept the maison sensational. First, it was Saint Laurent, whose section of 60s fashion was my favorite. I only wish this section had been more expansive. Then came Marc Bohan who survived as Dior's artistic director for three decades. Next was Gianfranco Ferre, John Galliano, Raf Simons, and now, Maria Grazia Chiuri. Those designers who followed the founder all brought their own voices, and together formed the powerhouse we know today as Dior.
The exhibition has so many layers that it is hard to cover it all here. All I can say is – run. Dive into the world of dreams where elegance and luxury make us appreciate what we missed for nearly two years. And thank you, Matthew Yokobosky, for leading the tour. Without you, it would not be that powerful. The exhibition will close on February 20th. All images courtesy The Brooklyn Museum.