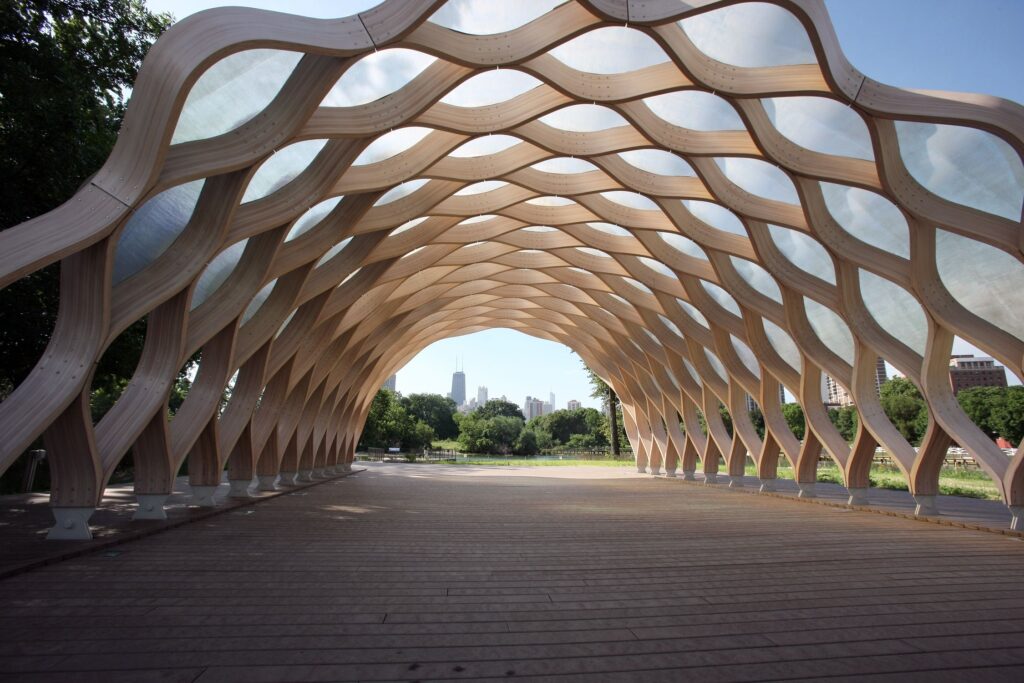 "Throughout her career, Jeanne Gang has demonstrated an acute sensitivity to sustainability and the relationship between nature and the built environment… This is especially key for our museum, which sits in a New York City public park and aims to communicate the glory and wonder of the natural world. Jeanne has also shown a special passion for projects that combine innovative, mission-driven design with a commitment to creating community spaces that facilitate onsite and digital access and gathering. Her glorious, nature-inspired architectural concept embraces the museum's legacy in science and education and embodies what a museum can be in the 21st century."
—Ellen V. Futter, President of the American Museum of Natural History
Ecological and social responsibility; gender equity; workers' rights; uplifting communities. The values that fuel the most celebrated architecture today are those that have always defined the work of Studio Gang, since the firm was originally founded by Jeanne Gang in 1997. As an architect and urban designer—based in Chicago with offices in New York, San Francisco, and Paris—Gang has embraced an activist approach informed by cross-disciplinary research, all aimed at impacting cities around the globe with projects that make a difference in everyday people's lives.
As last week's Architecture: The Legends guest, Gang reflected on why her designs are never, in her words, "anonymous boxes," because architecture at its best is a powerful engine for public service. Her commitment to honoring diversity, adaptability, and resilience have allowed her to create sites characterized by singular, unforgettable identities.
New York City is currently abuzz over Gang's much-anticipated addition to the American Museum of Natural History campus, the beloved Upper West Side institution founded in 1869 to advance knowledge of the natural world. In the wake of this month's first press preview, Gang's Richard Gilder Center for Science, Education, and Innovation, though still under construction, has already been declared a triumph.
Gang recognized from the outset the serious commitment demanded by this high profile project. To be successful, the design had to not only seamlessly integrate architecture, environment, science, and academics, but also encourage visitors for generations to come to fall in love with nature, learning, and scientific inquiry. Long dedicated to connecting people with nature through architecture, Gang was uniquely up to the task. "Architecture," she said, "should be inspired by nature, and architects should study it closely."
Opening February 2023, the museum's new wing culminates Gang's intensive efforts over the last decade, from vying for and winning the prestigious commission in a closed competition back in 2013, to the ensuing years of innovative material and technological testing. To realize the biomorphic, cave-like structure, she repurposed a molded concrete technique, called shotcrete, which is more commonly used to make subway tunnels. The idea was sparked by the museum's most enduring attractions, the wildlife dioramas created long ago from plaster molded around wire skeletons.
In another American urban center, in her architecturally proud hometown of Chicago, Gang's first high rise commission, Aqua Tower, has become a can't-miss highlight of the city's popular architectural tours. Since its completion in 2010, locals have come to see this rippling white structure as a quintessential component of Chicago's powerhouse skyline, offering a spirited counterpoint to historic, 20th-century treasures, such as Howells & Hood's Tribune Tower (1923-25), Bertrand Goldberg's Marina City (1968), and Skidmore, Owings & Merrill's 875 North Michigan Avenue (née John Hancock Center, 1969) and Willis Tower (née Sears Tower, 1973), to name just a few. Aqua's standout presence arises from its invigorating visual vocabulary, like a dance floor in the sky, softened by an aura of magic, like the fabric-wrapped landmarks of Christo and Jeanne-Claude.
Praised by academics and critics alike, Aqua catapulted Gang to international acclaim. Not only was it the tallest building by a female architect at the time—a title later usurped by Gang's St. Regis Chicago—it also became a prominent symbol of exciting new directions in 21st-century architecture. Gang's vision for this mixed-use highrise extended beyond surface appearances toward the lofty goal of elevating the quality of life for the residents who would call Aqua home, with design details chosen to strengthen their sense of connection to the natural environment as well as to each other.
Aqua's "balance between novelty and urban practicality" earned Gang a prestigious fellowship from the MacArthur Foundation, which explained: "The undulating contours of Aqua's balconies infuse the familiar high-rise profile with an unusual optical poetry; at the same time, energy-efficient features such as heat-resistant and fritted glass, rainwater collection systems, and energy-saving lighting systems address environmental concerns on a large scale… Gang is setting a new industry standard through her effective synthesis of conventional materials, striking composition, and ecologically sustainable technology."
Gang shared the story of how she landed the Aqua commission, thanks to a dinner party that seated her next to developer James Loewenberg, who happened to be on the lookout for ways to take his next project to a new level. Her anecdote called to mind another Chicago architecture legend. At a dinner party half a century earlier, prominent Chicago doctor Edith Farnsworth met German-born modernist architect Ludwig Mies van der Rohe and invited him to design her weekend retreat. Their collaboration, the Farnsworth House, turned out to be one of the world's foremost examples of mid-century residential architecture.
Gang has another connection to Mies. As a teacher at the Illinois Institute of Technology, she told us, where Mies designed the College of Architecture's SR Crown Hall and also taught, she developed an admiration for Mies' legacy: his "sensual and powerful" masterpieces, the way his work celebrates and elucidates architecture's essential materiality, his influence on the urban fabric of Chicago. She acknowledged, however, that her own approach veers wildly from the principles championed by last century's architectural masters, who perceived buildings as exquisite, unchanging objects. The design for buildings today, she told us, ought to enhance the relationships between people and the environment. And flexibility, in her view, is vital to longevity.
In her 2016 publication Where Are the Women Architects?, architectural historian Despina Stratigakos notes that, while women make up 44% of architecture students in the US and the UK, those numbers drastically drop at each rung higher up the professional ladder. Gang counters such disheartening statistics by pointing out the transformative, revolutionary role that women have played in the profession over the last century, citing as evidence the recent exhibition Good News: Women in Architecture at the MAXXI Museum in Rome.
Early next year, on January 21st at the Shangri-La Paris Hotel, Gang will be standing at a podium to receive Le Prix Charlotte Perriand, the Créateurs Design Association award for architecture and design trailblazers. Gang looks forward to the illustrious event, she told us, as an opportunity to acknowledge and celebrate the pioneering French female for whom the award is named. A century apart, both independent, daring women have wielded their extraordinary gifts in service to the greater good, while also chipping away at their profession's stubborn glass ceilings—so that those who follow may benefit.
This article was published this morning in Forum Magazine by Design Miami/.