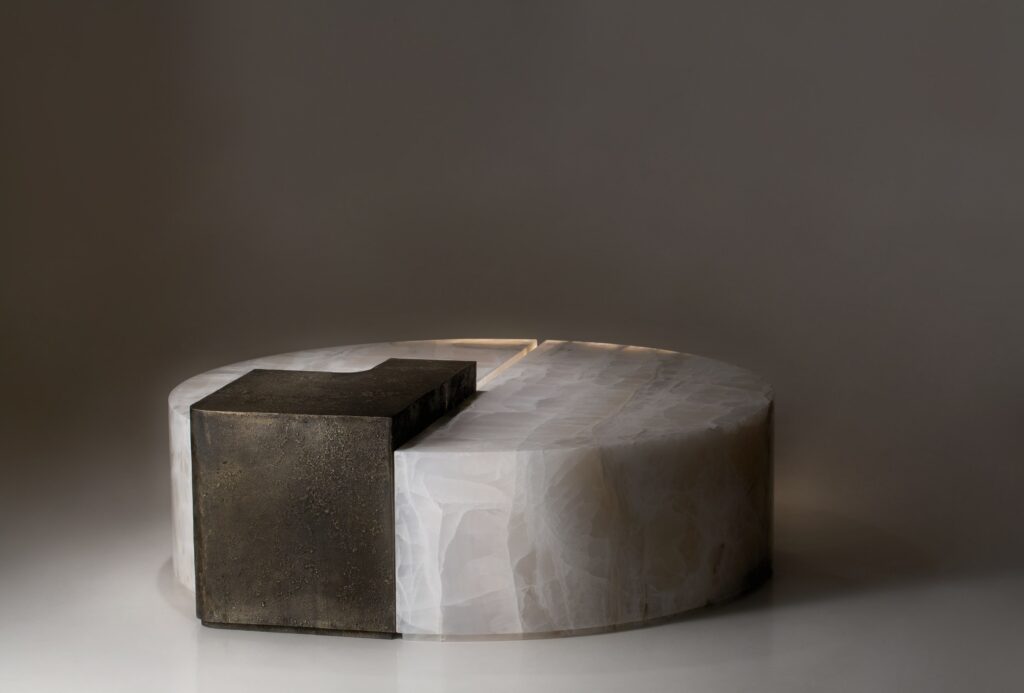 When you walk into the new Cristina Grajales gallery in Tribeca, you enter a symphony in black and white, transformed by Gloria Cortina for her new solo exhibition The Infinite Sublime. It presents an in-depth look into the Mexico City-based designer as she celebrates a special milestone in her mid-career by including a new series of furniture and objects.
All pieces presented in the show have been brought to life by craftspeople in Mexico and appear both feminine and powerful simultaneously. They combine the two worlds of Cortina's life as a professional designer; one being the expression of a strong Mexican identity, and the other being references to the oeuvre of female modernists of the 20th century—particularly Eileen Gray and Charlotte Perriand. Cortina manages to combine these two worlds into one. You can clearly identify other influences from her world such as ancient cultures, modern avant-garde, the heritage of Mexican modernism, and the roots of handcraftsmanship. This conversation between the past and present enriches and brings layers to Cortina's work, making it feel sophisticated and interesting to live with—which is what I like to see in contemporary design.
Living between New York and Mexico, Cortina knows the realm of Mexican crafts and knows it well. Finding the right craftspeople, she told me, is not as easy as it may seem. For years she has traveled through the villages of Mexico, visiting studios and homes in her quest for those craftspeople who can achieve perfection. Don't expect to find anything like what you see when travel to Mexico. You will not see anything resembling the colorful, ornamented, and rough-around-the-edge look of the new design movement recently emerged from Mexico City, regularly presented in Design Week Mexico or in its new emerging design galleries. Cortina does not participate in that discourse, which is itself motivated by the relationship between design and artisan. Furniture, lights, and objects in magnificent materials—such as brass, smoked glass, stainless steel, obsidian, onyx, ciricote, nickel, porcelain, and bronze—are fully resolved, sleek, elegant, and are woven into restrained and abstract forms of exquisite craftsmanship and architectural sensibility. Like the modernists she admires, she lets the materials speak through the design.
She was born in Bethesda, Maryland in 1972 to Mexican parents. Her father forbade his daughter from going to architecture school and demanded that she become a stay-at-home wife and mother, not knowing that it would be her future husband who would eventually introduce her to the art world. His great aunt, Inés Amor, was the legendary art dealer who founded Mexico City's first gallery of modern art and has been a lasting inspiration to her. Cortina ended up training as an interior designer at Parsons School of Design and started her career with the internationally acclaimed architect David Ling, continuing to practice independently between New York and Mexico City.
Her work brings you close to the material, allowing you to communicate and connect with the material emotionally while also having the power to transform the contemporary space. The two pieces that will stick with me most are the tapestry based on a sketch and hand-woven in a variety of methods, and the Origin Coffee Table with its exquisite white onyx and brass (above). The exhibition will be up through the end of January at Cristina Grajales Gallery.