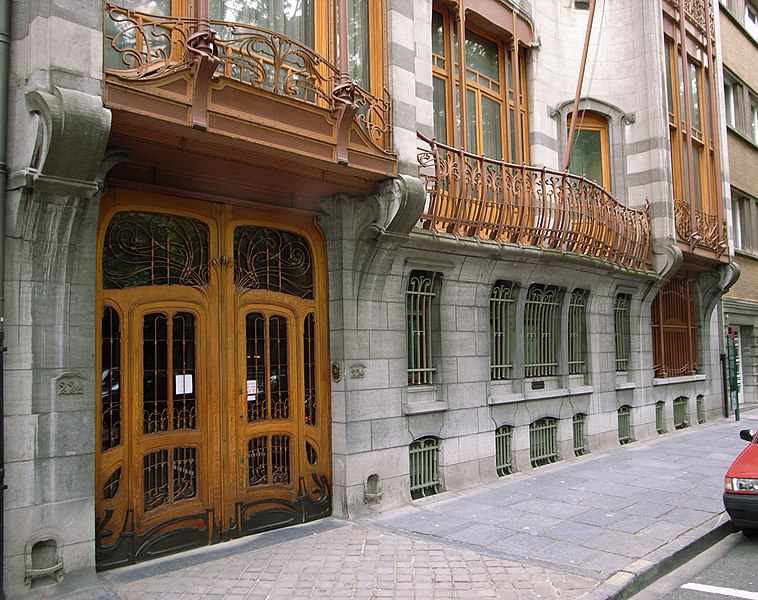 With only five townhouses he built in his hometown Brussels in the late years of the 19th century, Victor Horta (1861-1947) cemented his place in the history as the father of Art Nouveau architecture. Those masterpieces marked the early phase of his career, but also its peak. In fact, Horta devised the first of these townhouses, Hotel Tassel at 31. Each of the five is different, each possesses a poetic expression of glass and iron, featuring interiors filled with light, space, and air despite of their narrow building sites. They were all built as an expression of gesamstkunstwerk, 'total work of art,' where Horta paid attention to every detail, from the door handles, to the spoons, from the furniture, lightings, and the building itself. They represent the highest level of artistic expression of their era, created for visionary patrons of the taste for the avant-garde.
Until today, the only house open to the public, where one can fully experience Horta's vision has been the Horta House and Studio, which he built as his home and office, converted to a museum in the 1970s. Here, you can experience the power of large windows, skylights, mirrors, and open floor plans to evoke airy space, filled with light and air. Now, a second of Horta'[s townhouses is opened to the public, Hotel Solvay, which he designed for industrialist Ernest Solvay, situated on Avenue Louise/Louizalaan in Brussels. Like the others, it has been an UNESCO World Heritage Site, and its opening has been a collaborative effort of the Government of Brussels and its owners.
Unlike the his modest house and office, in Hotel Solvay, the client provided an unlimited budget, which allowed Horta to use the most exotic materials, such as unusual marble and tropical woods, great tools in creating the ultimate Art Nouveau interior. The current owner Alexandre Wittamer has recently received a Bronze Zinneke from Prime Minister of Brussels in recognition of the efforts of his family to preserve the cultural gem. Wittamer's grandparents saved the house from demolition in the 1950s, following a substaintial damage by a German bomb during WWII, and the family have maintained it ever since. In the visit, you would learn the romantic story behind the house, which was built as a surprise gift to Solvay's bride. The work on the structure was completed within five years, but the interior decoration took longer, until the finishing touches were completed in 1903. The house came to represent the ultimate expression of the revolution introduced into architecture and design by the Art Nouveau movement. To book a visit, you have to purchase a ticket on the website.