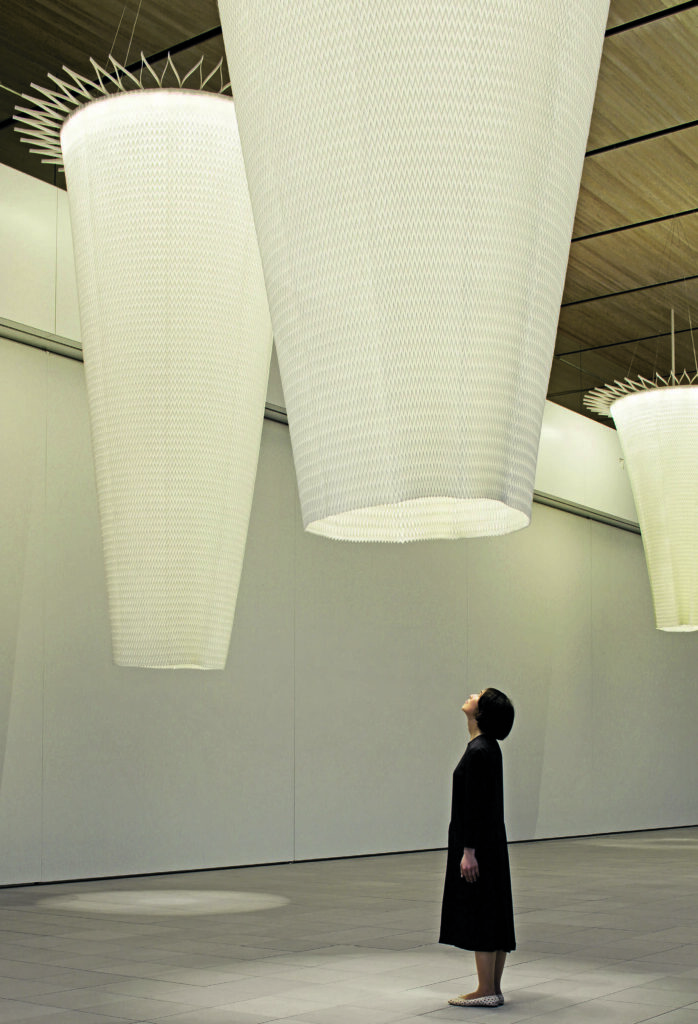 When I think of Japanese aesthetics and crafts, what comes to my mind are wooden houses with tatami mats, the bamboo of the South, Mingei teacups, yakitori bars, stone gardens … and NUNO. Founded in the 1980s, the Tokyo-based textiles visionary has become internationally known for magical textiles in their famed shop, and particularly with its renowned installations at the Tokyo Mandarin Oriental. Now, the monograph 'Nuno, Visionary Japanese Textiles,' edited by American architect Naomi Pollock, sheds light on this extraordinary contemporary company which bridges Japanese craft and 21st-century cutting edge technology, constantly pushing the boundaries of textile art.
For the past three decades, its artistic director, textile designer Sudō Reiko, has shaped NUNO's products, developing an image synonymous with innovation, new methods, and championing sustainable products. She has introduced a mix of craft traditions with engineering techniques, while combining a variety of fibers: silk, washi paper, feathers, metal fibers, and other materials into spectacular, sensual textiles. Pollock lived in Japan for three decades, immersing herself in Japanese design, and visiting and writing about buildings for a variety of publications, for which she acted as a Special International Correspondent for Architectural Record. It is then that she developed a passion for Japanese art, architecture and crafts, and a love for special attention to detail, sensitivity to materials and, above all, integration of craft, all of which are integrated in Japanese identity.   With an introduction by Caroline Kennedy, former US Ambassador to Japan, 600 illustrations, and a gorgeous cover bound in NUNO fabric, this beautiful volume published by Thames & Hudson could not better represent NUNO and what it stands for. 'The NUNO approach to textile design,' Pollock told me, 'is completely unfettered. For NUNO's designers, inspiration is everywhere. They embrace and invigorate traditional techniques and materials and at the same time incorporate cutting-edge technology into their work.'
Named for the word "cloth" in Japanese, NUNO is one of Japan's most important textile companies, and this encyclopedic book is a real celebration of Japanese textile art of the 21st century. It was founded by Arai Junichi, who once designed textiles for the leading fashion houses of Miyake Issey and Yamamoto Yoji. Three years later, he was joined by Sudō who brought NUNO to global fame, collaborating with architects, and promoting the use of recycled fabrics.
The succeeding eight chapters are named after the feeling evoked when touching the fabrics. How amazing. You will learn that Fuwa Fuwa, Shiwa Shiwa, Kiwa Kiwa, Shima Shima, Zawa Zawa, all describe the feeling one gets when touching the textiles. Each chapter features fascinating text by a variety of experts – architect Ito Toyo, musician Arto Lindsay, and author writer Haruki Murakami – and each chapter concludes with detailed descriptions of the process of production for each textile, under the title Portrait of a Textile. I particularly loved the chapter Boro Boro. Literary 'rags,' it refers to textile made of recycled pieces that are patched together and traditionally created and utilized by the poor, but in contemporary times, used by Rei Kawakubo and Yohji Yamamoto. The examples by NUNO are tufted, multilayered, and irregular—and are exquisitely beautiful.
Pollock's acquaintance with NUNO began in the early 1990s when she wrote a profile of the company founder, Junichi Arai, for Metropolis Magazine. It enabled me to spend time with Mr. Arai in Kiryu, his hometown where many NUNO textiles are made, as well as getting to know Reiko Sudo, the current company director, at NUNO's Tokyo shop. This beautiful volume is a mandatory addition to any library of design, crafts, architecture, and for anyone who loves Japanese culture.