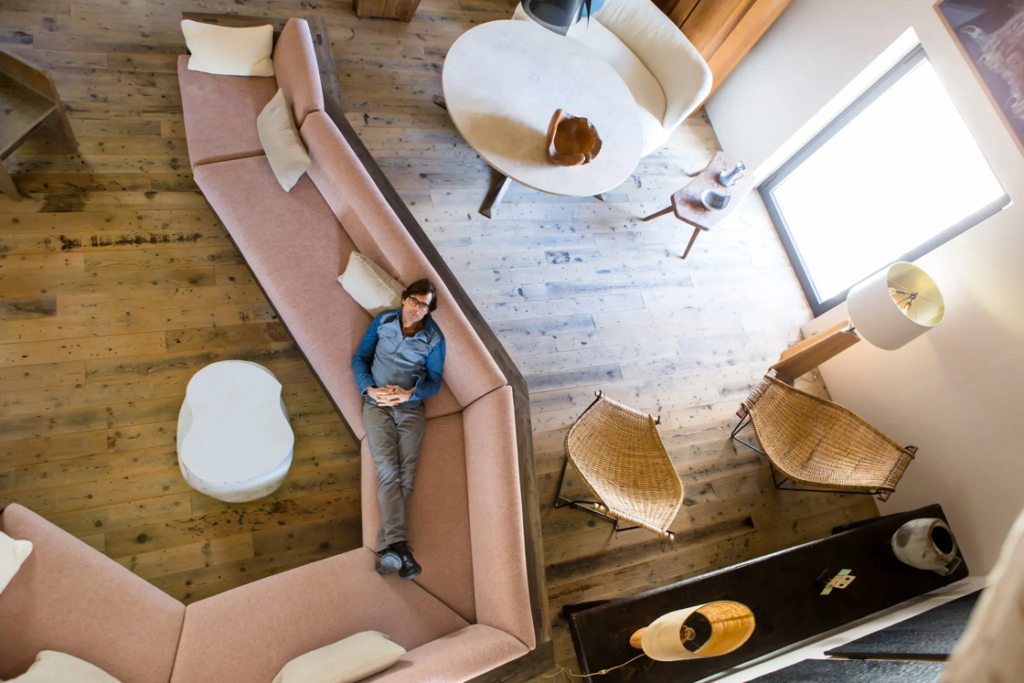 "I have known Pierre Yovanovitch for many years and have witnessed his growing success, which is thanks to his impeccable taste, talent, and curiosity. The way he observes art and the respect he shows artists who are involved in his projects are unique. This is what makes him so special."
—Thaddaeus Ropac, gallerist
When I think of interior architect Pierre Yovanovitch, my latest guest for Interior Design: The Legends, 20th-century French architect-designer Charlotte Perriand (1903-99) immediately comes to mind. Both in their own times reinvented French aesthetics; both constructed their oeuvres from a deep affection for French culture as well as nature and outdoor pleasures, inspired especially by the French Alps. They both travelled the world and forged international careers, employing languages devoid of extraneous ornament while championing the integrity of craftsmanship. Occupied with l'art de vivre—the art of living—they both earned reputations for creating elegantly functional living spaces that have become enormously influential on the generations that followed.
Yovanovitch was sitting in the living room of Château de Fabrègues, his home in Provence, during our talk. It was the first snow day that morning, and in the photos he had just posted on Instagram, you could see his two white dogs looking almost golden against the sparkling, silvery snow of the French countryside. This is where his heart and soul reside—his inspiration and peace—and his Provençal home is the most substantial and ambitious expression of Yovanovitch's singular personality and taste.
Yovanovitch acquired this remarkable 17th-century mansion in 2009 and has since been engaged in a lengthy process of renovation. While connecting past and present, he has been crafting a contemporary home without eliminating its past. The square structure is flanked by four majestic towers that lend an air of harmony and grace. It is filled with beloved objects: Nordic and American mid-century furniture and lighting, such as T.H. Robsjohn-Gibbings' Mesa Table for Widdicomb, Paavo Tynell's Snowflake Chandelier, and Yovanovitch's own designs, all set alongside his collection of contemporary art. He has also been cultivating a passion for gardening, learning about native plants and what it means to be rooted to a place by respecting its indigenous landscape.
An Instagram mega influencer and interior design celebrity, Yovanovitch has all the makings of a star. He is exceptionally talented, attuned to the times, and knows how to express his personal version of the contemporary through fine craftsmanship, compelling narratives, and a strong commitment to sustainability. He is handsome, charismatic, curious, knowledgeable, and authentic. His fans can be found worldwide. In our conversation, he shared the stories behind the glam, speaking candidly about his process, from conceptualizing to operating a business of 60 people (whom he calls "family"), working hard, traveling, and finding success in the world of interiors.
Raised in Nice, Yovanovitch started his career as a menswear designer for Pierre Cardin. From the legendary couturier, he learned the power of craftsmanship, purity, and uncompromising quality. There he also acquired his deep love for luxurious fabrics and his gift for combining life and career. After 8 years with Cardin, Yovanovitch established his own atelier in 2001, Pierre Yovanovitch Architecture d'Intérieur. The timing was auspicious, because the millennium proved to be a turning point in the world of design. As design became more popular than ever in the 21st century, Yovanovitch built a powerhouse business dedicated to producing interiors for hotels, residences, offices, restaurants, shops, exhibitions, and stage performances across the globe. Like Cardin—who famously went to the office everyday until six months before his death at age 97—he plans to work until his last days.
Yovanovitch's longtime love affair with furniture is both personal and professional. Beyond his private collection, this passion comes to life in his curated interiors, where the ambience is defined by extraordinary pieces. An admirer of 20th-century modernism, he knows all the best galleries and auction houses. He began designing his own pieces when he could not find exactly what he was looking for. Recently this aspect of Yovanovitch's creativity underwent an evolution. While celebrating the 20th anniversary of his firm in the spring of 2021, Yovanovitch launched Pierre Yovanovitch Mobilier.
Headed by designer-curator Cédric Morisset, this new furniture, lighting, and accessories brand brings together Yovanovitch's iconic, made-to-measure approach with superior craftsmanship, materiality, and sustainable practices, making his design available to a much wider audience. The line is currently sold in Yovanovitch's Paris showroom and will be available soon in a showroom in New York. Produced by French and Swiss artisans—ceramicists, glass blowers, metalworkers, upholsterers, and woodworkers—the brand has a strong, narrative-driven French identity. Yovanovitch was thrilled to tell me that his Mama Bear Chair is now included in the permanent collection of the Musée des Arts Decoratifs.
If we want to place Pierre Yovanovitch in the arc of design history, he is a student of French Purism, the avant-garde movement founded in the early years of the past century by Le Corbousier and Amédée Ozenfant as an alternative to what they perceived as the decadence of bourgeois aesthetics. Purist forms are clean, ordered, balanced, and clear, frequently geometric with subtly hued surfaces. At the same time though, Yovanovitch is a product of 21st century eclecticism, on the pulse of the ever-changing now. As his friend Austrian art dealer Thaddaeus Ropac says, his impeccable taste and strong affinity with contemporary art make him special. ◆
All images courtesy Pierre Yovanovitch Architecture d'Intérieur ; This article was published this morning in Forum Magazine, by Design Miami.
Registration to the spring edition of the series Interior Desing: The Legends opened this morning. Click here to register. There is a 10% discount to those registering from now until January 1st. If you are interested in the discount code, please let me know.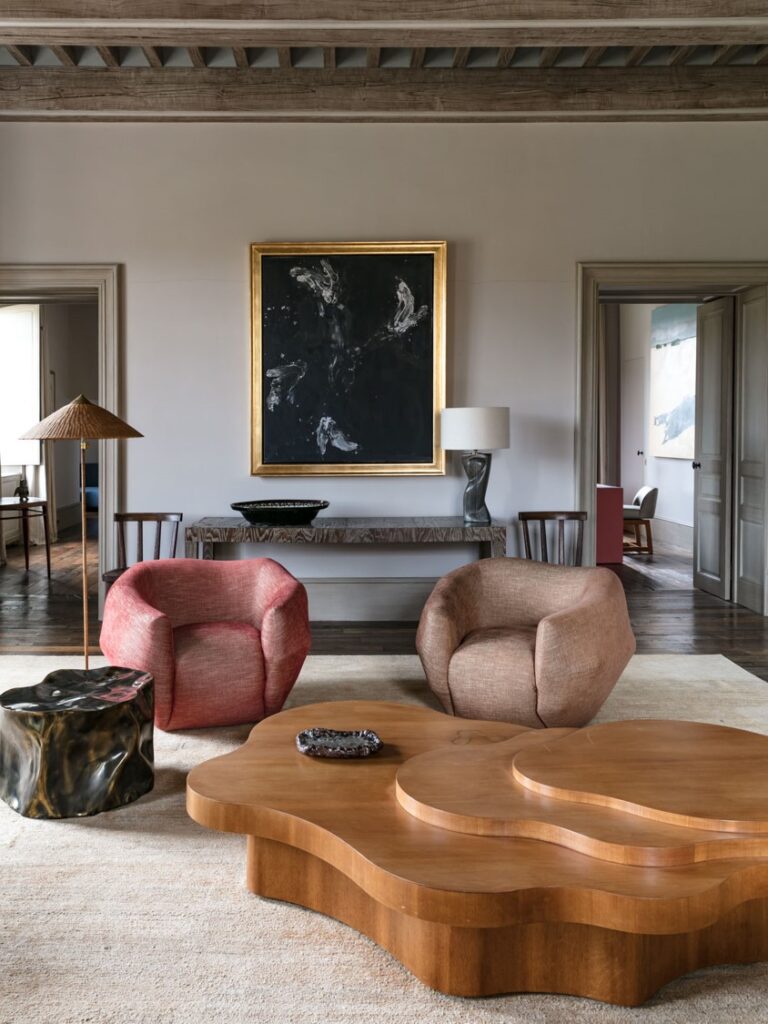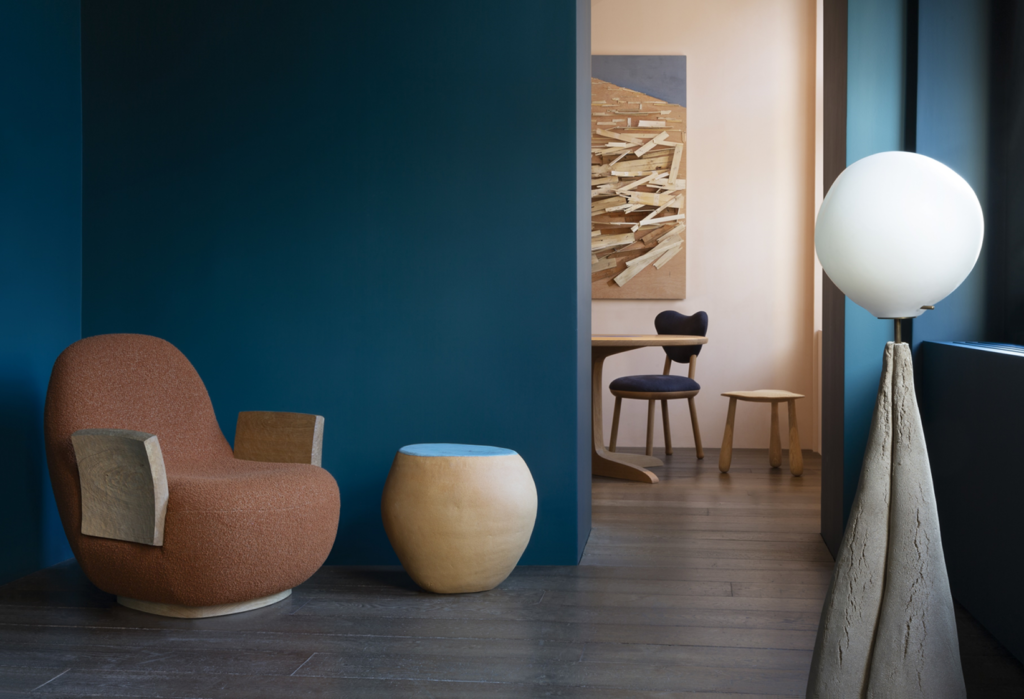 Pierre Yovanovitch Mobilier showroom in Paris. Photo © Jean-Pierre Vaillancourt.