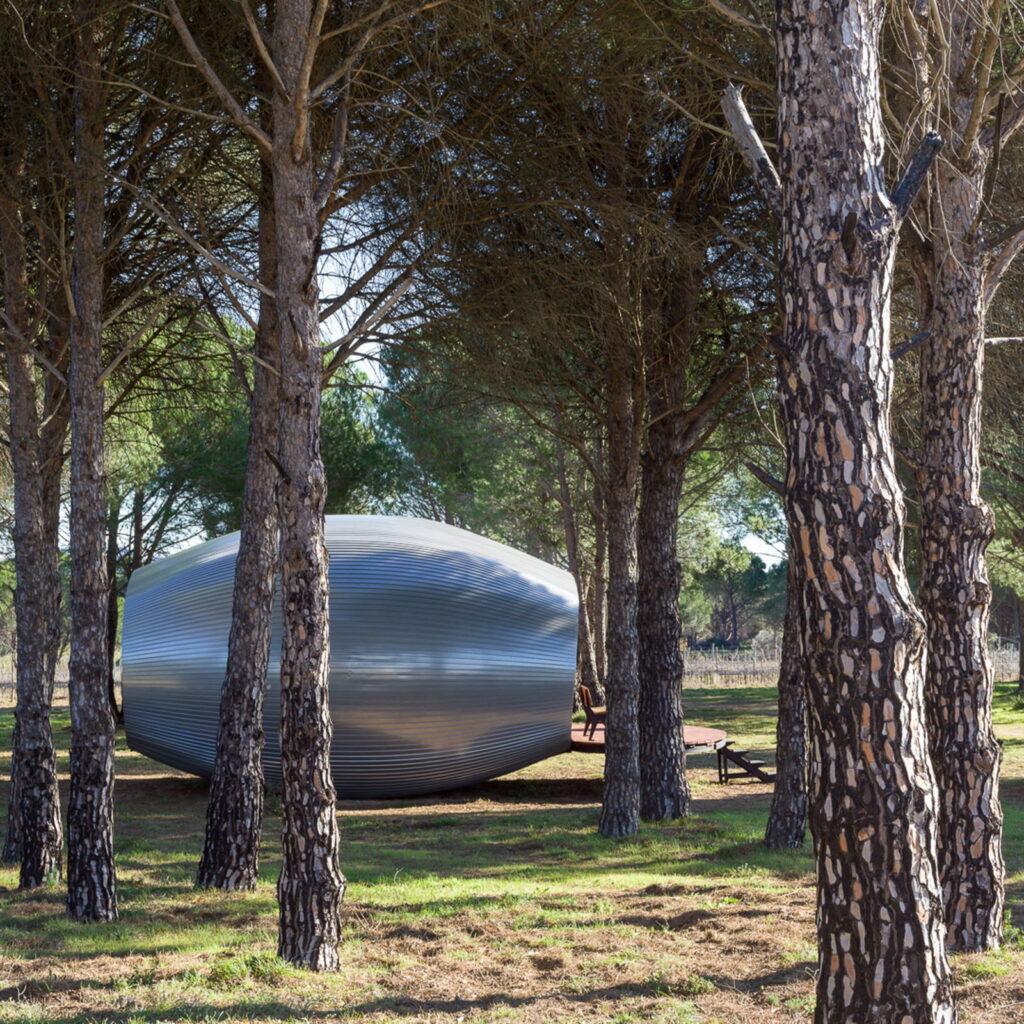 With its bubble shape and metallic reflection, the Nova House—an example of mobile, prefabricated microarchitecture—is the ultimate in space-age design of the 1970s; a true icon. It was created in an era which witnessed the space race between the US and the Soviet Union, marked by the race for the moon and the conquest of outer space. Design became glamorous and futuristic in representing the fascination with the space age, with metallic surfaces, bubble forms, and futuristic aesthetics. Now, that the Nova House is up for sale at auction, it has generated a new interest among collectors—particularly those interested in demountable, prefabricated, radical architecture. 
Designed in 1972 by architects Michel Hudrisier and M. Roma for Studio Rochel, the Nova House came to fulfill the fantasy of those dreaming of living in space. While that type of architecture was in vogue at the time, it was mostly applied to resort architecture, where vacationers were offered an experience that took them outside the known world, and into the extraordinary. Its seductive and glamorous appearance corresponded with the futuristic architecture formulated in the late 60s by Archigram, a British avant-garde architectural group, which created architecture with a strong commitment to high tech, space capsules, and mass-consumer imagery. It was the time of Buckminster Fuller, Pompidou Centre, and the Japanese Metabolism Movements, and architects sought to merge architecture, science, and fantasy.
The Nova House was constructed in an aluminum shell placed over a structure in galvanized steel tubes. Its outer skin consists of 180 blades of aluminum, specially patented for the project, which follow the ovoid shape of the structure. Lightweight, resistant and easy to use, aluminum allows the creation of a nomadic architecture, which is easily transportable. Delivered as a kit, it does not require digging foundations for its installation. It will be offered for sale by Parisian auction house Cornette de Saint Cyr in partnership with Architecture de Collection. The two will be offering demoutable structures and houses at auction twice a year.