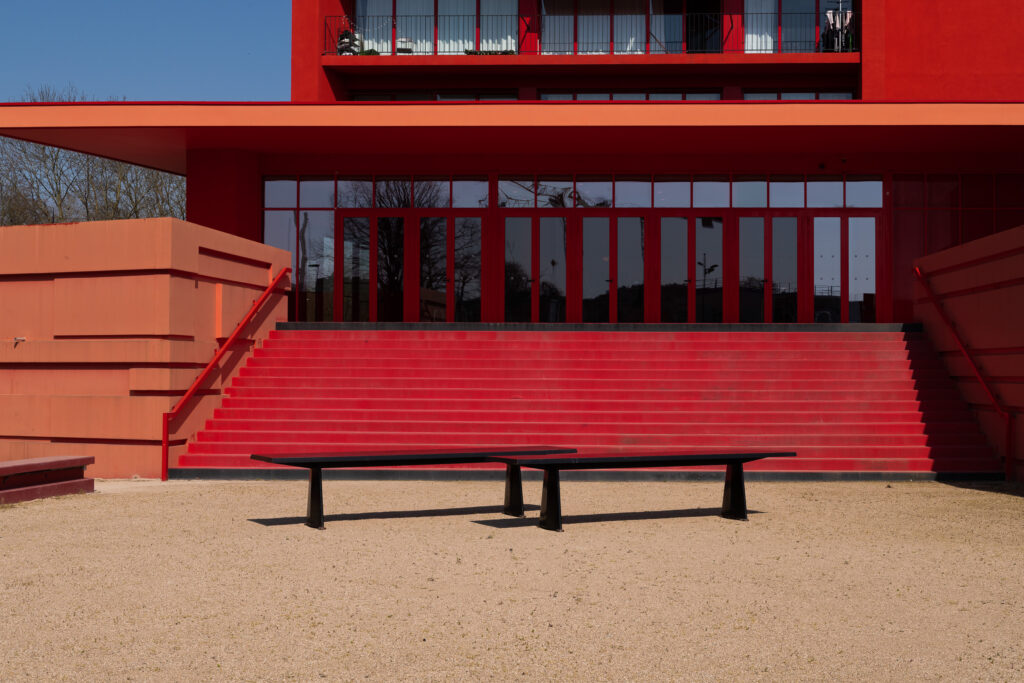 A new world record was achieved yesterday when two Trapeze table by Jean Prouvé fetched 3.844.000 EUR at the Parisian auction house Ader. Most collectors would agree that if there is one form by French designer Jean Prouvé which has become the ultimate trophy in the collectible design market, it is his black Trapeze table. Its ingenious engineering structure and aerodynamic form were made possible by the use of steel, Prouvé's favorite material, and its aesthetics are inspired by the wings of an airplane. This table is sought after by art collectors, seen in homes of tastemakers such as Calvin Klein and Philippe Jousse, generating headlines when offered in auctions and design fairs, fetching astronomical prices.
On June 3rd, two rare examples of the Trapèze, designed for the Cité Universitaire Jean Zay in Antony, France (inaugurated in 1955) were offered for sale by the Ader. Fresh from the University Residence, and its owner, the Crous of the Académie de Versailles, these tables are among the most anticipated lots in the upcoming formidable design auction season.
Named after French politician Jean Élie Paul Zay (1904–1944), that City University was a part of a reconstruction and expansion program undertaken by the French Ministry of Education in the immediate years following the WWII, aiming to provide education and student housing. The building, designed by architect Eugène Beaudouin, was perceived as a city within a city in the postwar manner, including accommodations, swimming pools, restaurants, lecture halls, a theatre, a library, a nursery school, shops, and a social care center. All of these required an enormous quantity of furniture, and for that purpose, two competitions were organized: one for the student rooms and the second for the collective spaces.
With his experience of providing furniture for both the Cité Universitaire in Nancy, and the law school in Aix-en-Provence, Jean Prouvé was the natural winner. From the many forms and models he proposed, the Trapèze was selected in two sizes. According to expert Emmanuel Eyraud, its exceptional feature is that the top does not rest on legs, per se, but on a wide, massive, sculptural base. So how did the two tables arrive in the market? In December 2021, inventorying the furniture was undertaken by a team of students from the Académie de Versailles and a decision was made to sell in order to raise funds for the building's renovations.