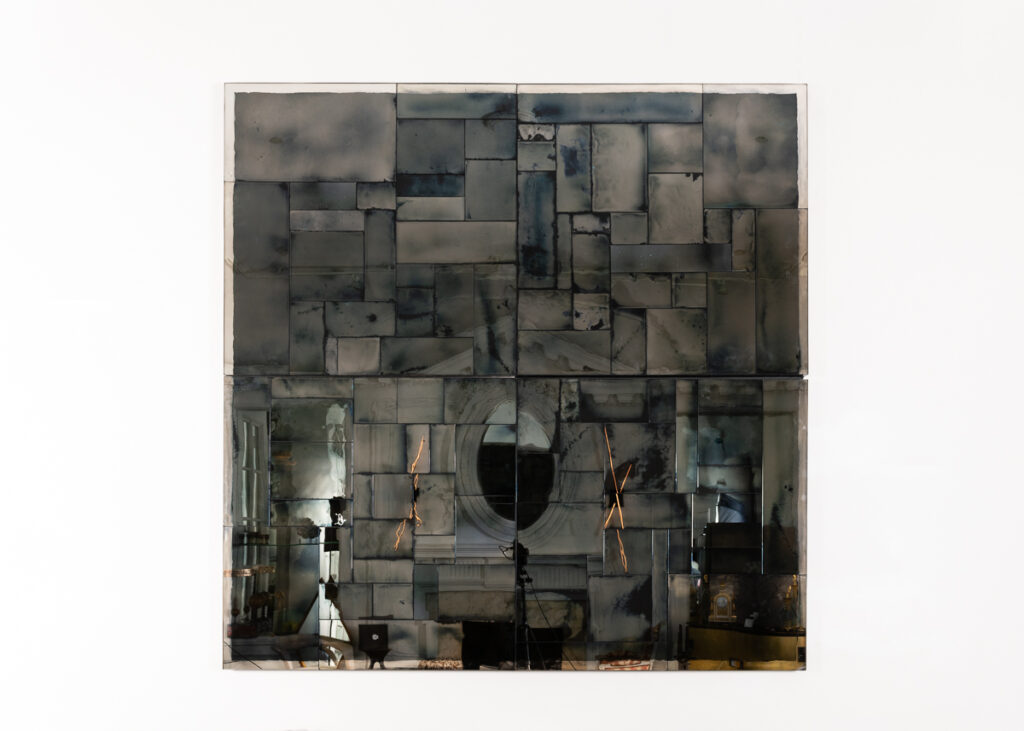 I have a special love for verre églomisé, the art technique of applying enamel and metal leaves onto the reverse face of glass, transforming an ordinary glass sheet into sculptural artwork. While the technique dates back to the pre-Roman era, it was particularly popular during the 18th century. When I started my studies in the history of decorative arts, I came across many examples in the collection of the Met, where the upper parts of mirrors in early American furnishings were regularly embellished with painted scenes from everyday life in the most naïve, folk-art manner. The art of verre églomisé is still alive today, practiced by a handful of artists who have given the ancient technique a new face. Today, I visited a new exhibition called Kiko López: Smoke and Mirrors at Maison Gerard—a solo show of the glass artist who has reinvented the technique in his own way, merging verre églomisé style with the art of the mirrors. The exhibition presents a series of mesmerizing mirrors embellished with abstract patterns, completely absent of the narrative that was so central to the art style in its early stages.
With his innovative personal technique, bringing glass and silver together and creating effects of smoky, mysterious surfaces with layers and layers of lights and shades—mystifying pieces that act as both mirrors and painting at once, López has demonstrated his proclivity for the unexpected. Think about glass surfaces that look like an Abstract Expressionist painting, or like a Japanese screen, with geometrical modular or city skyscapes seen through smoky, misty, somewhat gloomy landscapes which are then embellished with small patches of gold leaves. The patina makes them look as if they were aged naturally. Through these works, López seeks to create an experience that is both personal and confrontational at the same time by evoking various contradictions: positive and negative, dark and light, solid and transparent; all resulting in extraordinary surfaces that engage the viewer through reflection. He calls them "shadow drawings," for their compositions that stand between art and design.
Born in Puerto Rico, Kiko López (b. 1962) grew up in Miami and graduated with a combined degree in industrial design and architecture from RISD. His interest in materials and the materiality of objects has led him to become a craftsman who has developed a mastery in ceramics and glass. He established his studio in an old stone building—a former silkworm farm in Provence—where he has produced furniture, objects, lights, and architectural elements since 1995. He discovered the work with glass sheets in 2007 and has since engaged in perfecting his craft.
The works presented in the show are mainly large mirrors that demonstrate that his craft has been fully resolved—mirrored concave disks, screens, lamps, and crystal tables—but rather than applying metal leaf on the reversed side of glass sheets, Lopez pours silver liquid and manipulates it to create the look of smoke with many depths and shades. Trained as an architect and industrial designer, Kiko López is a special kind of glass artist: one who embodies an artist's sensibilities with the long-honed talents of a craftsman. López's work is steeped in tradition but is also influenced by the works of abstract artists Sean Scully, Mark Rothko, and Korean minimalist Yun Hyong-Keun. The exhibition opens this week at Maison Gerard and will be on until November 15. All images courtesy Maison Gerard.