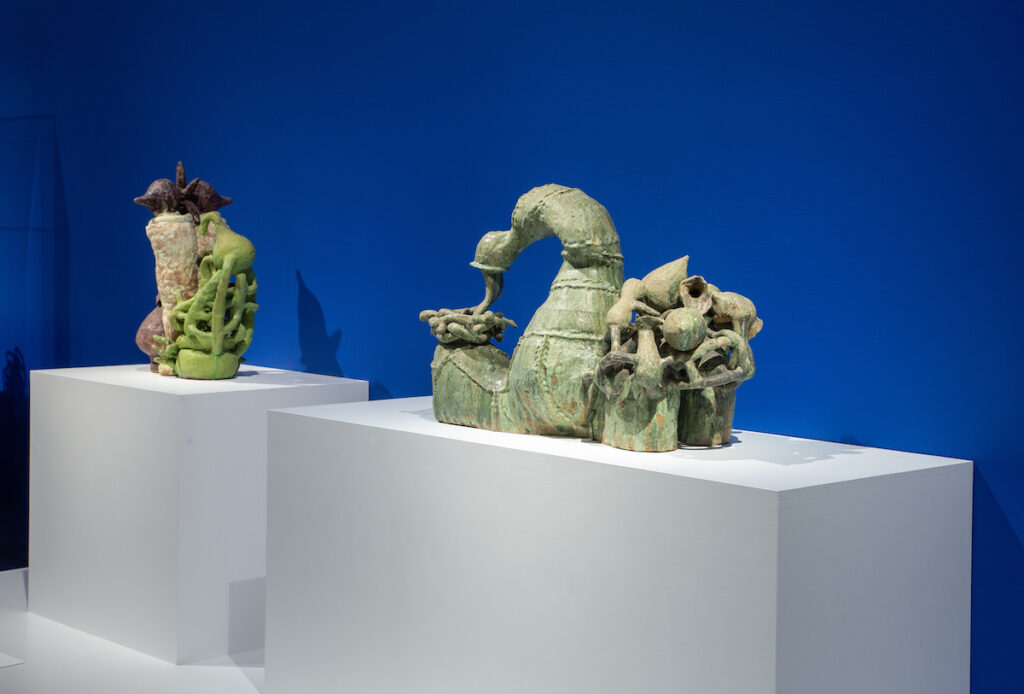 The spring has finally arrived to the Big Apple, and we strolled our way through Center Park to the Met, New York's palace of the arts, where we looked at the exhibit 'Shapes from Out of Nowhere: Ceramics from the Robert A. Ellison Jr. Collection.' This gorgeous installation in the South-Western part of the Museum (Gallery 913) comes to celebrate a gift of 125 modern and contemporary ceramics from Ellison, made to The Met in honor of the Museum's 150th anniversary. The exhibit comes to demonstrate the adventurous, imaginative, and radical expressions and techniques in clay art.  
While Ellison is not a household name, anyone who is involved in the world of decorative arts knows that he is the foremost collector of modern ceramics. Ellison famously moved to New York from Texas in the early 60s to become a painter. It was in New York, that he had discovered ceramics and developed passion and expertise long before collecting modern ceramics was in vogue. The collection is the ultimate example of connoisseurship, and self-educated expertise in the field. Ellison has gifted many historical pieces to the Met, which have been on a permanent show at the American Wing since 2009, but the recent gift includes only modern and contemporary ceramics, visionary, groundbreaking pieces that date from the early part of the 20th century to the present. It has resulted in a publication by the same title, published by August Edition.
The earliest examples in the show are by George Ohr (1857-1918), the American ceramicist who created expressive, abstract vessels that were ahead of their time. Little known during his lifetime, Ohr studied ceramics at Newcomb College Art Pottery in New Orleans, and was based in the South, moving between New Orleans, Louisiana, and Biloxi, Mississippi. It was not until the 60s that his genius was discovered, and today his pieces are shown in art museums, such as MoMA, as an example of early and abstract modern art.
The mid-century years are represented by some of the world's leading talents — Axel Salto, Ken Price, Toshiko Takaezu, Katherine Choy, Peter Voulkos, and Wing Ng – with magnificent examples of their oeuvre. Cotemporary ceramics are represented by those talents who demonstrate the power of clay to create the contemporary, such as Aneta Regel, Kathy Butterly, Syd Carpenter, and Lynda Benglis, with striking works that embrace abstraction and nonrepresentational forms.
The related publication 'Shapes from Out of Nowhere: Ceramics from the Robert A. Ellison Jr. Collection,' published by August Editions, is a beautiful volume that illuminate Ellison's extraordinary gift and decades of collecting ceramics, a passion that eventually crystallized into the singular approach of nonrepresentational form in clay. All images courtesy the Met.