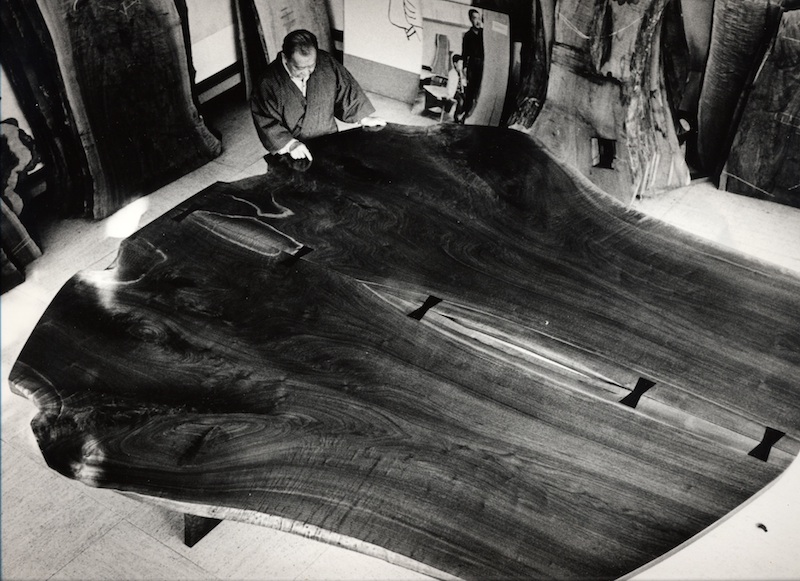 It was just three years before I had first met him that George Nakashima acquired a monumental magnificent slab of American walnut of the type you find once in a lifetime. Instead of using it to create one of his famed tables for his clients, the American-Japanese architect-woodworker decided to devote this unusually beautiful wood to the world's peace. He crafted an 'Altar for Peace' (above), and on New Year's Eve of 1986, placed it at the Cathedral of St. John the Divine in the Upper West Side of New York City.
His vision was to place one Altar for Peace in each continent, around which those making peace will gather for conversations, a symbol of peace. In fact, when Nakashima died in 1990, he was in the process of locating a place in the Soviet Union for his second Altar. Crafted of another monumental black walnut slab, it was eventually made and placed at the Russian Academy of Art in Moscow in 2001, following with a third Altar in Auroville, India.
On Sunday, May 23rd, the Nakashima Foundation for Peace will hold its second Peace Award Ceremony (via Zoom), honoring the devotion to Peace expressed by this year's recipients, Scott and Hella McVay and I am encourage everyone to participate. Scott and Hella McVay, among the first of George Nakashima's devoted friends to learn of his Dream of Peace Altars for the World in 1983, Nakashima's kindred spirits in the realms of integrating art, poetry, and science.