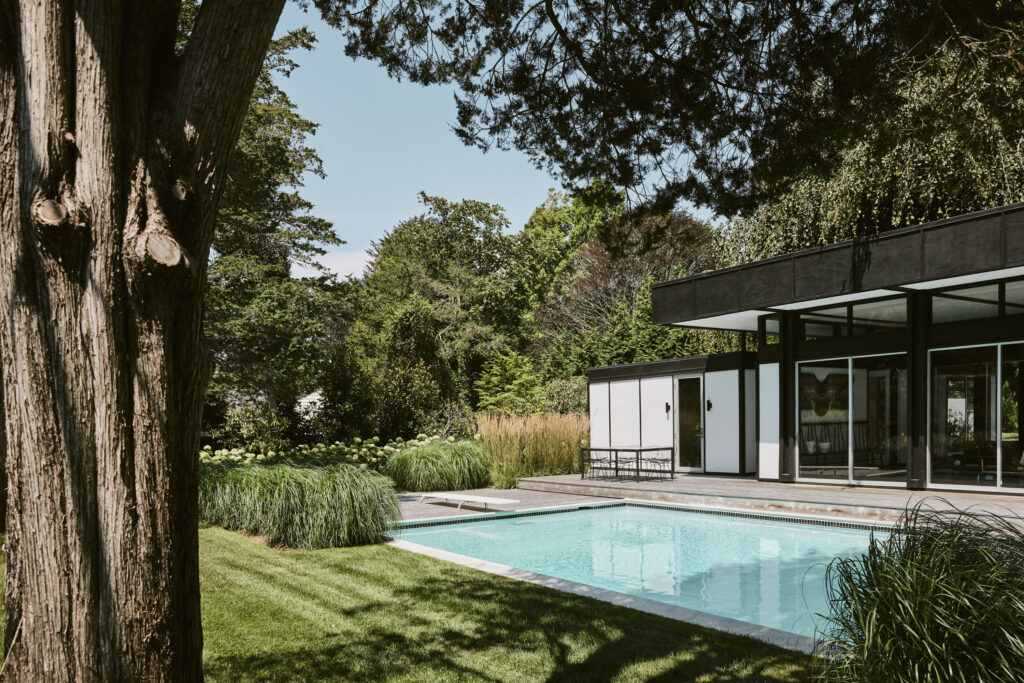 While we are at a moment in time in which we are exploring the great things that minorities (including women) have done for design culture, the fashion designer, collector, and activist Lisa Perry has taken her interest in female design to the ultimate level. In the glass modernist Onna House, she created a platform dedicated solely to female design. The showcase combines work from her private design collection along with seasonal exhibitions, all centered on the work of woman in all mediums of crafts and design. Ultimately, Onna House is a statement of Perry's passion for design, her taste in décor with a Japanese touch, the care and attention she puts into the living space and its role in shaping contemporary culture, and her quest to support female designers, their work, and their stories.
This glass house was Perry's starting point; it was like love at first sight—an embodiment of her memory and identity. It resembled the glass house in Chicago in which she grew up, and which no longer survived. That house was designed in 1962 by Austrian-American architect and modernist Paul Lester Wiener, who had famously collaborated with Spanish architect Jose Luis Sert for Havana and Bogota. In New York City, he made his name with his master plan for the beloved Washington Square. He created this house in an orthodox International Style, modeled after Mies van der Rohe's black-painted-steel-and-glass National Gallery of Art Berlin, the glass and steel temple of art, designed at the same time. This dramatic glass villa is pure, bold, and simple, with dramatic scale anmd breathtaking atrium, commissioned by prolific art collector Robert Scull. With its floating roof, this glass house perfectly fit his taste for Minimalism and Pop Art. Today it is the backdrop of Perry's collections and exhibitions. With a typology of open plan and monumental transparency it could not be a bette fit for showcasing modern and contemporary design.
As a fashion designer and collector, Perry knows design and knows it well. Her taste is educated, mature, and eclectic; her intense exploration is well apparent. With Onna House, she has entered chosen the long journey to discover the works of female designers across the globe. She has begun to forge the second chapter in the house's memory by telling her stories of discovering talents, meeting them, and working with them. Her passion has been brought to life. The current exhibition features tapestries by Japanese artist Mitsuko Asakura, whom she is constantly promoting in the US. The acquisition of a tapestry by Asakura by the Museum of Arts and Design started at Onna House, where the curator first discovered the innovative work of the Kyoto-based weaver; Nancy Lorenz, whose pieces pay homage to her Japanese experience and fit perfectly with Perry's own love for Japanese aesthetics; Nina Cho, who creates furniture in pure geometrical forms; along with other vintage pieces by female designers.    
I discovered talents I otherwise did not know, and I greatly enjoyed hearing Perry's enthusiastic stories of meeting them, curating her collection and show, and weaving memories. What is next for women in design? Personally, I hope to see women discovered and showcased, as well as greater curatorial efforts in defining the world of female design today. In the past, women experienced struggle and were stereotyped. In my own exhibition 'The Female Voice in Modern Design' (opened at Carpenters Workshop Galley in the spring-summer 2022), I realized that for many talented women throughout the later part of the 20th century, in order to succeed they needed to partner with men, and their achievements were still rarely acknowledged. Today, despite the many more opportunities for women, there are still questions regarding the fact that the majority of architects and furniture designers at the top of the ladder are men. What is the place of women in advancing design in a society where design is so vital? Has the fact that crafts have become central to design culture made a difference? I would love to see the Onna House as a platform to explore questions of female existence in contemporary design. All images courtesy Onna House.