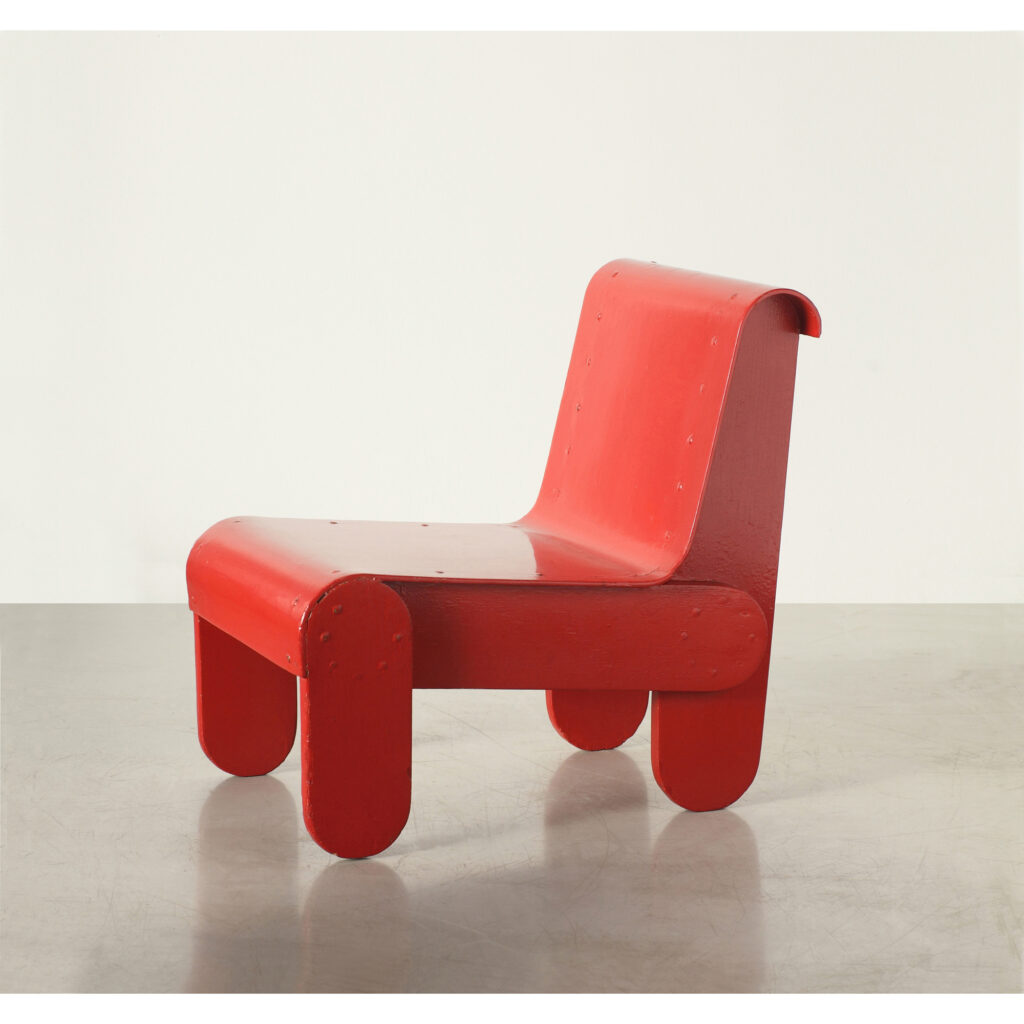 Provenance is the chronology of ownership and when it comes to collecting design, it is pivotal to have its documented history; 'provenance' comes from the French word provenir, which means 'to come from,' a key factor in determining historical authenticity. The provenance of a little red chair, crafted in Utrecht in the early 1930s in Amsterdam for artist Éva Besnyő, recently seen at Rotterdam-based Galerie VIVID, a world renowned specialist on Rietveld, is particularly striking.  
Besnyő (1910–2003) was a Jewish Dutch-Hungarian photographer who was among the pioneer of the New Photography Movement in the interwar years. She created a successful career in Berlin, where she also met John Fernhout, the son of the Dutch painter Charley Toorop, but with the rise of the Nazis, the two moved to Amsterdam where she began photographing the new emerging modernist architecture, and this is when she met Gerrit Thomas Rietveld, the famed Dutch furniture designer and architect. It was following his departure from De Stijl group and becoming associated with the Dutch functionalist style, known as the Nieuwe Bouwen, that they two had met and became friends. Her taste for the modernist aesthetics of De Stijl can be seen in another period photo of 1933, showing white chair by Rietveld along with a painting by Piet Mondrian in the living room of her home in Amsterdam.
In the 1930s, Rietveld made this little rounded chair for Eva Besnyö, who is seen with it in a vintage photo dated 1939 (see below). Only a handful of this model in plywood were produced by the Dutch architect, one other chair is known to exist today. The photo of Besnyö from 1985 shows again the chair that remained with her daughter after Besnyo died in 2003 at 93; and it has never been on the market before. The chair was only shown briefly at the Centraal Museum in Utrecht in the 1990's, and was included in a publication entitled 'The complete works of Gerrit Th. Rietveld.' Jurgen Creman, a Rietveld specialist restorer has examined the chair and found that its original color was orange before it arrived to Galerie VIVID. This is what I call the power of the provenance of one little red chair.
All images courtesy Galerie VIVID.