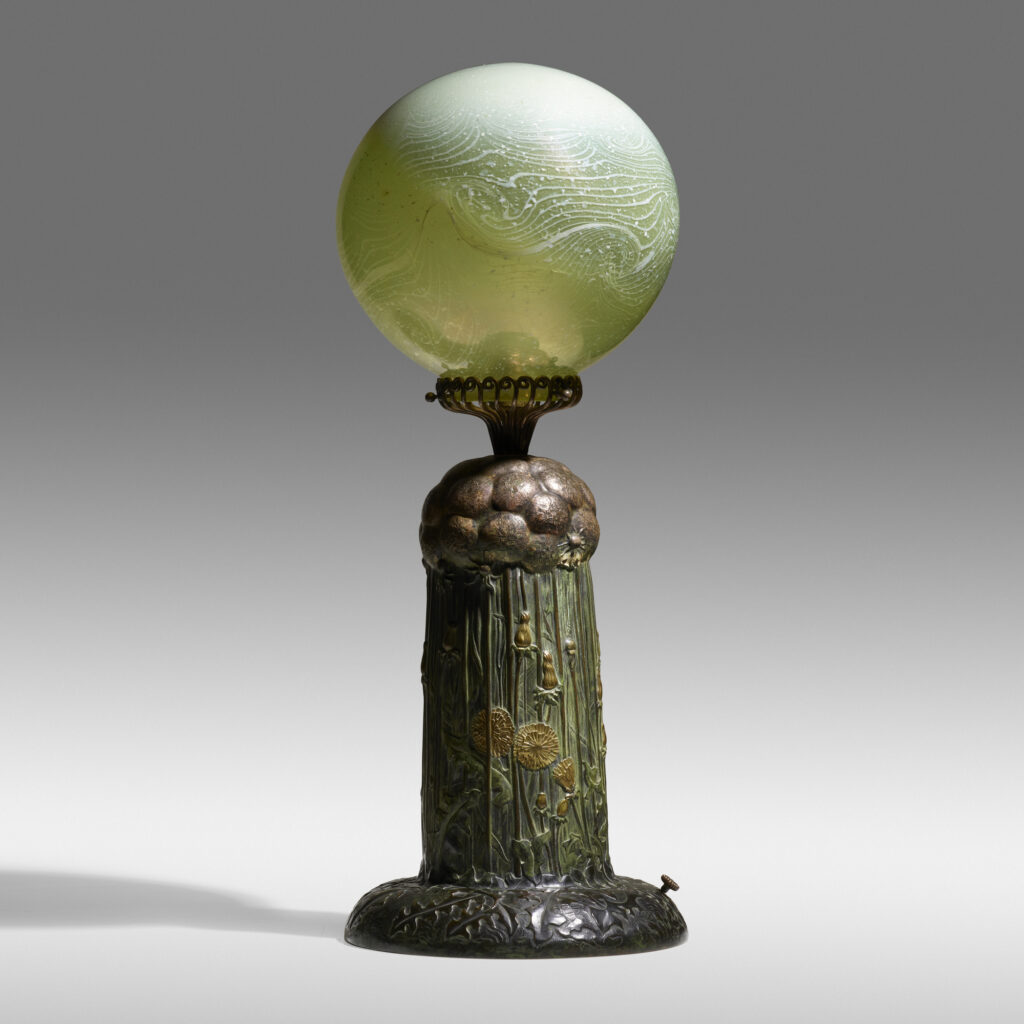 In celebrating its 25th anniversary, Rago will offer one of the best and most intriguing lots in the upcoming design season in its May 13th sale of early 20th-century design. Entitled the 'Dandelion Lamp,' this historical gem was created by Louis Comfort Tiffany for the Paris 1900 World's Fair. That groundbreaking World's Fair was noted for introducing the Art Nouveau movement, and took place at the turn of the century, making the height of the American artist.
In the preceding decade Tiffany had opened his glass factory and introduced his new invention, called Favrile glass. Since its opening, he established a bronze casting department and a workshop for enamels. Most germane, he initiated the idea of producing lamps—an endeavor which often crossed the division between these different materials.  
With its large scale and iconic status, the Dandelion Lamp was crafted to represent Tiffany and his patents worldwide. Its base is crafted of copper, with differently colored patinations; the thick shaft is repousséd with a design of dandelion plants—leaves, stems, buds, flowers, and puff balls–in abundant profusion. It is like a clump of dandelions growing naturally in the field. The Favrile globe atop the lamp completes the allusion, its white-flecked surface alluding to dandelion seeds floating in unseen currents of air. Tiffany was so proud of the Dandelion Lamp, that a year later, he showed it again in the Buffalo Pan-American Exposition of 1901, where it was widely photographed and published in European and American journals, and has been known to scholars for years.
With this new discovery, Rago will celebrate its 25th anniversary of sales in the fields of modern and contemporary art, ceramics, jewelry, and design at auction. Now, as Rago/Wright, this body of auction houses represents a strong independent voice and dedication to presenting materials in fresh and innovative ways, hosting more than 50 curated auctions each year in a broad range of categories and at various price points.