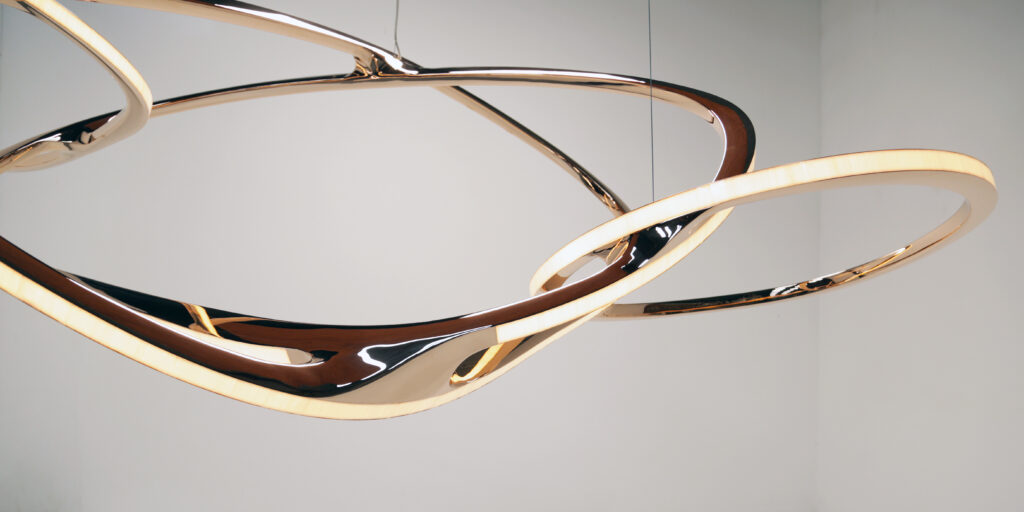 In a time when furniture is an art-design hybrid—representing contemporary culture in a profound way by embodying the connection between craft, design, and space—the voice of Irish designer Niamh Barry has become more vital than ever. Visiting her studio was an eye-opening experience; I was able see for myself the process of her work, the evolution of her creative thinking, and the conceptual aspects behind her magical light sculptures: all crafted in bronze and LED. The recent solo exhibition 'Light on Earth' at the National Museum of Ireland, curated by Jennifer Goff, was a turning point in Barry's career. She has been fully recognized as an Irish national treasure, and a leading voice in the international contemporary design movement.
Barry has spent her entire life in Dublin, thus, she is fully aware of its cultural heritage and artistic legacy, which she often utilizes as major points of departure. After graduating from the National College of Art and Design in the early 90s, she immediately began designing furniture. Her early pieces demonstrate an awareness of international design evolution, while developing her own unique vocabulary. She spent the early 90s as a stage manager in the film and television industry, before returning to her passion in the late 90s, and has been creating light sculptures since: first for interior projects, and then settling in the world of artistry. Barry began creating private and public commissioned pieces for interiors across the globe, gradually progressing her language, from the chain, to the loop, to the free-standing sculptures—all crafted in bronze, and often finished with glass mosaics—where the light is penetrating through her provocative forms, filling the room with a soft, sensual allure.  
In her studio, situated outside of Dublin and surrounded by the agricultural fields where much of Ireland's vegetables are produced, Barru leads a productive workshop, emplying six dedicated and skilled craftsmen who craft everything in-house, pieces which are labor intensive and bespoke. The fundamental process of her work is welding, as all the pieces start from bronze sheets—which are then cut, shaped by hand hammering, and welded into forms. They are then polished and finished with chemical patination. The colors, shades, and variations of her patina are nearly endless, and she spends hours experimenting with patina when deciding on the ultimate shade. The result are sculptures, whcih are fully resolved, carrying a sleek and somewhat minimalist sensibility, where forms always triumph/
Barry's sculptures are monumental, even when they are small in size. They carry a strong presence and the power to transform interiors, with each containing its own narrative through her authentic telling of those stories through design. We concluded our day at the Central Bank of Ireland's new headquarters in Dublin where Barry took me to see her 'Vessel Scape,' an epic installation that was completed in 2017. This light sculpture is composed of cubistic forms, inspired by the Broighter Boat: gold artifacts that were created in the 1st century BC and were famously discovered in the north of Ireland, which are now on display in the National Museum of Ireland. This solid bronze of brushed finish dominates the space and introduces an artistic voice to the world of banking. Precise, strong, dominating, embodies the gift Barry's art can give to the space. This work is represented by NY-based gallery Maison Gerard.