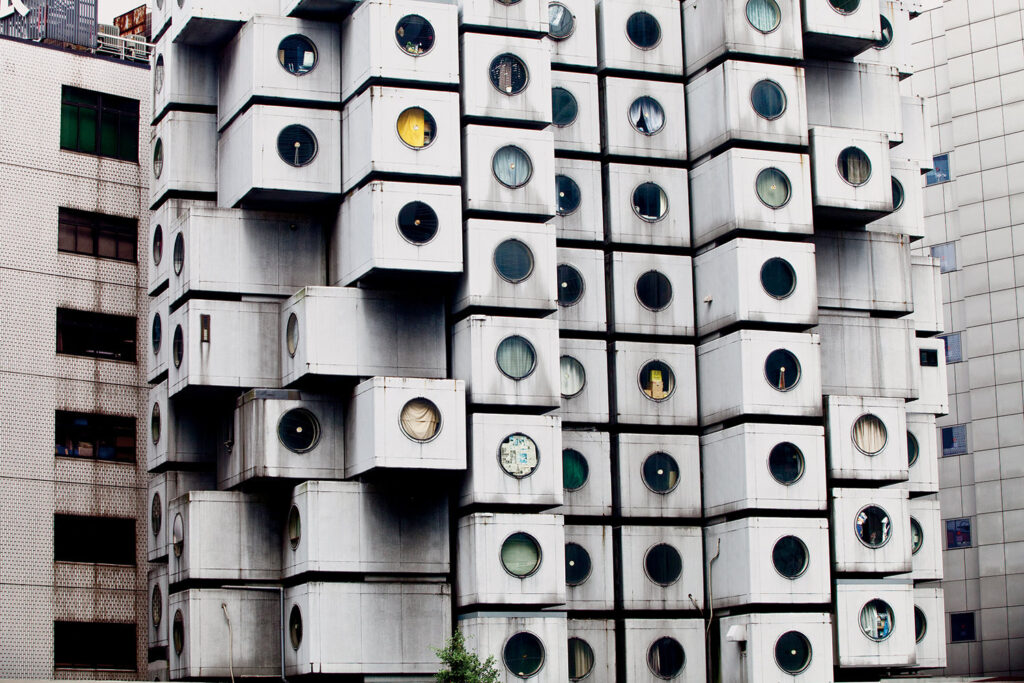 The architecture community was saddened this week by the news that the landmark Nakagin Capsule Tower is headed for demolition. This time for real. Completed in 1972, and designed by Japan's starchitect Kisho Kurokawa, its powerful and unusual image has been well known to anyone visiting Tokyo's Ginza district, and to others, from its features in endless films, documentaries, and video games. The Nakagin Capsule Tower, composed of 145 concrete boxes or 'capsules,' was so futuristic and radical in its cultural ideas and appearance at the time, that it has been seen as symbolizing the faith in the future during the Space Age. While it came to propose a new way of living, in small 'capsules,' its formula was never duplicated. In recent years, the building has lost all of its glory and cultural cachet, largely fallen into disrepair, while its residents, tired of living in cramped conditions have voted to demolish it in 2006, searching for a developer to replace it with a modern tower.
Why is this building important historically, and why it should never be demolished? The Nakagin Capsule Tower tells the story of postwar Japan and of its fast-driven society. When new cities emerged from the ashes of WWII, architects were led to think of innovative solutions to house those in need for permanents homes and to create new metropolis systems. The tower has become the ultimate example of the architecture mode devised by the Metabolism Movement, a Japanese movement founded in Japan in the late 50s, influenced by the teaching of Japan's leading architect Kenzo Tange. The architects of this small radical group believed that architecture should be utilized as a tool for change and that buildings could behave just as biological cells. They created urban visionary fantasies, most of which were never built or built as temporary structures in worlds fairs. The tower, utilized in real life, made up of pre-fabricated micro-apartment "capsules" that were designed to be added and replaced as necessary during the building's lifespan was the exception.
When completed in 1972, the Nakagin Capsule Tower was among Tokyo's tallest buildings and from its high floors, one could easily see Mount Fuji, but it has since been overshadowed by other, taller skyscrapers. The boxes, or 'capsules' were prefabricated of concrete boxes which were fit on two central towers, and the entire building was constructed in 30 days, exemplified the notion of rapid construction. Each capsule measures 8.2ft by 13.1 ft, fitted with round windows at one end and functions as a small living or office space. Although the capsules were mass produced, none of the units has been replaced since the original construction. Every time I visit Tokyo, I immediately walk to check on the building, since demolition was discussed in 2006. But by next time I will be in Tokyo, that tower, which serves as a reminder of radical ideas won't be there. Photos by Arcspace.