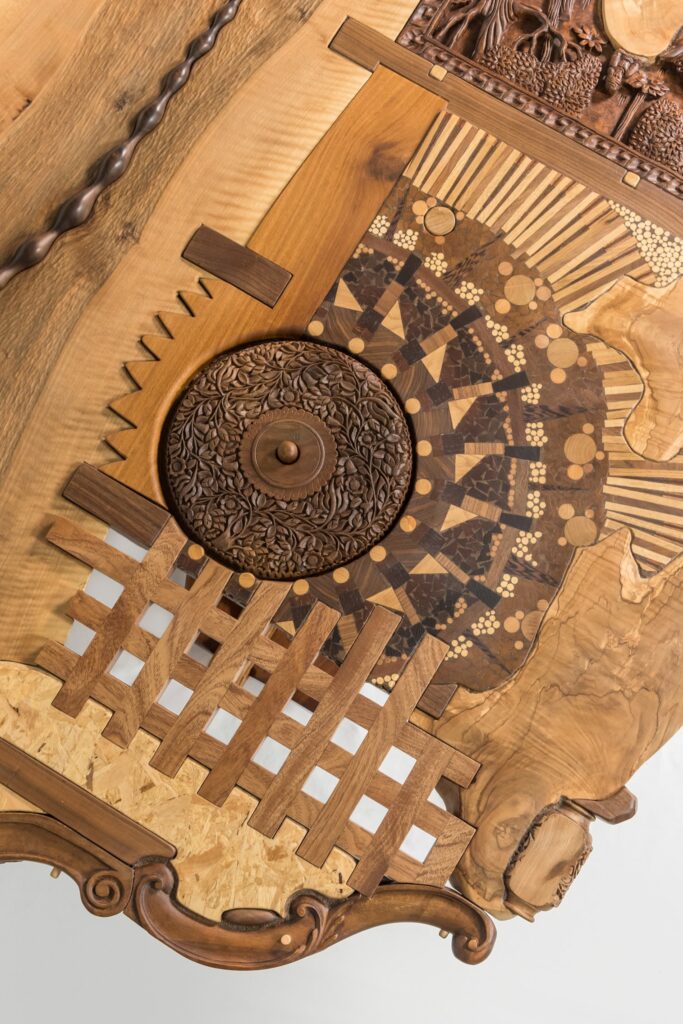 If you ask Greek designer Kostas Lambridis (b. 1988) what he really aims to achieve, he will tell you that it is to create design that is timeless and relevant; design that will stand the test of time and live on forever. As a graduate from the Design Academy Eindhoven, he is immersed in the world of contemporary design and its core concepts, and he is aware of his own position within that arena. His new exhibition Reverse Fireworks in Slow Motion at Carpenters Workshop Gallery comes to appreciate all of the elements that helped him achieve his current oeuvre: the materials, ideas, people, and memories. The first solo show in New York for this artist consisted of nine new objects, and I was given the opportunity to meet him and to fully understand his work and thought.
It is easy to see that the award-winning Spanish designer Nacho Carbonell was a great influence on Lambridis' work process. Just like his mentor, he loves to remove himself from anything safe and to always go against the grain in his quest to forge his own distinct voice. He arrived at Carbonell's hometown of Eindhoven in the Netherlands to be an apprentice; the 8 years working at the studio known for its experimental approach to material and techniques came to shape much of his professional identity. At Carbonell's studio, Lambridis discovered his love for making things by hand, as well as learning the notion of integrating life and work into an artistic existence. He obtained the highest standards and skills in handcraftsmanship—something that he says today, was missing. Seeking a deeper understanding of design and tools to better explore his own voice, Lambridis attended the master program at the Design Academy Eindhoven. It was here, in the influential school for interdisciplinary education in the arts, that he discovered his preference for creating design as a material culture rather than for the approach according to which design is a tool of problem solving, an attitude typical to industrial design.
Including his graduation project Element Cabinet (see below) at an exhibition curated by design guru Li Edelkoort at the London branch of Carpenters Workshop Galley upon his graduation in 2017 gave him the assurance that he was headed in the right direction. He was inspired by his love for Baroque, particularly by the famed Badminton Cabinet which was created by artists of the Florece's Grand Ducal Workshop in the 18th century, and currently rests in the collection of the Prince Hans-Adam II von und zu Liechtenstein. His project followed the horizontal approach and was created in sections, substituting the exotic woods and precious minerals with others, which came to set the direction of Lambridis' work.
While the new work presented in the current show is as immediately identifiable as his, it is still clear he was taking on a new direction. Unlike his previous work where Lambridis built compositions of materials—integrating plastic with wood, with stone, with metal—here, he has switched to a mono-material approach while allowing himself to dig deeper into each material to better giving an expression to his materilas. The objects look like tapestries of materials, ornaments, and elements, making it hard to distinguish between the ready-made and the crafted. This is intentional because the artist wants to pose questions to the viewer. Each of the nine objects, whether in wood, metal, minerals, or plastic, is an entire landscape that can stand on its own. It is this tension between the old and the new, between the made and the crafted, that stands at their core. Ultimately, Lambridis wants to see people loving and enjoying his objects, living with them forever. All images courtesty Carpenters Workshop Gallery.