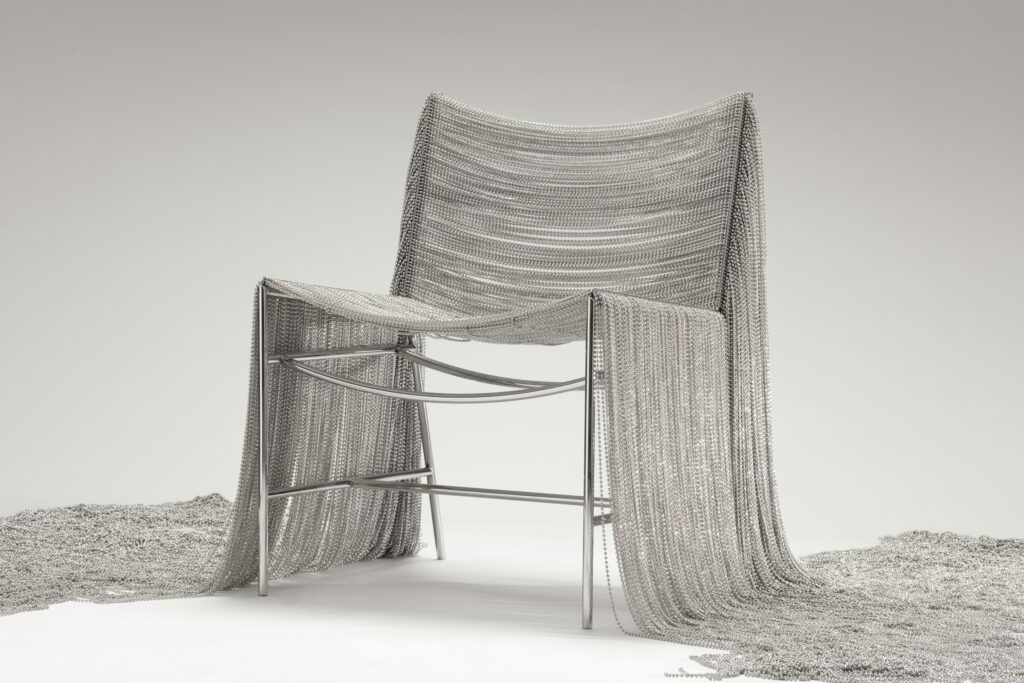 Ojbects are about connections and belonging, with which people may demonstrate their personal taste, meanings, and identities. But objects are above all about relationships; the same goes for exhibitions. The seedling that grew into the exhibition I am reviewing here was a relationship that began in my class during the spring of 2020. As the pandemic became our new reality, I began offering virtual lectures and conversations about collecting design, history, and taste. One of the speakers was Marc Benda, co-founder of Friedman Benda and the man who, driven by vision and intensity, enabled the rise of many living design legends. During this lecture, Mario Ballesteros—an independent design curator, editor, and writer from Mexico City—was in the audience. This is where the two first met. Now, nearly three years later, this virtual meeting produced an exhibition: Everything Here Is Volcanic, which opened this week at the New York gallery. It is dedicated to contemporary design from Mexico, curated by Ballesteros.
The timing could not be more perfect. Recent global changes like migrations and the pandemic have sparked a longing for a more mythical time and for national, personal, and gender identity, as well as an interest in the way people construct artifacts and the relationship between people and objects. Another result of this cultural shift is an increase in interest for the arts, crafts, and material culture of Mexico—which is currently on view in an exhibition on organic architecture in Mexico at the Noguchi Museum. This exhibition proves that Mexican design is eligible to be presented on the world's stage, with local designers addressing issues of the moment such as identity, materiality, and sustainability.
While guiding a private tour of the show this week, Ballesteros explained that the unusual title, Everything Here Is Volcanic, was coined by radical Swiss architect Hannes Meyer, who is famous for his role as the second director of the Bauhaus. Meyer later emigrated to the Soviet Union, but when his architecture fell out of favor in Stalinist Russia, he went to Mexico City where he lived during the 1940s. In a letter to his friend Hans Schmidt, he noted that "everything here [in Mexico City] is volcanic." While Meyer was referring to the sociopolitical changes, political violence, unpredictable geological conditions, and the challenge of introducing modernism in Mexico, Ballesteros is addressing the explosive energy of contemporary Mexican culture. It is a complex story that consists of mystical, psychological, and contemporary elements that come together to capture the layers of Mexican art; between the folk and the tribal, between the traditional and the current.
The exhibition includes functional objects (i.e., chairs, tables, lamps, benches) by Mexican artists, designers, and architects. Through their work, they express what it means to be Mexican today, with themes of sensuality, craftsmanship, and domestic traditions. Don't think about the Mexican aesthetic legacy as you know it; do not expect the colorful, decorative folk handcrafts made by local and ethnic craftsmen seen in the markets across Mexico. The work in this exhibition has the passion and sensuality of the Mexican traditional arts, but it is entirely contemporary and sophisticated with several layers of narrative. "Mexican design," Ballesteros says, "is coming into its own, after decades of hard work and a lot of energy poured by makers, designers and artists; curators and independent institutions."
Each piece included in the show is imbued with powerful narratives and demonstrates a refined craftsmanship, beautifully made with rich and interesting materials from this part of the world. When you walk into the gallery, you feel like you are entering an exotic territory and are drawn into the space as you seek to connect with the objects. According to Ballesteros, "Every viewer will find their own self in the rich narrative." A few pieces I particularly loved include the hanging piece by Lorena Ancona (b. 1981) entitled Water Dance, where she wove handcrafted ceramic beads on a net; as well as the Creek Chair by architect Frida Escobedo (b. 1979), crafted out of metal chain to evoke a creek flowing in lush nature; and Fernando Laposse's Cactus Lamp, which is a deep red cactus tree crafted from cactus tree and thorns, matched with stained beech wood and 3D printed resin lights—all painted in deep, illuminated red.
Objects such as these are not like what you would find in an ordinary local home, like how designs presented by Friedman Benda are not found in an ordinary home in New York. They are more than objects, they are bold statements about domesticity, fantasy, and rituals—they are about connecting with history and with collective identity. This is how the design gallery comes into play, taking the role of hosting the expression of material culture and giving designers the stage to create objects of questions, of relevance. This show at Friedman Benda is a great and glorious moment for Mexican design. "Even the most experienced design collectors," Ballesteros says "have little notion of the explosive creativity of contemporary Mexico. These designers and works truly resist compartmentalization, they are breaking disciplinary boundaries and what we typically expect of a design show in terms of typologies, aesthetic and stylistic decisions and materiality."
Go to Friedman Benda and get a sophisticated, interesting picture of how Mexican life is being expressed through objects.