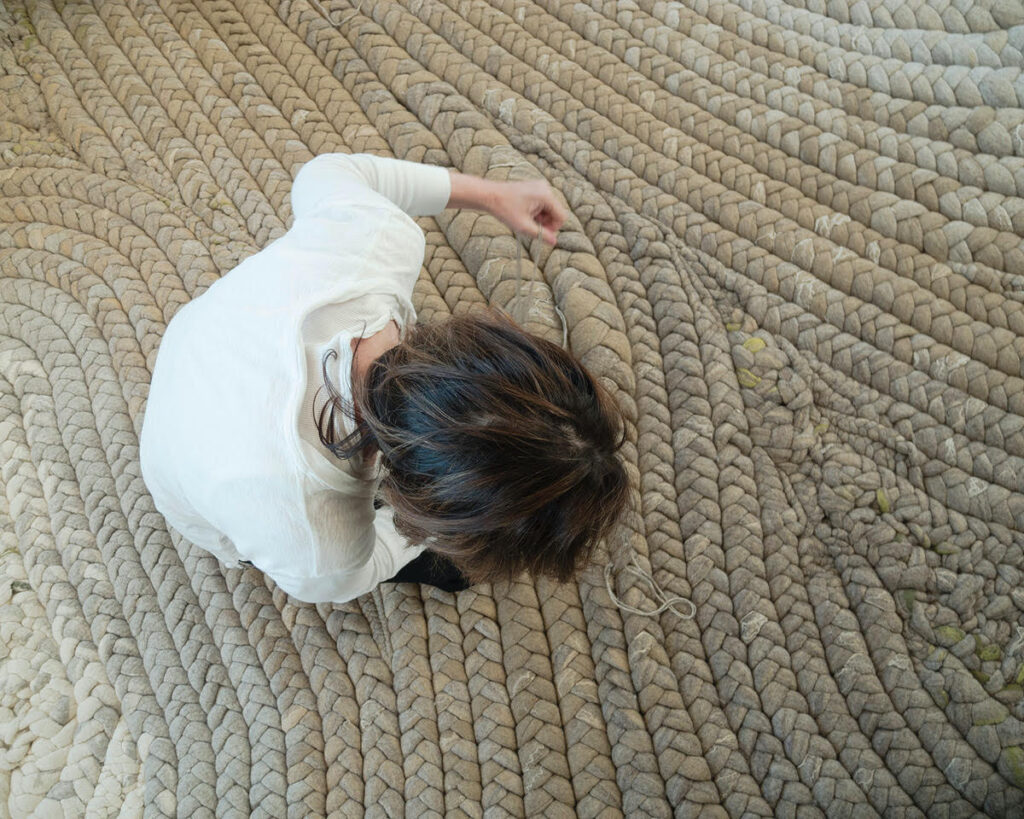 Have you ever visited Constantin Brancusi's atelier in Paris? If not, you probably have seen images of this magical place—a replica of the workspace where Romanian-born, Paris-based sculptor worked for four decades, and bequeathed to the French state. I remembered Brancusi space, when entering the New York studio of fiber artist Dana Barnes, because of their similar ambience. Bancusi cared about the relationship between sculptures and space, a connection which stands at the core of Barnes' work as well; Brancusi's studio was a work of art in its own right, and for Barnes, the architecture statement which has multiple layers of history, has become fundamental to her oeuvre, providing an enchanting experience of creating and presenting her art. Dana Barnes' studio is one of the most remarkable places in New York. It is private, remote, and surprisingly stunning to all who visit.   
The atelier is situated in historical Lower East Side, where time stands still, seemingly untouched by the commercial world and globalization. When you walk along Forsyth Street, you feel as close to the Victorian Era as you could imagine. This neighborhood was the seat of Jewish and Eastern European immigrants who made New York their home. Barnes' studio was constructed in the 1870s as a synagogue—one of the earliest Eastern European Jewish congregations in the neighborhood. In the 1920s, it was purchased by a Green Orthodox Church, and in 1962 was purchased by legendary abstract expressionist artist Milton Resnick, and his wife, Pat Passlof. Barnes has made it her own since 2013, inspired every day by the legacy of the building, the sanctuary, and the Mikveh, a bath used for ritual immersion in the synagogue. The floors are still covered in paint, testimony to the time Resnick and Passlof were busy creating their art.
Beyond that fascinating façade, Barnes has created a whole new, imaginative world, where she and a small group of artisans are creating some of the most intriguing and original fiber art I have ever seen: rugs, furniture, sculptures—both functional and non-functional—that are site-specific for homes across the globe, homes of art collectors, museum trustees, architects, people who understand the value of authentically crafted textiles, and those who wish to live with innovative design. Barnes works predominantly with wool fibers that she acquires from all over the world, felting soft fibers into abstract sculptures and into architectural installations. Her work stands at the intersection of contemporary art and conceptual craft. She constantly invents her own bonding processes and continues her ongoing quest to perfect her art and to develop new directions, beyond the boundaries of minimalism or maximalism.
Barnes' artistic creativity is rooted in two key sources: Nature, and the legacy of American Abstract Expressionism, both of which have a strong presence in all of her work. The studio is filled with minerals, quartz formations, rock crystals, branches, pieces from nature, metals, stones, keeping her daily intimate relationship with nature. Her pieces are soft, beckoning for you to touch them, to walk on the rugs, to sit on the stools, to experience something warm, sensual, welcoming, and inviting.
Why is Dana Barnes' work important historically? She modernizes the ancient method of felt, bringing it to the paradigm of 21st-century craft, transforming it into a new material and a new mode of expression, demonstrating the flexibility of the technique to fit within a new world. Today, craftspeople seek a new articulation of traditional techniques, seeking innovation within that arena. She brings fiber art to architecture, merging the micro and the macro, and enriching the interior space with forms, textures, and stories.