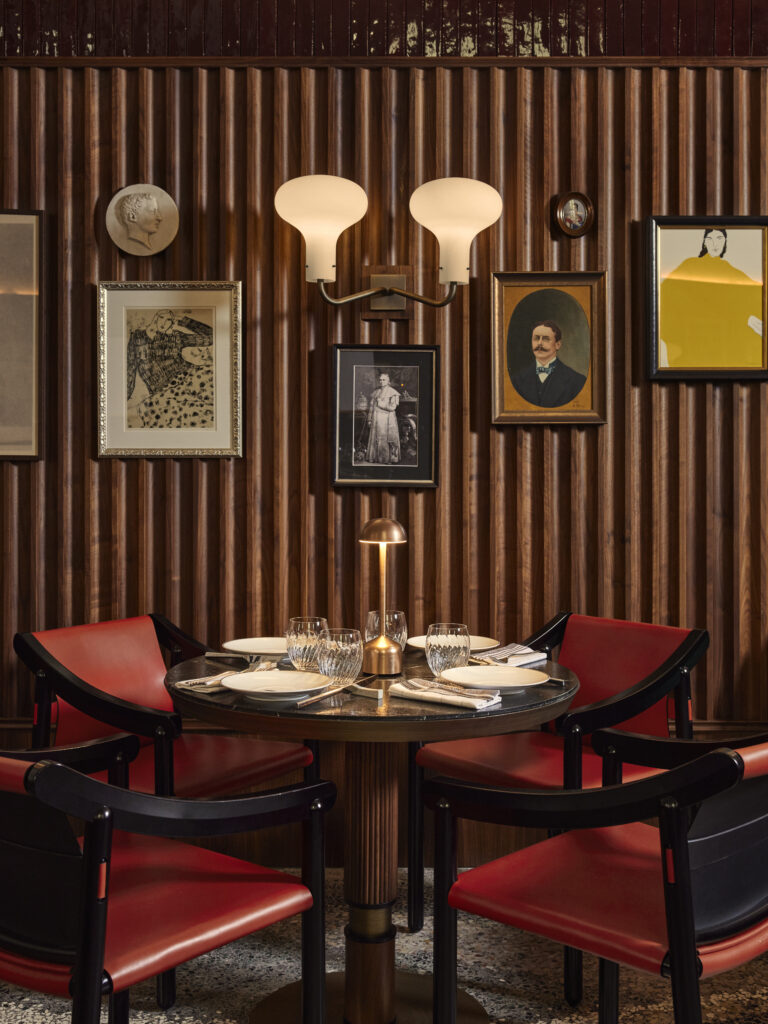 What does Milan mean to you? To me, it is the ultimate urban oasis—the capital of fashion, design, and style. It is also the place with some of my favorite dishes in Italian gastronomy, and where some of my favorite friends and colleagues live and work. Milan is about what hides behind the façades: the elegant houses, lavish gardens, and hidden galleries. All of these elements came together in an exceptional afternoon during my recent visit to Milan, eating lunch at Beefbar with an upcoming talent in the world of furniture design.
This new chic restaurant is located in a 16th-century building at the heart of the city's fashion district. The building had the Piazza del Quadrilatero—which was owned by the Church—and hosted the chapel of the Former Archiepiscopal Seminary. It was closed for nearly a hundred years but was recently restored and opened as a new center. As you walk along the busy avenue of Corso Venezia, it is hard to believe that behind the gray façade is actually a hidden gem. There you will find the Portrait Hotel by the House of Farragamo, numerous boutiques, as well as the restaurant Beefbar where I dined.
The mission statement of internationally renowned Beefbar is to allow its visitors to experience an authentic local atmosphere while they dine, one that is rooted in heritage culture,whereas it is the company's locations in Rome, Dubai, Athens, Doha, or Hong Kong. Local culture and visual legacy are two key components in the décor of all branches. The new branch in Milan was designed to make you feel as if you are walking back into a classis Milanese café/restaurant of the 60s. Why the 60s? Because it marked a special moment in Milan's history as it emerged as a city of skyscrapers, fashion, and rock and jazz music—a true chic metropolis. It is when it acquies its own modern visual identity. This is exactly how I felt when I walked into Beefbar.  
The space is unmistakably Milanese, designed by Monaco-based French duo architects Emil Humbert and Christophe Poyet. In their design scheme, the two have paid homage to the DNA of Milanese style as it evolved in the decades following the Second World War. It evokes the spirit of Milanese cafés of those decades with its dark wood panels, marble tables, brass framed tiles, artwork casually hung on the walls, and red and green color scheme. The heroes of Milanese design such as Osvaldo Borsani, Paolo Buffa, Gio Ponti, and Franco Albini are clearly present here. Their legacy, voice, and heritage are everywhere; HUMBERT&POYET referenced architect Luigi Caccia Dominioni, the Milanese legend, and there is one of the most beautifully magnificent terrazzo floors I have ever seen . This new restaurant allows you to dive into the Milanese world. Loved it. Don't miss in the upcoming Design Week. Interior photos by  Francis Amiand; Food photos by Marion Buffet.