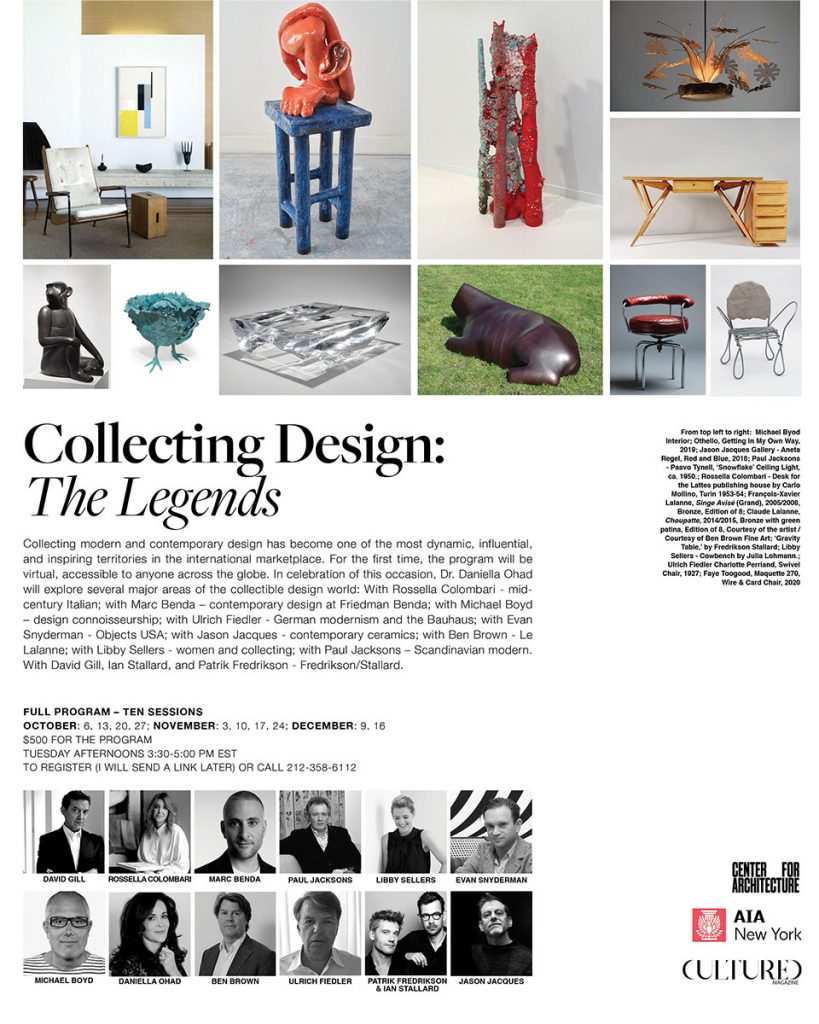 Collecting Design: The Legends (Fall 2020, Session 1)
Program: 3:30-5:00 EST
Tuesday, October 6 (1.5 LU)
Rossella Colombari: Mid-Century Italian design
Tuesday, October 13 (1.5 LU)
Marc Benda: Contemporary design
Tuesday, October 20 (1.5 LU)
Michael Boyd: The Eye of the Design Connoisseur
Tuesday, October 27 (1.5 LU)
Ulrich Fiedler: German Modernism and the Bauhaus
Tuesday, November 3 (1.5 LU)
Evan Snyderman: Objects USA
Tuesday, November 10 (1.5 LU)
Jason Jacques: Contemporary Clay Art
Tuesday, November 17 (1.5 LU)
David Gill, Patrik Fredrikson, Ian Stallard: British Contemporary Design
Tuesday, November 24 (1.5 LU/HSW)
Paul Jacksons: Scandinavian Modern
NO CLASS TUESDAY, DEC 1
WEDNESDAY, December 9 (1.5 LU)
Ben Brown: Claude Lalanne and François Xavier Lalanne
WEDNESDAY, December 16 (1.5 LU)
Libby Sellers: Women and Collecting
​
Collecting modern and contemporary design has become one of the most dynamic, influential, and intriguing territories in the international marketplace, standing at the forefront of style and taste. While initially fueled by the fine arts market, collecting design has emerged as a discipline in its own right; one that dominates high-brow interiors and attracts those who value living with the finest design. The market has become a global barometer of trend forecasting, signifying the language, directions, and taste of our time. Collecting design has come forward as a source of taste-making and trend forecasting, generating market reports, art fairs, museum exhibitions, research projects, scholarship, monographs, and endless headlines, recently cited by the Wall Street Journal as a lucrative avenue of investment.
This unique program is directed by design historian Dr. Daniella Ohad, and seeks to engage architects, interior designers, design lovers, and art collectors in an exploration of this fascinating world–both novices and experienced collectors are welcome! For the first time this fall, the beloved Collecting Design series will be offered as an online course, accessible to anyone across the globe.
Collecting Design: The Legends provides a rare opportunity to explore historical, mid-century, and contemporary design; to discover the world of collectible design and its sustainable impact; to look and analyze the finest interiors–all with a series of prolific experts who have defined this field and shaped its culture. Join us and enter into the cultural conversation of design; enjoy the best, most innovative design ever created; learn how to 'read' objects; find the value of living with great design; develop a critical eye; and take your taste into new horizons.
Registration is open now.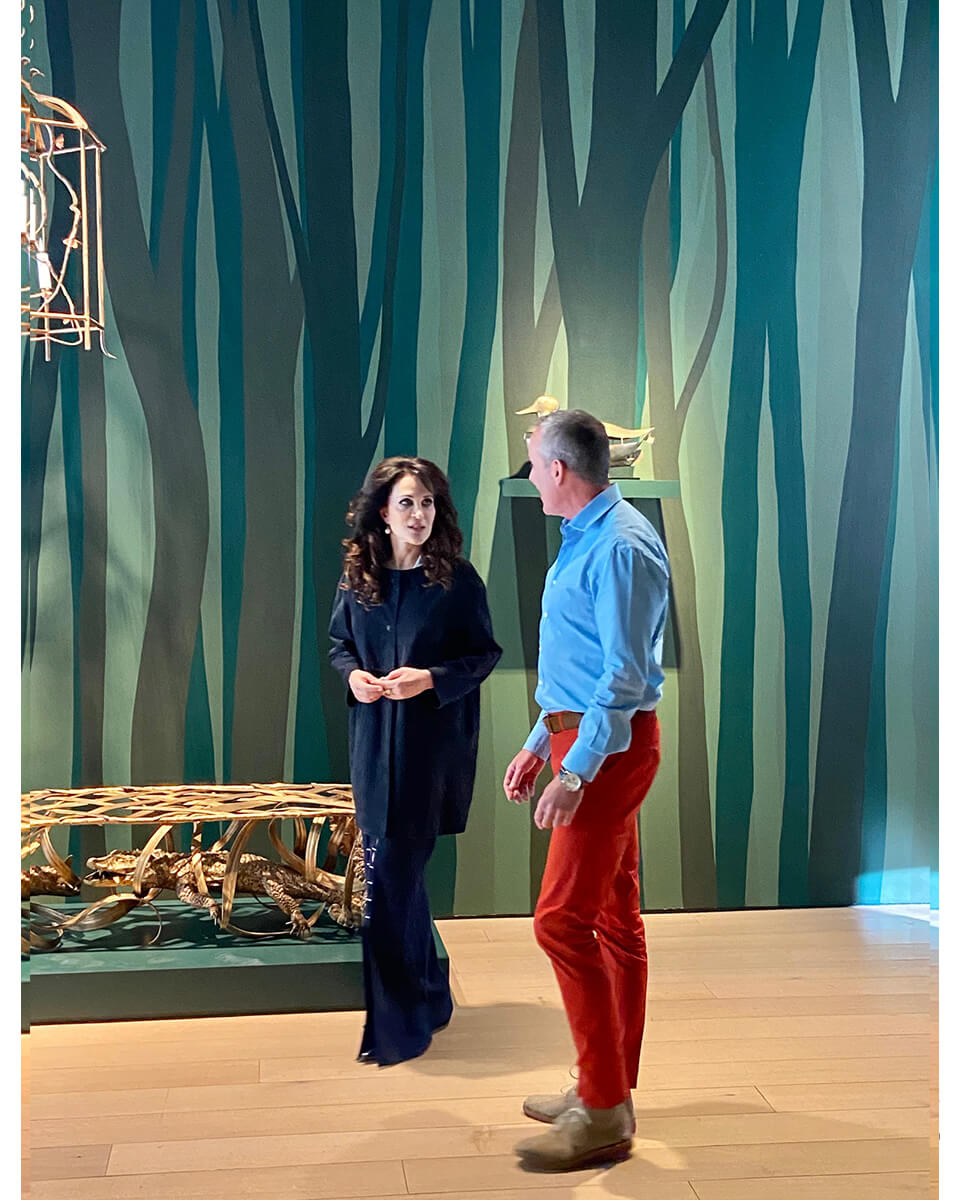 The Collector
Video Series
Supported by
Rago/Wright
'The Collector' is an online education platform in which world experts share their experience and tips on collecting. The program seek to inspired the viewers to live as collectors, to improve their 'eye' and proficiency, while shaping the knowledge on how to identify the right piece, and on what makes it 'collectible.'