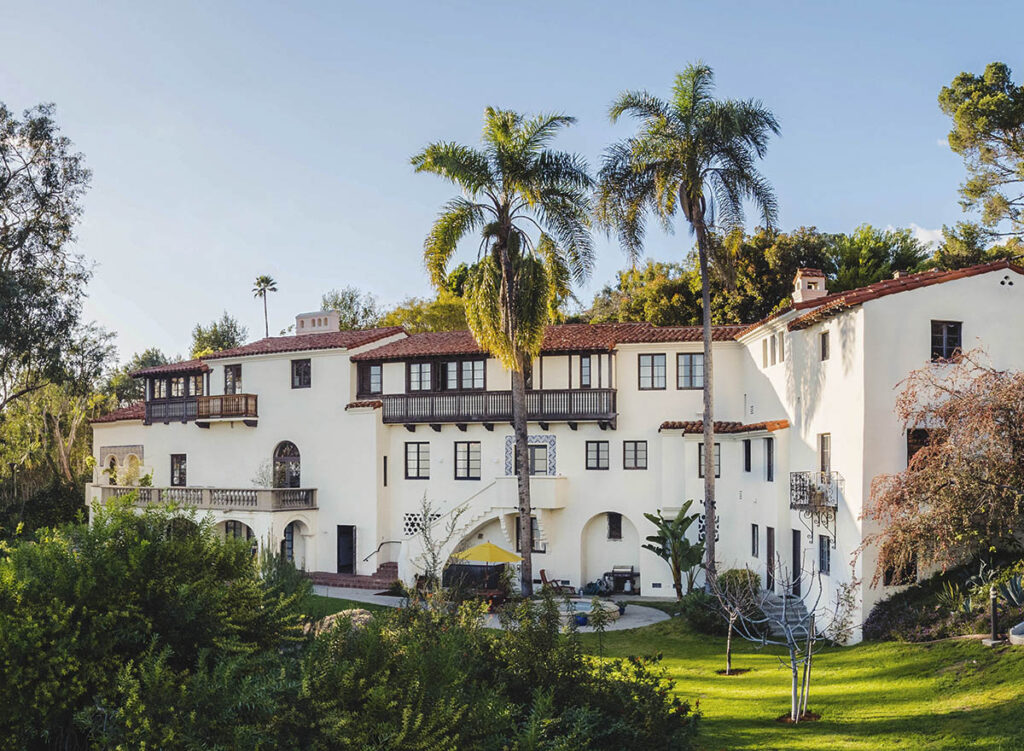 If you drive up the hill to the top of Santa Monica Mountain of the affluent Pacific Palisades neighborhood, you will reach Villa Aurora. This grand Spanish-style house, tucked away behind a private stone wall, with the most spectacular view of the Pacific Ocean, was the home and paradise of my great uncle, German novelist Lion Feuchtwanger, and his wife, Marta. This is where my visit to Los Angeles began.
This house has a fascinating history related to my family, from the suffering of German Jews during WWII to the architecture program of Los Angeles. Feuchtwanger acquired this mansion in 1943 upon his arrival in Los Angeles during WWII, after a painful journey through wounded Europe, while fleeing the Nazis, and made it his home. He never left it. Feuchtwanger was the first to publish propaganda against Hitler and the Nazi Party as early as 1920, and his first popular novel, Jew Suss, was adapted for an anti-Semitic propaganda film.
Villa Aurora was a part of a small new development of several modern, luxurious houses, built in the style of the day. Initiated by the Los Angeles Times, the project came to attract people of means to move from the city into the as-yet-undeveloped Pacific Palisades. Those houses had all of the latest technological inventions, including electric garage openers, dishwashers and gas ranges.
Villa Aurora was designed by California-based architect Mark Daniels, who famously created the master plan for Bel Air. It was completed in 1928. Its design was inspired by a medieval cathedral in Spain, while the wood for its ceilings was brought in from Spain, and the rich tiles were created by the local Malibu Potteries. Because of the Depression, Villa Aurora was never sold, and the developer ended up living here until he went bankrupt and left the house vacant.
When the Feuchtwangers arrived in Los Angeles in 1941, they acquired Villa Aurora, by then in deplorable condition. They fell in love with the seclusion and the magnificent landscape of Pacific Palisades, as it reminded them of the Mediterranean where they had traveled extensively during the early days of their marriage. Despite the fact that travel between Pacific Palisades and Los Angeles was difficult at that time, all of his friends regularly came to visit, turning their home into a meeting place of German intellectuals of the literary world. Thomas and Heinrich Mann, Arnold Schoenberg, Vicki Baum, Bruno Frank, Ludwig Marcuse, Franz Werfel, Bertolt Brecht, and his best friend, Charlie Chaplin, were all regular visitors. When my father began his horticultural studies at UCLA, he started his student life here at Villa Aurora.
Here, he assembled his third library of first editions and rare books. An avid book collector, Feauchtwanger was forced to leave his extensive library in Germany. While on a tour in 1933, his house was ransacked by government agents who stole or destroyed many items, including his library. He fled to South France, settling in Sanary-sur-Mer, where he assembled his second library, which he had to leave when fleeing Nazi-occupied France. After Lion's death in 1958, the house was left to the University of Southern California—with the stipulation that Marta would be allowed to stay for the remainder of her life—and was made the caretaker of the library, which had grown to 30,000 volumes. At present, the Villa is still home to 22,000 books, with the most valuable copies having been moved to the USC Feuchtwanger Memorial Library.