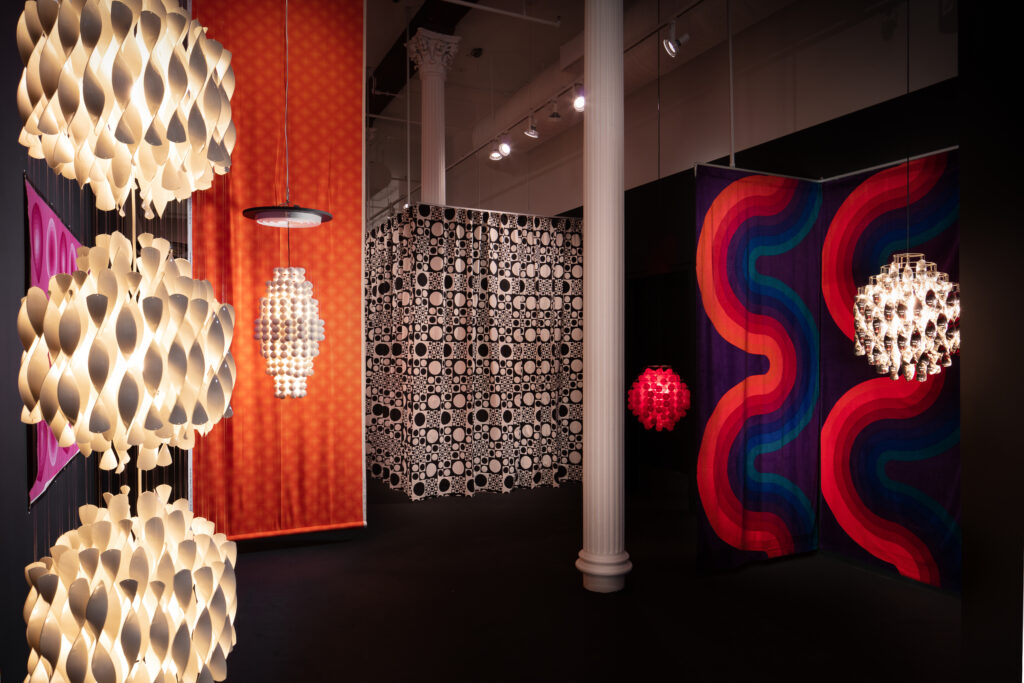 I cannot think of a better way to celebrate R & Company's 20th anniversary than the recently opened exhibition, 'Verner Panton.' When the design gallery first opened at its chic location in Tribeca shortly after 9/11, the first substantial exhibition was devoted to the Danish designer. Tribeca suffered tremendous loss and trauma following the September 11 attacks, and the colorful works of Panton shown at that time were refreshing, promising. In fact, at that time, the name of the successful designer of the 1960s and 1970s was forgotten and the gallery has since become synonymous with the rediscovery of his legacy and with developing the market.
It came at just the right moment. The Minimalist 90s had come to a close, and the new century called for a new visual outlook. Frank Gehry's sensational Guggenheim Museum Bilbao was completed and the freeform structure, unlike anything seen before, was the most notable promise of the new century. A search for eccentric, transformative, more exciting, more experimental language was in the air. This is when gallery founders Zesty Meyers and Evan Snyderman opened a solo show of Verner Panton, an historical figure that embodies some of these principles, and what they called R 20th Century (the gallery has since changed its name), dedicated it to masterpieces of design. They created the market, and introduced Panton's unique work to Generation X. It opened shortly after the legendary exhibition at Vitra Design Museum, dedicated to Panton, but the influential designer did not live to see this extraordinary revival. He died just before the century unfolded. Meyers hosted my group this morning, walking us through the show he curated, talking about Pop design, innovation, the joy of finding rare pieces, and revealing why Verner Panton is so important in the story of modern design.
While Verner Panton's life spanned the majority of the 20th century (1926-1998), he was a son of the 60s and 70s, despite being trained in Denmark's modernist tradition. Panton graduated from the Royal Danish Academy of Art in Copenhagen (1951) and started his career at the office of Arne Jacobsen, the architect credited with shaping the landscape of Danish modernism. However, Panton was too curious, too innovative, to remain in the same place, and his vision took him far from that tradition. He founded his studio in 1955 and gradually devised the design for the 60s.
There was nothing modernist about his work. Instead, it was a personal expression of postmodernism, belonging to a generation that sought alternatives to the Modern Movement. With his use of brilliant colors, and experimentation with light and form, he came to set new and unorthodox principles of contemporary design. Over the course of his career, Panton created a wide range of products and interiors which exemplified what came to be known as his signature style: pattern, pattern, color, texture, and light. With his interiors, he sought to formulate experiences, and today, when we hear about interior designers who aim to create experiences, it is clear that he pioneered this concept. His passion for new materials of the zeitgeist led him to use a variety of plastics with which he reimagined landscapes, where all elements of the room, floors, walls, and ceiling were integrated into a single environment which was both psychedelic and dramatic. His single best-known piece is unquestionably the Panton Chair, a single-formed injection-molded plastic seat, designed in 1960, and produced beginning in 1967.
In the new exhibition, you won't find the mass-produced Panton Chair, but rather pieces which are the rarest of the rare. Furniture and lighting led to the creation of specific interiors, produced in small numbers and set in an environment that includes rugs and textiles and evokes the spirit of Panton's interiors. Meyers emphasized the difficulty in sourcing this material today. The original collectors who acquired Panton's work twenty years ago are understandably reluctant to part with their treasures. Then there are the reeditions and copies, mostly known through Design within Reach, but are not in great demand by those favoring authenticity. This exhibition provides a rare glimpse of Verner Panton at his best. It presents the Wonderlamps made with plastic balls of varied colors and shaped into organic forms; the Fireball lamp, a sculptural object with a light source, which was never mass produced; the stackable "S" chair in plywood; and a rare sofa made as part of a series for Thonet Furniture which still retains its original fabric.
The exhibition, at R & Company, at 64 White Street, is open through January 8, 2022. All images courtesy R & Company.