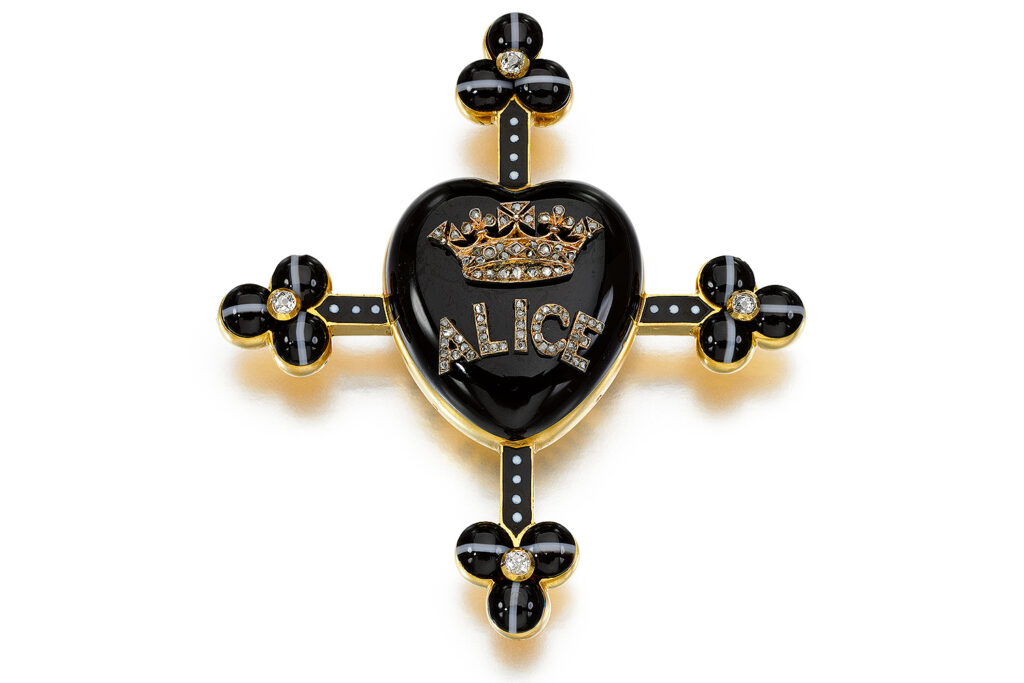 From the time she was 42 at the death of her husband Prince Albert in 1861, Queen Victoria was wearing mourning black every day. She turned the black dress into the fashionable wear after death of a family member in Britain. Prince Albert's death sent Victoria into a deep depression, and she stayed in seclusion for years, rarely appearing in public, and made mourning into her lifestyle, later morning her mother and three of her children. This included wearing mourning jewelry as well. The Queen set the example for her court and was an admired public figure, and so mourning jewelry became among the most fashionable commissions.
On 24 March, Sotheby's London will stage an auction of the collection of Patricia Knatchbull, 2nd Countess Mountbatten of Burma, great-great-granddaughter of Queen Victoria, great niece of Russia's last Tsarina, first cousin to Prince Philip and the daughter of Britain's last Viceroy of India, Louis Mountbatten. Among almost 400 lots, the sale will offer four mourning brooches that had brought solace to Queen Victoria, all appearing at auction for the first time, having been passed down in the family for generations.
On 14 December 1878, the anniversary of Prince Albert's death, Victoria's third child Alice died of diphtheria at the age of 35. Princess Alice's youngest daughter, Princess Marie of Hesse and by Rhine, had also died of the same disease at the age of four. Three of the brooches mark Alice's tragic passing including: an onyx and seed pearl button commissioned by Queen Victoria in 1879 with a portrait miniature of Princess Alice (est. £1,000-1,500), an agate and pearl pendant with a lock of hair inscribed 'from Grandmama VR' as gift from the Queen to Alice's daughter, Princess Victoria (est. £1,000-1,500) and a hardstone, enamel and diamond cross centering on an onyx heart with Alice beneath a coronet (est. £2,000-3,000).
The fourth was commissioned by Prince Albert circa 1861 for Queen Victoria to mark the death of her mother. An agate and diamond pendant, it opens to reveal a miniature photograph of the Queen's mother, Princess Victoria of Saxe-Coburg-Saalfeld, later Duchess of Kent, with a touching inscription by the Prince Consort (est. £1,000-1,500). Many of these pieces feature a lock of hair, testament to the Victorian belief that hair had a sacred and immortal quality, containing something of the essence of the person. Images curtesy Sotheby's.