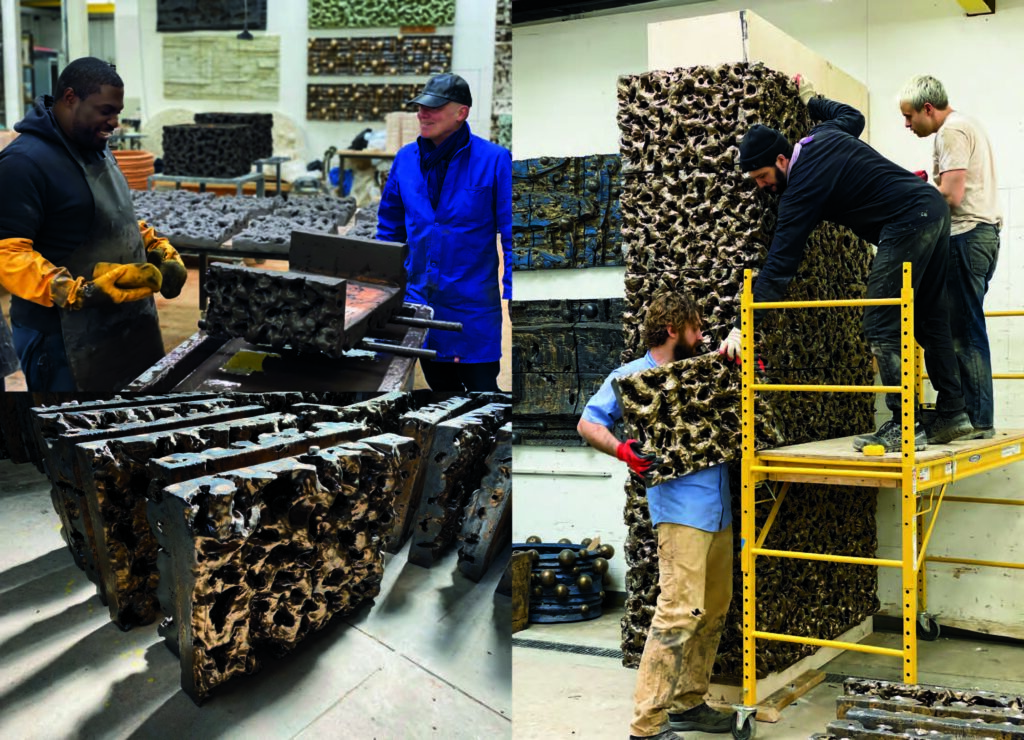 With the recent explosion in popularity of clay and ceramic, many contemporary artists have turned to clay as the cool new medium; some reshaping it, others using it in a variety of radical ways. The work of NY-based clay artist Peter Lane is as far from traditional clay as you can imagine, standing out with its own unique expression. It is monumental, abstract, and architectural—unlike the new experimentations with clay in social housing, digital fabrications, or wall surfacing. Peter Lane's clay walls are works of art in their own right. They are as textured, bold, and complex as clay can get. Now that his first monograph Peter Land: Clay has been published, it is time to introduce the artist that created walls and architectural features in some of the best interiors, and whose signature is recognizable across the globe.
When I first visited Peter Lane's Brooklyn studio, I saw him on the floor along with his team as they laid down a heavy, thick, dense clay into one enormous slab. I was reminded of Jackson Pollock, the American painter of the Abstract Expressionist Movement who famously invented a drip technique that involved pouring and splashing paint on enormous canvases placed on the floor. After Lane places his clay on the floor, he begins to sculpt it with his hands in a labor-intensive process; once achieving his final pattern, he cuts the slab into tiles, which are then fired and glazed in his enormous kiln and utilized to cover walls, create fireplaces, screens, and sculptures in the form of architecture.
I know interior designers who won't complete a project without including Lane's works. One such designer—Peter Marino—wrote in the introduction to the book Peter Lane: Clay. "When designing the Chanel flagship store in London," he says, "I took inspiration from Coco Chanel's iconic Paris apartment in the Hotel Ritz, designed by Jean-Michel Frank (see below). The challenge was to update this classic design and bring its original spirit into a contemporary context. Peter re-envisioned the gilded panels that flanked her fireplace as a lustrous bronze-glazed ceramic relief." Marino was so impressed by this work that he later placed similar installations in Chanel boutiques in Rome, Beijing, Madrid, and Hong Kong. His installation at the pool areas of the Hotel de Crillon in Paris brought his language well into the realm of French 18th century preservation of architecture masterpieces.
Marino's statement that Lane's work is contemporary is meaningful. It is because of this quality that he has been so successful. What makes Lane's work "contemporary" and fit within the paradigm of 21st century art and design? His installations are majestic artifacts of great artistic quality. They carry ingenious patterns of the kind that fits the contemporary interior, and are elegant, well-proportioned, and memorable. His walls stand as artistic statements that dominate the space but are also integrated within it. Lane knows art history, and he has been a part of the world of contemporary art long enough to know its innovations; he knows that craftsmanship is experience and an amazing revival of his art.
The book features many of Lane's projects from the small to the very ambitious, portraying his language with beautiful photography and high-quality publication. What is missing, however, is his own voice. I would like to learn more about his background, his life before art, and the journey that has brought him to where he is today; a good oral history would do that perfectly. Glen Adamson's great essay brings us into Lane's world through the eye of the curator, but I would love to look at his work through the eyes of the artist as well.