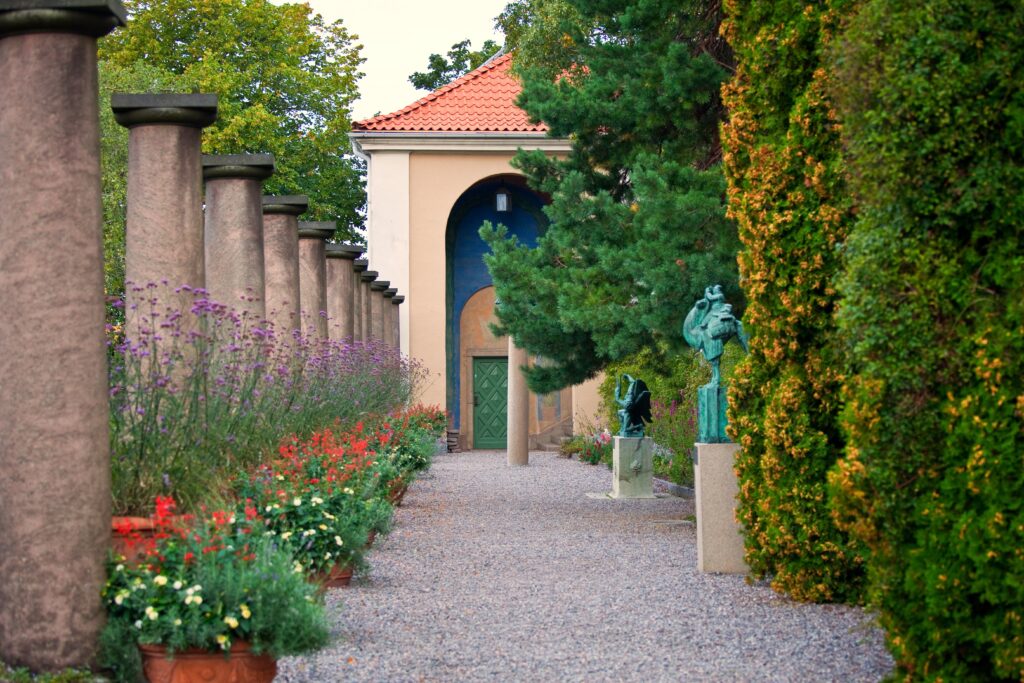 Some artists—successful ones—can afford to construct their own legacy. They want us to see their work, not only at an art gallery or museum, but in their living and working environments, so visiting their homes allow us a more widespread means of experiencing their creative world and oeuvre. Look, for example, at Auguste Rodin, whose Villa in Meudon, France is open as a museum; or the house and gardens of Claude Monet in Normandy, which allows the visitor a global interpretation of the Impressionist Artists' masterpieces; or Frida Kahlo's Blue House in Mexico City, where you can experience her tempestuous relationship with Diego Rivera and her commitment to communism. Carl Milles (1875-1955), Sweden's most famous and successful sculptor, is one of these artists who came to shape his own legacy during his lifetime. Milles opened his own house and gardens as a foundation, together with his wife, artist Olga Milles. It is called Millesgården, on the island Lidingö just outside of Stockholm, and my colleagues, who really know Stockholm, told me not to return home before visiting one of Sweden's most magnificent, most Instagrammed sites.
Milles was not only a tremendously successful artist of international acclaim, but also built what is considered Sweden's best and most ambitious collection of antiquities, on display in the house. To understand the level of his artistic success, Milles received so many public commissions that his sculptures—particularly his fountain sculptures—can be seen in almost every Swedish town. While he loved experimenting with materials—stones, alabaster, granite, metals—his style remained predominantly figurative, pictorial, and traditional, influenced by Greek, Roman, and Christian art and mythology. Yet none of his sculptures can compare to his greatest creation, Millesgården. He expanded, developed and shaped it throughout his lifetime, making it a monument to his own taste. As his fame and success rose, as he was able to afford more, he always poured more funds into this house.
Here, we learn about his love for Italian antiquity, from what he had seen in Pompeii and Herculaneum. The house is filled with the most magnificent stone mosaics and murals, and today is staged in all of its glamour. It started when the newly married couple acquired a property in 1906, on the cliff of Herserud, and built a house designed by architect Carl M. Bengtsson in 1908. It was later expanded by his half-brother, architect Evert Milles. When Milles went to America, where he taught at Cranbrook Academy of Art in Michigan for two decades, the house was constituted into a foundation, and during his absence, visitors could enjoy the house and its gardens. Upon their return, the couple did not go back to live in the house, but rather lived in a smaller, typically mid-century house with the most beautiful dining room designed by Viennese interior designer Josef Frank. I think that this is the first of Frank's fully realized interiors. But as a garden lover, I have to admit that I mostly enjoyed the gardens with their local beds of flowers overlooking the water, filled with fountains and pebbles. Simply a magnificent sight to behold.
And so, it turns out that my colleagues were right when they told me not to go home before visiting this gem.