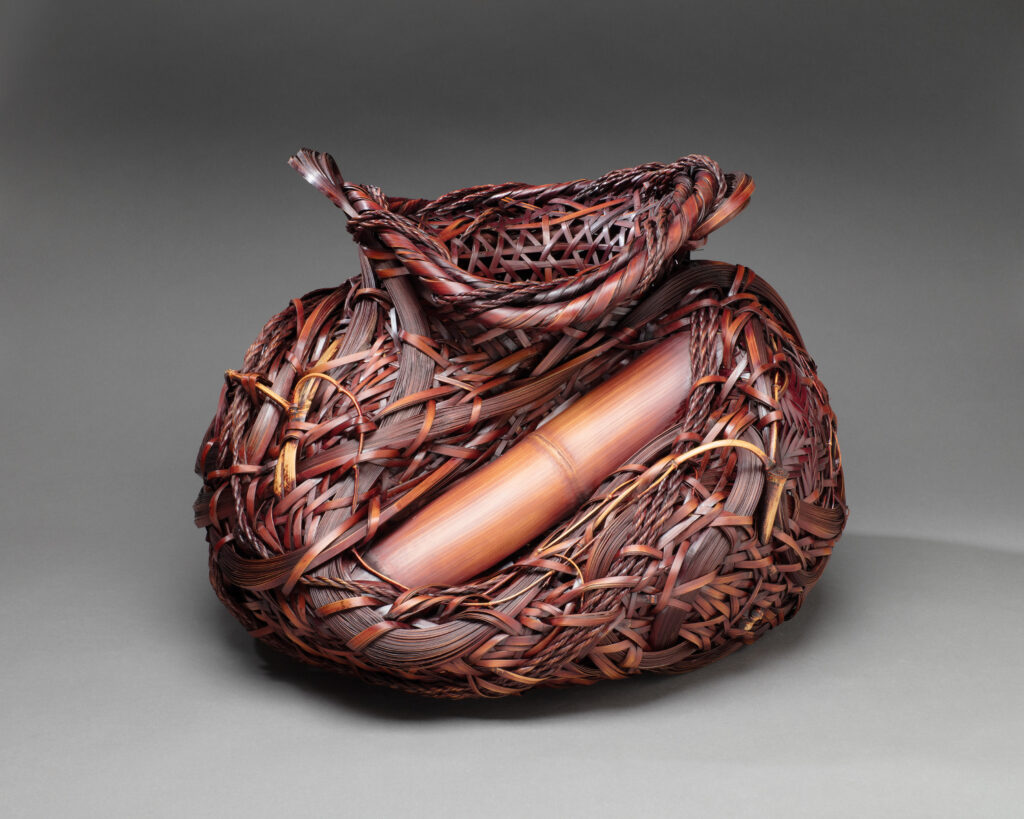 fd
Since its debut in 2009, Asia Week New York—previously known as Asian Art Dealers New York Association—has been a platform, or perhaps more accurately, a festival, which provides a substantial opportunity to view, collect, and experience art from India, Japan, China, Korea, and Tibet. During the 10-day event, experts, scholars and collectors gather in New York for an endless series of amazing events, talks, and receptions, while auction houses dedicate their sales to the art of Asia. Asia Week New York also marks the beginning of the spring, an exciting time for us New Yorkers. As in previous years, the annual reception was held at The Metropolitan Museum of Art, which opened all of its Asian art galleries for the occasion and offered guests curator-led tours of the major exhibitions.  
On that occasion, I visited the exhibition of Japanese contemporary bamboo art, staged by Santa Fe-based TAI Modern, the only gallery in the US to exclusively focus on that craft, at Colnaghi Gallery. Do not expect to see utilitarian baskets of the type found in every Japanese home, in the art of the tea, or flower baskets. Margo Thoma, the dynamic director of TAI Modern, is one of those master weavers who has departed from the traditional, and who, with great skills in one of the most fundamental materials and techniques in Japanese culture, has led them to create innovative, contemporary art. The term kogei, the brand name for Japanese traditional arts and crafts, has been recently translated to describe those craftspeople who have taken their crafts to new horizons. By doing so, they have given new interpretations to Japanese heritage, and at the same time, have participated in the global world of contemporary art, championing Japan in the world of art, with museum-quality pieces presented by TAI Modern.
In addition to showcasing the work of some 40 bamboo artists in the two story-gallery, Thoma has mounted a spectacular and ambitious solo show of Japanese bamboo artist Yufu Shohaku (b. 1941), whose work I adore. We learn that Shohaku is a second-generation bamboo artist, based in Beppu, a Japanese center for bamboo art and the region that the fast-growing plant is found in large quantities. While he began making bamboo baskets at a very young age, and achieved mastery by 14, the award-winning 80-year-old master craftsman gradually developed his own personal and inventive 'language,' which is both fascinating and complex. In his tiny studio, he crafts some of the most magical and sophisticated objects, turning the craft into a powerful, memorable art form.
The scale of the pieces presented in this show is enormous and perhaps difficult to grasp from photographs alone. The elastic, sensual richness of combined techniques that he incorporates in his work is unusual in the landscape of bamboo art. The energy in which branches, roots, chunks, and ropes are integrated with one another defines his oeuvre. At the center of this first solo show of the artist is an enormous non-functional sculpture, entitled Meoto Iwa (The Wedded Rocks). Yufu recreates in bamboo these sacred rocks, tied together with a rope, representing the union between Izanagi and Izanami, the two central deities in Japan's creation myth.
The moving part of this story is the reality that bamboo artists in Japan who live in remote places make a living through shows like this. TAI Modern acts as a vehicle to preserve the craft, allowing these artists to reinvent their tradition and to live as artists of international acclaim.