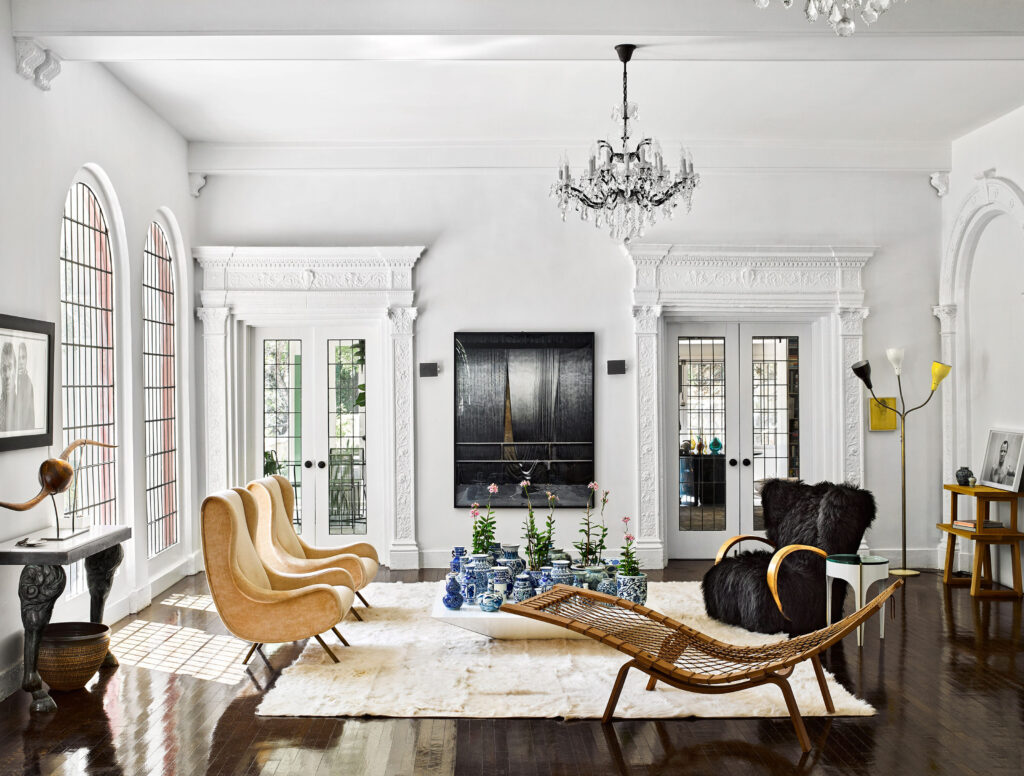 "This business is as much about aesthetics as it is sociology, and Brigette's well-deserved success arises from a rare combination, both designing memorable spaces and winning over clients with her infectious charm… I can picture Brigette jumping up and down with excitement over some incredible chair, and who can say no?! Creating bold interiors with exuberance, great scale, and a sense of place is no small feat. But I'm sure her phone is ringing off the hook because everyone wants to spend their days having fun with this wonderful woman, just as I do."
—Jamie Bush, interior designer
Bush's observation about Brigette Romanek, my guest for last week's Interior Design: The Legends, is insightful. Talent, radiant personality, authenticity, ambition, and a great eye; all qualities that she brings to her "liveable luxe" style, as she defines it. Self-taught, Romanek began her professional life as a soul singer before moving on to handbag design. She decided to pursue a career in interiors only after completing the renovation of her own Los Angeles home, a 1925 Mediterranean-style villa in Laurel Canyon, which she shares with her husband, two young daughters, and two dogs. Considering the depth of her knowledge, she's certainly come a long way in a short time.
It is not unusual for interior designers to launch their professional practices while crafting their own homes. Perhaps the most iconic example is William Morris, who famously developed his vision for the Arts & Crafts Movement—refining the modern world through the revival of craft—while furnishing his Red House in Sussex, England. As Romanek discussed her vision for her home, I was reminded of Morris's aim to bring art into everyday life. "My home," Romanek said, "is filled with soul," which lies at the heart of transforming a house into a home and is fueled by personal energy and narrative.
Romanek's home has quite a lot of narrative to draw on thanks to storied previous owners who imprinted the property with tales of intrigue, secret passageways, and garden follies. The Romaneks acquired the house from renowned music producer Rick Rubens, whose on-site music studio hosted such luminaries as The Red Hot Chili Peppers, among many others. Although the home required a great deal of rehab, Romanek was determined to save each and every historical detail. On her journey to turn a century-old house into a comfortable and safe residence for her family, she learned that one's connection to one's home continuously blossoms over time. By now, eight years later, Romanek feels that the space is entirely her own; her family's sanctuary of tranquility. She is determined to help others achieve the same with their homes.
Romanek's interiors are characterized by an unexpected mix of high and low, precious and accessible, vintage and new, but the results in sum are always highly livable. This formula defines Romanek's vision of what "home" means. She selects furniture and appointments that become a part of the family's identity, favoring pieces that feature extraordinary shapes, interesting details, inviting textures, and functional forms, all while offering great comfort and beauty.
Following last month's Architecture Digest feature, there's tremendous buzz around the interiors that Romanek created for Gwyneth Paltrow's house in Montecito, California, a newly built villa designed by Roman and Williams architecture firm. "Brigette's brilliance," Paltrow told me, "is rooted in her impeccable eye and warm spirit. She calls upon a wide range of styles and references to harmoniously breathe life into a space. I'm fortunate to work with her and call her a dear friend."
Paltrow's new home resulted from a close, collaborative process among friends, a client and a designer who share great admiration for each other's talent and taste. Like the DNA of Goop, Paltrow's wellness and lifestyle brand, the project was driven by a shared commitment to nurturing healthy minds, bodies, and souls as well as a sustainable environment, which informed all aspects of the home's interiors, including layouts, colors, and materials.
Having known Paltrow and her family—how they live day to day—was Romanek's point of departure. That house, she told us, is a "place to exhale," where "everything is serene and pleasing, harmonious and soft." The color palette includes celadons, grays, creams, and blushes to complement the California light that streams through the windows. The furniture program is particularly personal, a striking mix that was sourced through galleries, shops, markets, and artists' studios.
Romanek recognizes the important role that interior designers play as patrons of the arts, and she fully credits makers and the galleries for making curated-interiors possible. She describes furnishings in poetic terms, for instance calling Lindsay Adelman's bespoke lighting installation "jewelry" and describing the relationship between Charles Zana's sofa and Julian Mayor's mirror-like coffee table as "a connection between two people."
Romanek also takes her role as a curator of spaces very seriously and constantly looks for opportunities to explore and expand her horizons. To a question from the audience on how she selects pieces for her interiors, she answered that the process has evolved organically from lifelong learning—every day, every moment—which has given her the ability to critique. Becoming a critic adept at giving feedback and seeing things from an expert perspective, she has learned, is not easy, but it has paid off. Just look at her performance as a judge for Ellen's Next Great Designer series on HBO Max. Her fellow judge on the show, furniture designer Fernando Mastrangelo, agrees, telling me, "Brigette has been thrust into the spotlight because her talent is undeniable."
In celebrating International Women's Day, I asked Romanek—the only independent woman participating in this season's Interior Design: The Legends program—why, in her view, there are so few female designers at the top of the profession. For my part, I have in the past received criticisms on social media in response to the male-dominated rosters of my talks series dedicated to those widely deemed to be "design legends." According to Data USA, the percentage of women awarded interior design degrees within the five largest undergraduate programs in the country was 89.7 percent in 2016. The National Center for Education Statistics (NCES) puts the number of female graduates nationwide even higher, reporting 93.6 percent in 2018. So what happens after school? Does interior design have a gender problem?
Romanek said she doesn't know why such blatant biases persist in the world of interiors. Her professional approach is, she said, to "refuse to believe that there is anything I cannot do; refuse to be held back or held down." She follows her grandmother's fundamental advice about pursuing one's dreams: "the worst thing someone can do to you is to say no." At a time when our culture has grown more sensitive to the need for better, more inclusive representation in the arts, Romanek's strength and determination have made her a successful role model for BIPIC women—and all women. She stands shoulder-to-shoulder with the men of her field while also committing time to mentor and uplift the next generation of women.◆
This article was published this morning in Forum Magazine, by Design Miami. Photography: Brigette Romanek's home in the Laurel Canyon neighborhood of Los Angeles. Photo © Douglas Friedman.