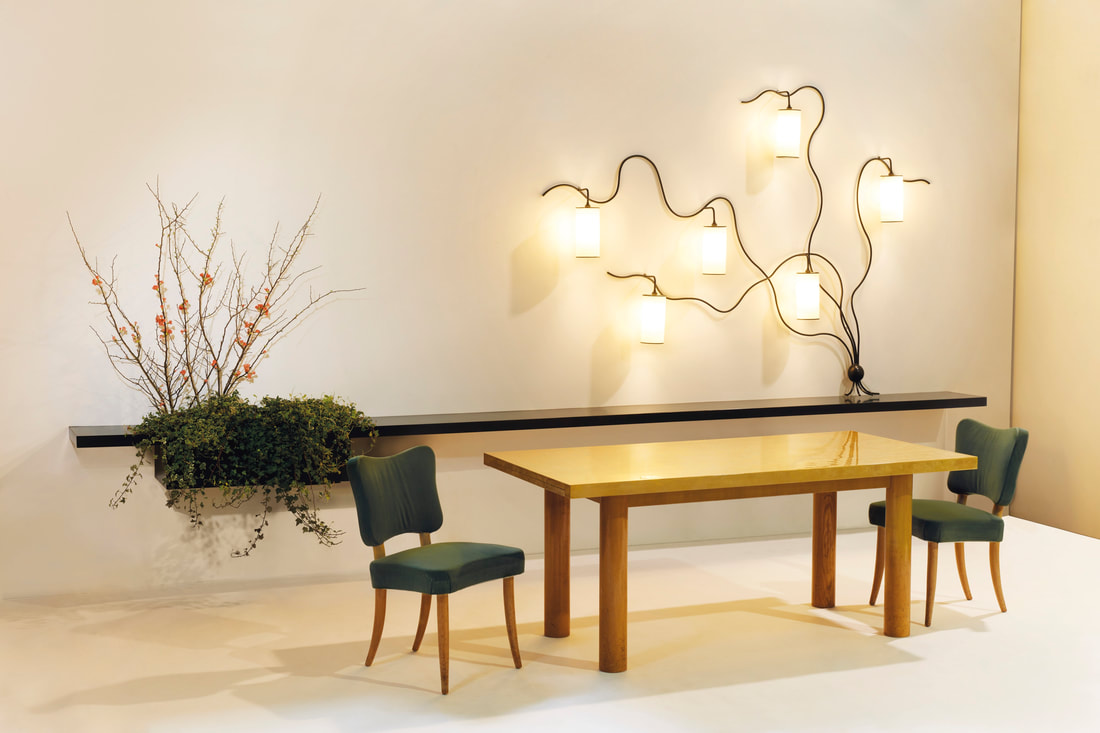 fORThe position of French decorator Jean Royère (1902-81) as the embodiment of the blue chip designer has long been cemented in the art market. Since the late 1990's, Royère was rediscovered and his organic, somewhat whimsical furniture and lighting have been sought after by art collectors, leading interior designers, and tastemakers across the globe, marked as the ultimate sophistication and refinement. In fact, Royère's Polar Bear sofas and chairs, made and sold in sets, often seen in magazines featuring homes of such celebrities as Ellen DeGeneres, Larry Gagosian, and Kanye West, have achieved a status of cult objects. Experts say that no more than 150 of these cozy sets were produced by Royère during the two decades following the end of WWII.
The fact that these objects have been circulated over and over in the marketplace, that most of the upholstered pieces have been reupholstered and condition far from their original state have not tarnished their values (auction record for a Polar Bear sofa: $754,000, for Polar Bear chairs: $995,000, for his star-dappled marquetry cabinet: $1.8 mm). This is not the case with a group of furniture by Royère, offered by Christie's in its upcoming sale in Paris (June 30th), because it comes directly from the original home in Neuilly-sur-Seine, a special commission which
Royère received at the peak of his career. All pieces, made nearly 50 years ago are in their original upholstery and condition, fresh to the market, making a unique moment in the world of collectible design.
Who was Jean
Royère
, one of the most successful decorators of his time, whose name has been ignored by those writing the history of modern design? He was as cosmopolitan and powerful in his day as his name appears today. Beginning his super successful and global career in the years before WWII, he established a shop in Paris and his furniture immediately attracted international clients. This had lead
Royère
to establish showrooms in Cairo, Beirut, and Tehran before expanding to South America, with shops and presence in both Lima and São Paulo. It was not until a benchmark exhibition of his work at the Musée des Arts Décoratifs in Paris in 1999, that his reputation had been restored and his pieces rediscovered by collectors.
When Royère received the commission represented at the current sale at Christie's, he was occupied with creating interiors for leading international hotels in the capitals of the Middle East; for elegant liners of the Compagnie Transatlantique; for the apartments for the Shah of Iran at the Sa'ad Abâd palace in Teheran; crafting interiors for such French celebrities as film director Jacques Tati and singer Henri Salvador. It was in 1962 and the apartment in Neuilly-sur-Seine signified his most mature and confident style. For this commission, he created a dining room, living room, and an entrance hall, demonstrating a signature mode, which was a mix of simple spaces with dramatic pieces. The completely bear walls and the narrow bevelled cornice at the floor, served as the backdrop for colorful, bold, artistic pieces. This interior demonstrates that in the postwar years, Royère developed the same language which is present in interior design today.
All images courtesy Christie's. For information, contact Flavien Gaillard, Head of Design, Christie's Paris –
fgaillard@christies.com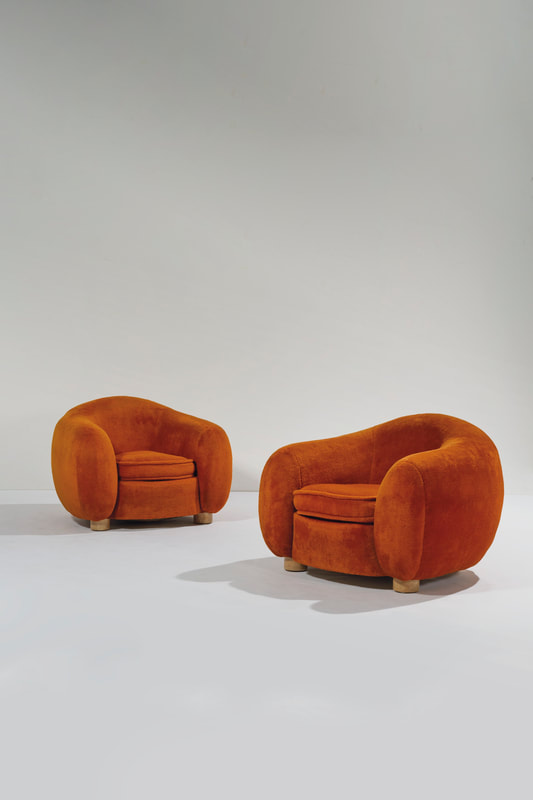 PAIR OF 'BOULE' ARMCHAIRS Upholstered wood Each : 70 x 93 x 94 cm / 27.1/2 x 36.5/8 x 37 in 300.000-500.000€
---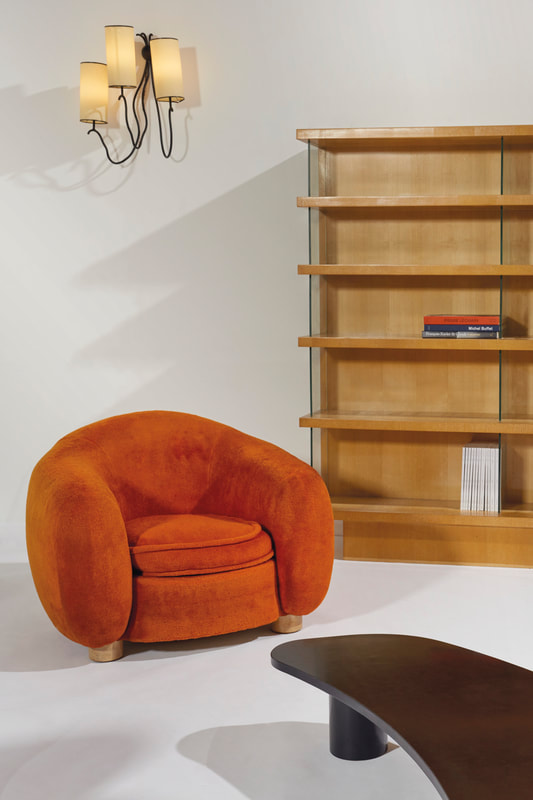 ---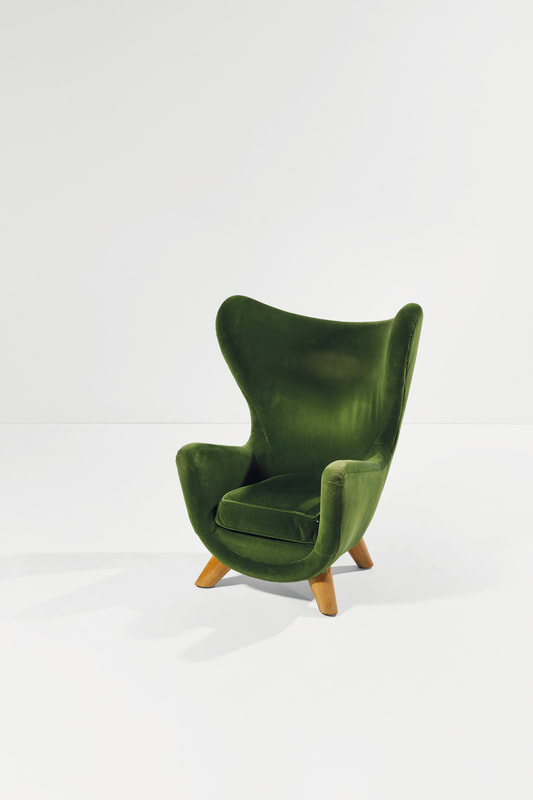 'ELEPHANTEAU' ARMCHAIRS Upholstered wood 108 x 86 x 86 cm / 42.1/2 x 33.7/8 x 33.7/8 in 80.000-100.000€
---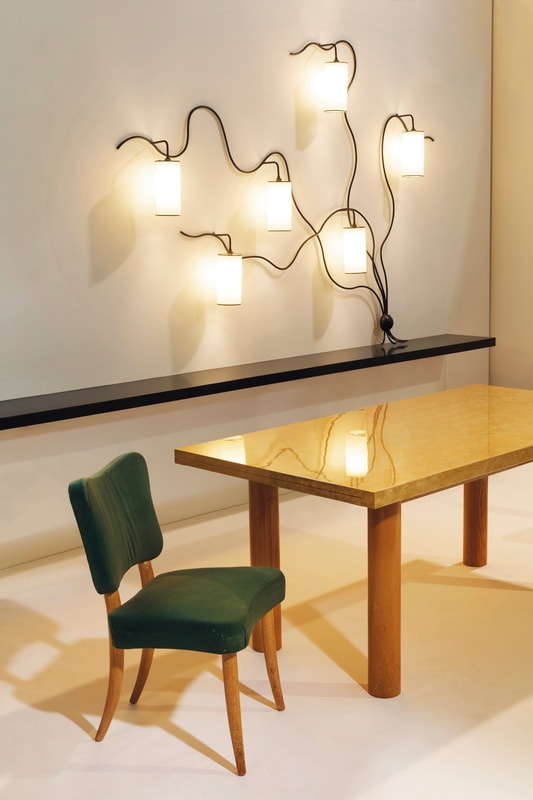 ---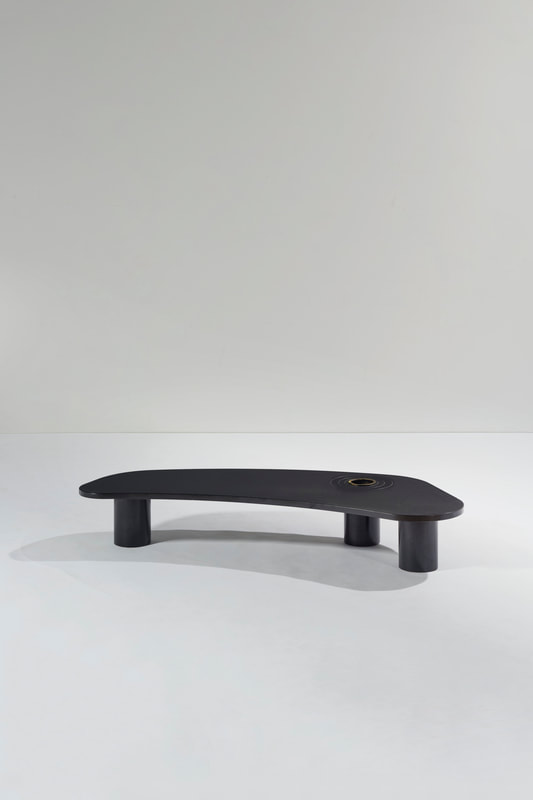 'FLAQUE' COFFEE TABLE Formica and zinc 25 x 152 x 55,5 cm / 9,7/8 x 59.7/8 x 21.7/8 in 150.000-200.000€
---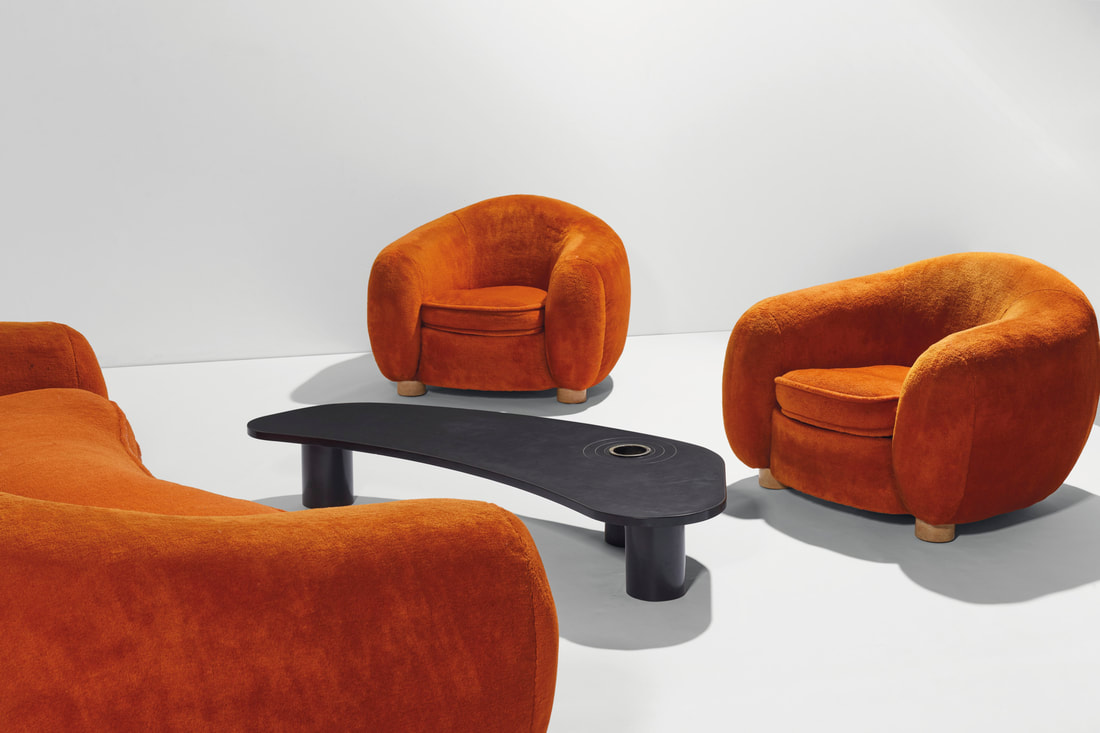 ---
---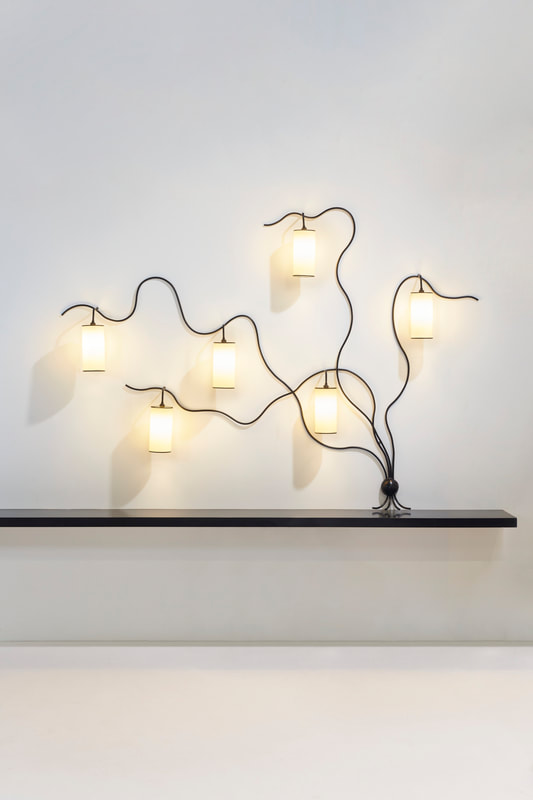 ​RARE 'LIANE' WALL LIGHT Painted metal 168 x 234 x 18 cm / 66.1/8 x 92.1/8 x 7.1/8 in 400.000-600.000€
---