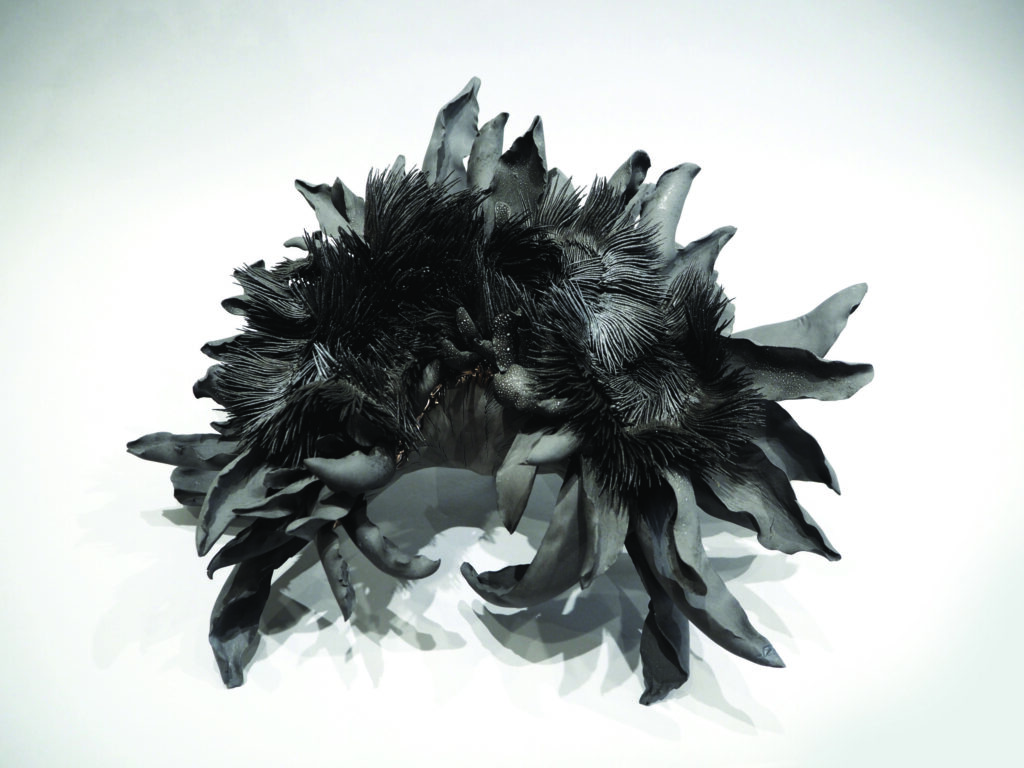 The newly-opened exhibition 'Hands and Earth' of Japanese modern and contemporary ceramics at the Georgia Museum of Art, comes to illustrate the story of Japan's clay art from the time of the mingei movement of the 1930s to the present day. This story began when clay was utilized to craft utilitarian and traditional everyday objects, but later evolved as a form of contemporary and radical art, and one which has come to represent Japanese identity in its most authentic way. The pieces on the show are all drawn from the collection of Carol and Jeffrey Horvitz, who appeared as a speaker last spring in the program Collecting Design. Here is what I wrote then on the Horvitzs' connoisseurship.
When you come to start a collection as a connoisseur, seeking to make it ambitious, refined, and the best of its kind, you can do it smart, structured, focused, and to quickly define a personal mission statement. This is what happened to Boston-based collector Jeffrey Horvitz, whom I have hosted this morning in the program Collecting Design with the Center for Architecture/AIA.
With a unique experience as an art dealer in his early days, and later, as a businessman, in building two top art collections, one of which is considered the world's finest collection of French Old Master drawings, Horvitz began a new chapter in his collecting career. In 2008, together with his wife Carol, he began what is known today as one of the world's most influential collections of Japanese contemporary clay art.
Don't think about the traditional Japanese pottery, the tableware, tea cups, and other daily, functional utensils you see in the markets across Japan. Because what is created at the forefront of the Japanese clay art studios today is a new form of contemporary art which couldn't be more different that what was created in Japan in any moment throughout the history of ceramics. This body of work in clay is created by artists who are also craftspeople, trained in the traditional Japanese education systems at university programs or professional ceramic schools; in the past two decades, they succeeded to transform clay and glazes into masterpieces of art. In fact, most of this work is not functional at all. Most of these artists are women who have come to dominate a field previously practiced exclusively by men.
When you love Japanese culture and aesthetic sensibility, there is probably no other medium that captures its allure and the social change in the Japanese society than ceramics. These works have been sought after by so many people who want to bring a piece of this story into their lives, into their homes. Japanese Clay Art, Horvitz said this morning, is the single most possible area to collect in the international marketplace. With pieces ranging from $5K to $25K, one can assemble a museum-quality collection of excellence and of the deepest connoisseurship for a small fraction of the cost of any other territory in the world of art. The Horvitzs credits Joan Mirviss, founder of New York's temple of modern Japanese ceramics (Joan B. Mirviss LTD) for helping them in shaping the taste, knowledge, and expertise required to assemble a collection on that level. Mirviss strives to advise and connect serious collectors, especially those who are intent on gifting to public collections, providing them the opportunity to meet with the artists, and to develop a sophisticated understanding of the field.​
Horvitz's collection has a strong public purpose as it is largely made available for public views through dozens of museum exhibitions, and gifts to public collections. The role of the American collector in advancing the new clay art movement in Japan is extensive, we learnt this morning. Yet, the story of Jeffrey Horvitz is first of all a story of passion, curiosity, the desire to excel and support, and the love for the magical Japan's culture.
More about the Horvitzs' collection, in book by Joan Mirviss The Allure of Japanese Contemporary Ceramics. It tells the story of building the market, of the American efforts in promoting Japanese clay art, of the relationship forged between artists and collectors and curators over the past two decades. Ultimately, it is her fascinating and inspiring 40-year journey into the world of Japan's most recognizable craft.
All images courtesy Georgia Museum of Art.