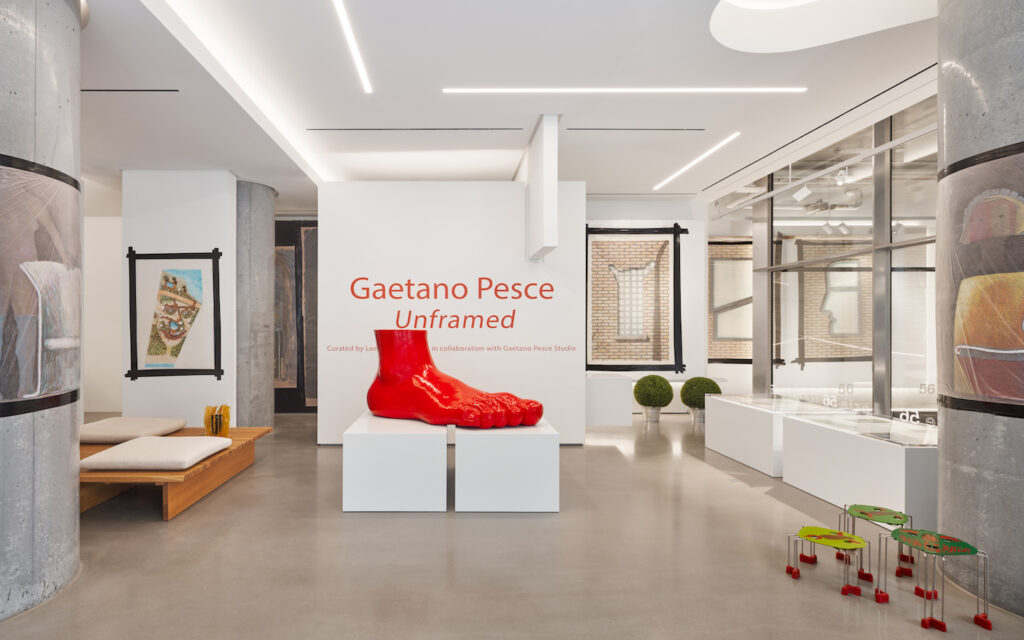 One of the most intriguing and exciting design events of 2022 was the opening of Lee F. Mindel's Galerie56 in TriBeCa. Mindel is an architect, curator, writer, and tastemaker who has created streamlined interiors and elegant architecture for decades with the SheltonMindel team, which have been consistently celebrated. There are few who understand design like Mindel, and his engagement with the galleries and auctions as well as the expertise he has developed in the world of objects has lent him the nickname of the 'Eye.' The new gallery— situated on the ground level of the Jenga Tower by Herzog & de Meuron—is Mindel's art playground where he has the opportunity to fully express his vision by curating special exhibitions, developing new ways for objects to be interpreted and lived with. He goes his own way, always striving for perfection and always looking to unearth new ideas in historical and contemporary materials. Mindel's current show, Gaetano Pesce Unframed, is the first to focus on the drawings by the multidisciplinary New York-based Italian architect, and it is a testimony to his signature style.
The exhibition is a celebration of Pesce's exquisite conceptual and personal approach, and the title 'Unframed' refers to the artist's preference for hanging his artwork unframed. The drawings, most of which are bordered with black tape and shown through sheets of clear plastic, are rare documents that reveal the process behind Pesce's architecture, sculptures, and objects, which we tend to only recognize in their completed state. At the core of every drawing—whether it is of a house, a landscape, an interior, or an object—is a humanoid, often manifested the silhouette of the artist's own portrait. You can clearly see the lips, feet, and eyes revealed in the drawings and objects; you find yourself seeking them out, as they are the common thread throughout the work on display. Pesce's drawings and objects are manifestations of his dreams. In the words of Mindel, the 83-year-old architect has a child's soul that is always present in his dreams and imagination. This is one of the reasons why his work appeals to the child in us and has never ceased to excite new followers and admirers generation after generation.
I particularly loved the small-scale colorful bookshelves and accompanied drawings, which have come to be associated with his oeuvre. Pesce is creating superb work in resin at his studio in Brooklyn's Navy Yard, but it is overshadowed by the other materials he is using. He brought it to perfection and, unlike the ordinary process of cast, he works with resin like a painter, reminding me of the way Louis Comfort Tiffany worked with colorful glass in the early years of the 20th century: pouring pigments while creating abstract compositions. Even if you know Pesce's work, you will be surprised by his tactile ability to express on paper his limitless imagination and spontaneous process of thinking—in other words, his genius. This exhibition celebrates the man who is largely considered one of the most important living designers today. Will open until May 8th.
Photos: Olympia Shannon for Galerie56.