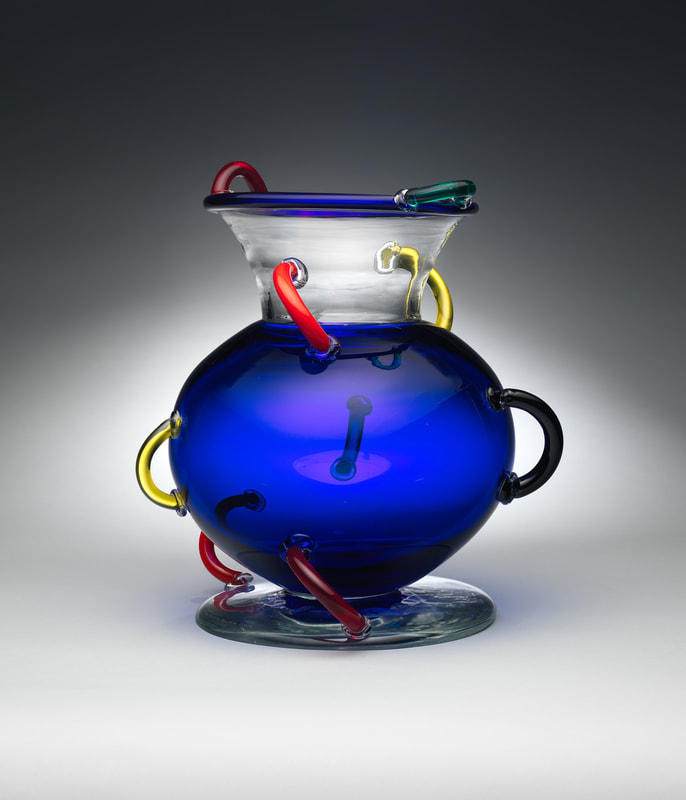 The name of Italian architect and designer Ettore Sottsass Jr. (1917–2007) is so inserted in the pantheon of modern design, that he is considered by many as one of the greatest figures in its history. His work is complex and intellectual, yet can be understood on various levels. One of the aspects that mostly fascinating me about his legacy, is the rich, complex, and diversified world that had come to inspire him throughout an exceptionally productive career that spanned over six decades. This very aspect is the focus of a new exhibition at The Met Breuer, 'Ettore Sottsass: Design Radical,' opening tomorrow.
While this enormous show, which takes place on the third floor of the Museum brings to light the wide scope of Sottsass' work, including architectural drawings, interiors, furniture, machines, ceramics, glass, jewelry, textiles and pattern, painting, and photography, it really comes to celebrate the global richness of his world. It shows how this design legend, who was born in Innsbruck, Austria and established his career in Milan in 1947, had conversed with the ancient, with the exotic, with India, and with the contemporary, by offering a juxtaposition of objects that portray those influences. His genius, his success was the product of his ability to freely move and reinvent himself, to shift over and over again, and particularly to rise beyond the powerful modernism, which his father, architect Ettore Sottsass Sr. was so passionate about. starting in the 1960s, he began turning his back to the aesthetics of functionalism, and invented a totally new formula that attained design with symbolism, emotional appeal, narrative, global and historical references. It is then that Sottsass became radical, innovative, and influential, securing a place in the history of design. His travels to the United States and India, his admiration for Bob Dylan whose song Stuck Inside of Mobile with the Memphis Blues Again inspired the name of the famed collective he founded in 1981, Memphis, his fascination with Pop culture and vernacular American diners of the 50s, and his respect for such artists and designers as Piet Mondrian, Jean Michel Frank, Gio Ponti, and Shiro Kuramata, all found their expression in his fascinating work.
The power of this show, which is the first at the Met for Associated Curator Christian Larsen, is that it opens the viewer to the complex and theoretical world of Sottsass, allowing an understanding of his work beyond the aesthetics, beyond the color and the texture. Because, after all, the aesthetic vocabulary is just one, and no always the most important, element in his work.
Above: "Mizar" Vase, 1982; the Metropolitan Museum of Art, Gift of Daniel Wolf, 2017.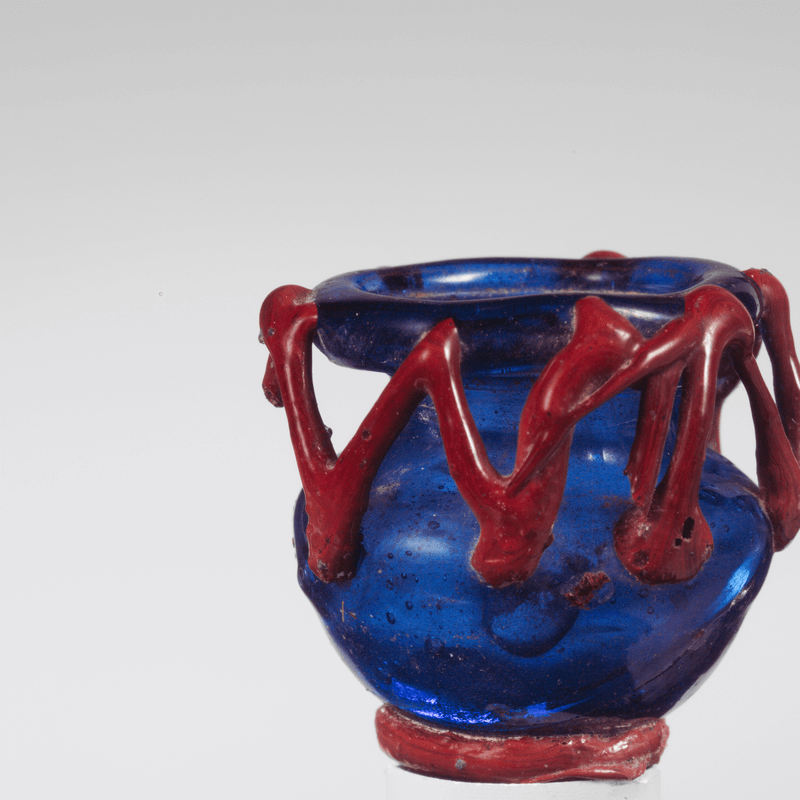 Glass miniature jar 4th–5th century A.D., Roman Glass 15/16 in. The Metropolitan Museum of Art, Gift of J. Pierpont Morgan, 1917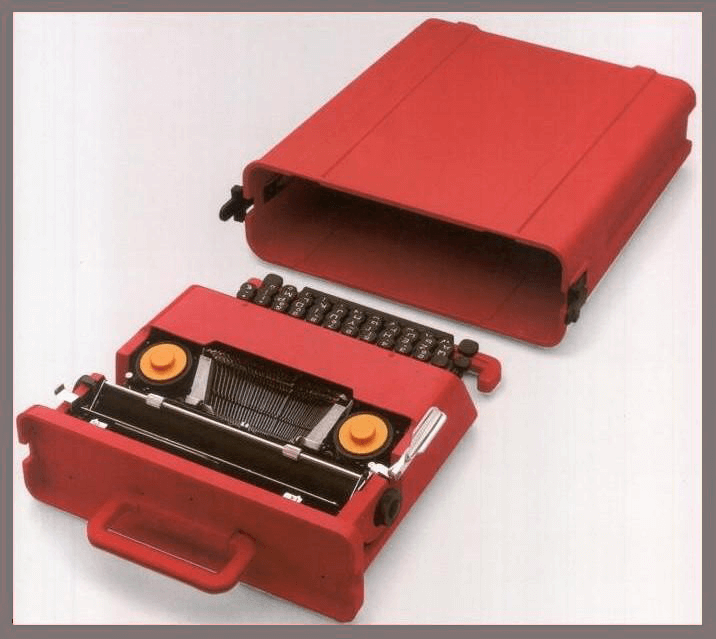 Ettore Sottsass (Italian, 1917-2007) Valentine Portable Typewriter 1968 ABS plastic and other materials 4 5/8 × 13 1/2 × 13 7/8 in. (11.7 × 34.3 × 35.2 cm) Associazione Archivio Storico Olivetti Courtesy of Associazione Archivio Storico Olivetti © Studio Ettore Sottsass Srl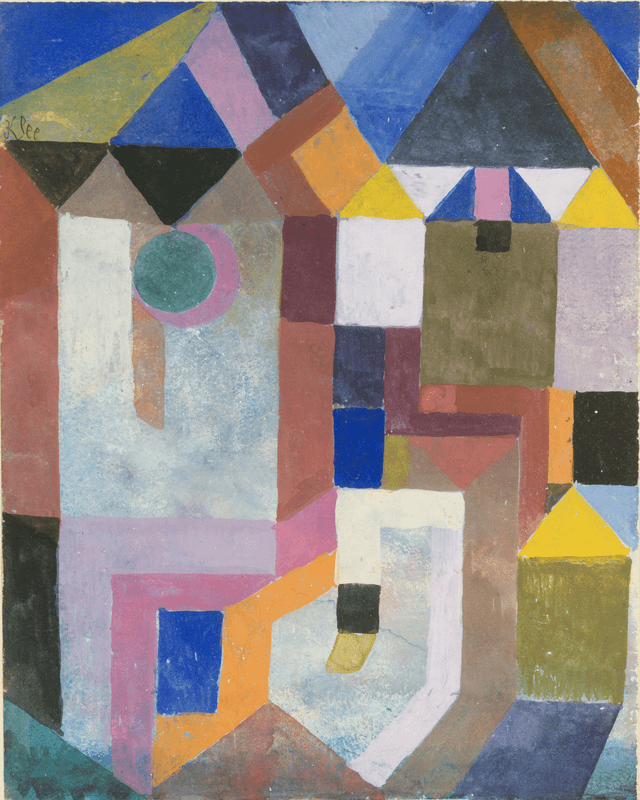 Paul Klee (German, 1879–1940) Colorful Architecture 1917 Gouache on paper mounted on cardboard The Metropolitan Museum of Art, The Berggruen Klee Collection, 1984 Courtesy The Metropolitan Museum of Art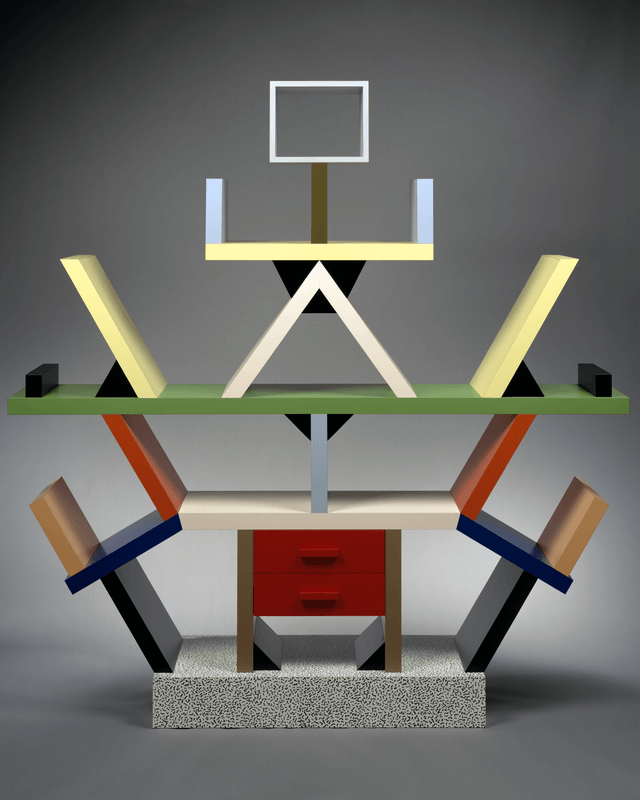 Ettore Sottsass (Italian, 1917–2007) "Carlton" Room Divider 1981 Wood, plastic laminate 76 3/4 x 74 3/4 x 15 3/4 in. (194.9 x 189.9 x 40 cm) The Metropolitan Museum of Art, John C. Waddell Collection, Gift of John C. Waddell, 1997 © Studio Ettore Sottsass Srl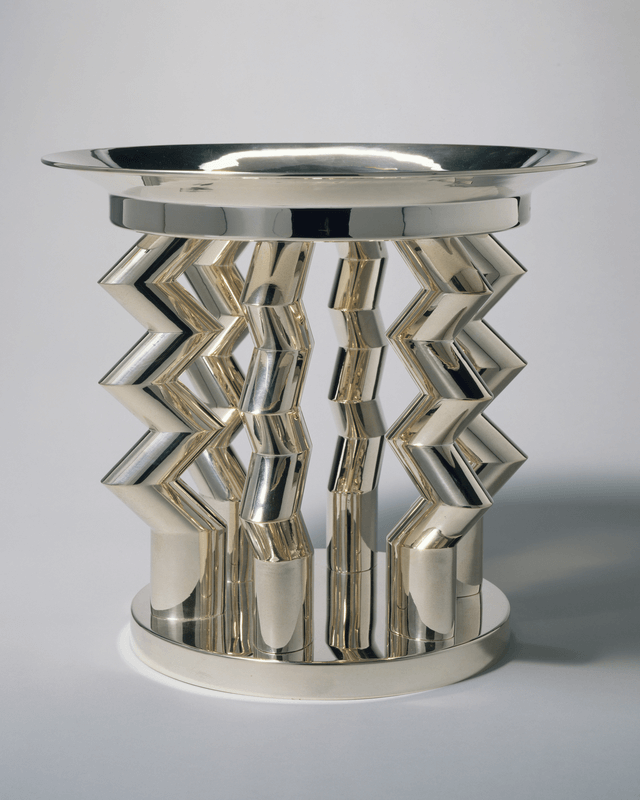 Ettore Sottsass (Italian, 1917-2007) "Murmansk" Fruit Dish 1982 Silver 12 x 13-7/8 in. The Metropolitan Museum of Art, Gift of Ronald S. Kane, 1992 © Studio Ettore Sottsass Srl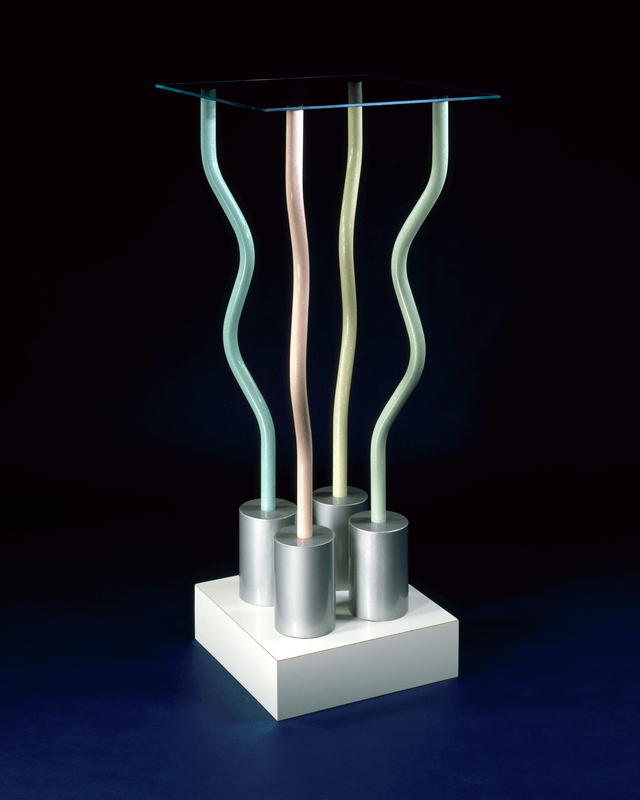 Ettore Sottsass (Italian, 1917-2007) "The Structures Tremble" 1979 Plastic laminate, composition board, painted steel, rubber, glass H. 46, W.19-3/4, D. 19-3/4 in. Table Base: H. 45-3/4 x W. 15-3/4 x D. 15 3/4 in Glass Top: H. 1/4 x W. 19-3/4 x D. 19-3/4 in. The Metropolitan Museum of Art, Purchase, Theodore R. Gamble Jr. Gift, in honor of his mother, Mrs. Theodore Robert Gamble, 1987 © Studio Ettore Sottsass Sr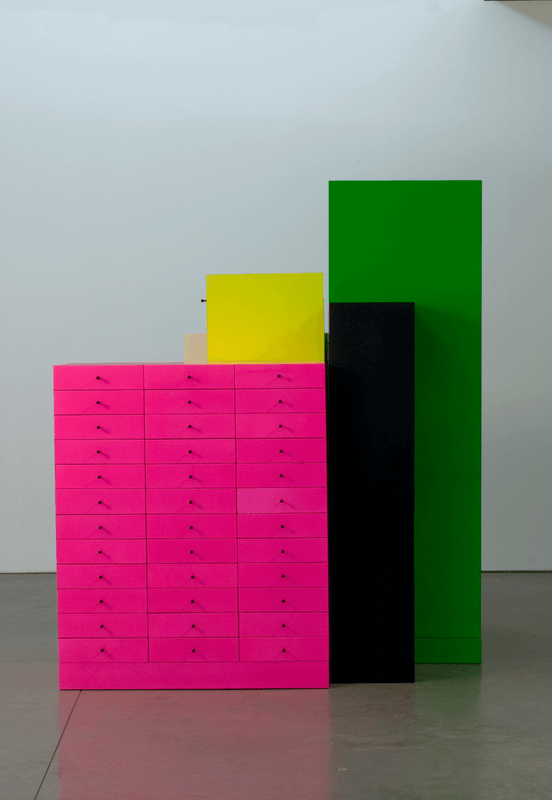 Ettore Sottsass (Italian, 1917-2007) Omaggio 3 2007 Corian and wood 75 × 64 1/4 × 59 1/4 in. Courtesy of The Gallery Mourmans © Studio Ettore Sottsass Srl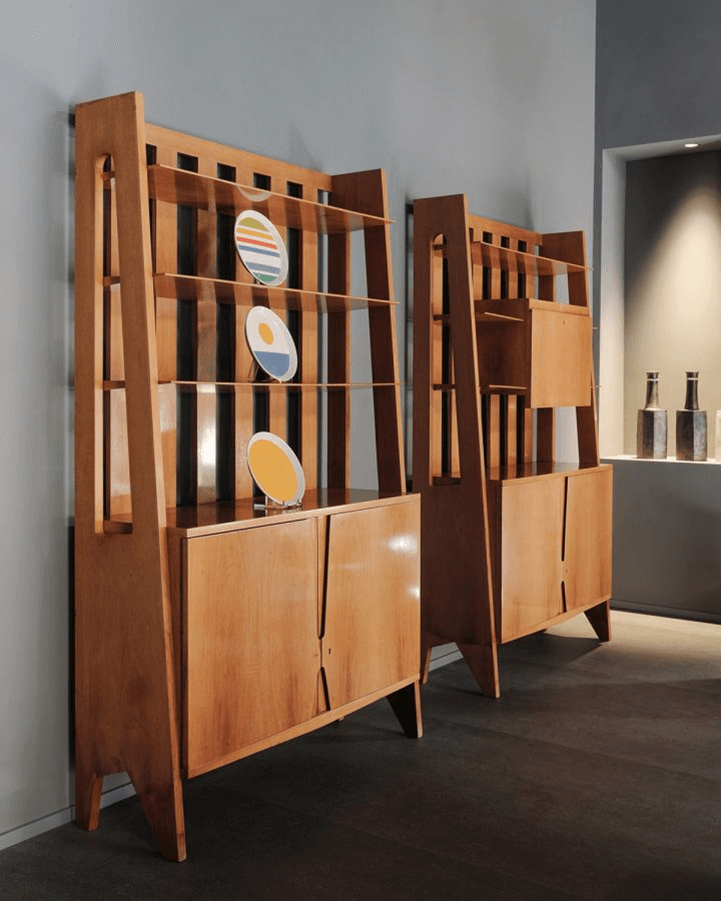 Oeuffice, founded 2011 Nicolas Bellavance-Lecompte (Canadian, born 1979) Jakub Zak (Polish-Canadian, born 1980) Tuskan Stool 2017 Rosa Perlino Marble, Red Alicante Marble, Red Porfido Stone 16 9/16 x 13 3/8 x 8 1/4 in. Carwan Gallery, Beirut © Oeuffice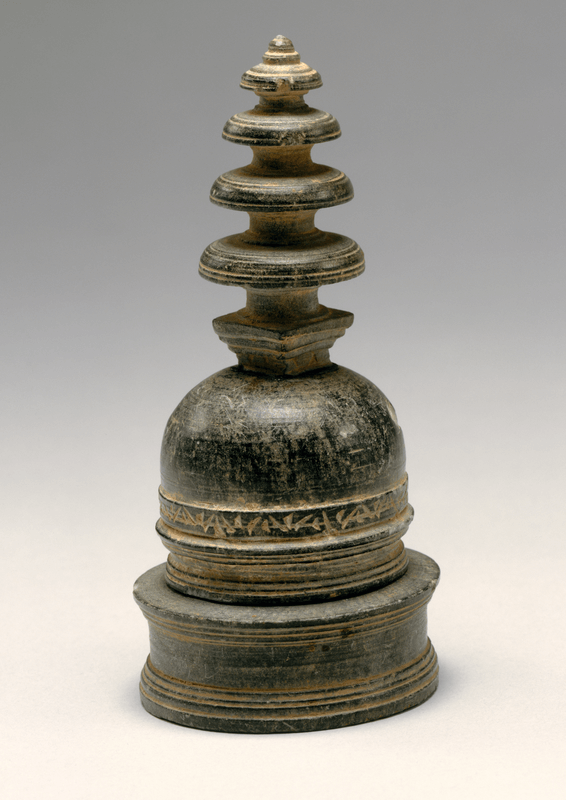 Reliquary in the Shape of a Stupa Pakistan (ancient region of Gandhara) ca. 1st–2nd century CE Schist H. 4 11/16 in. (11.9 cm) The Metropolitan Museum of Art, Samuel Eilenberg Collection, Gift of Samuel Eilenberg, 1987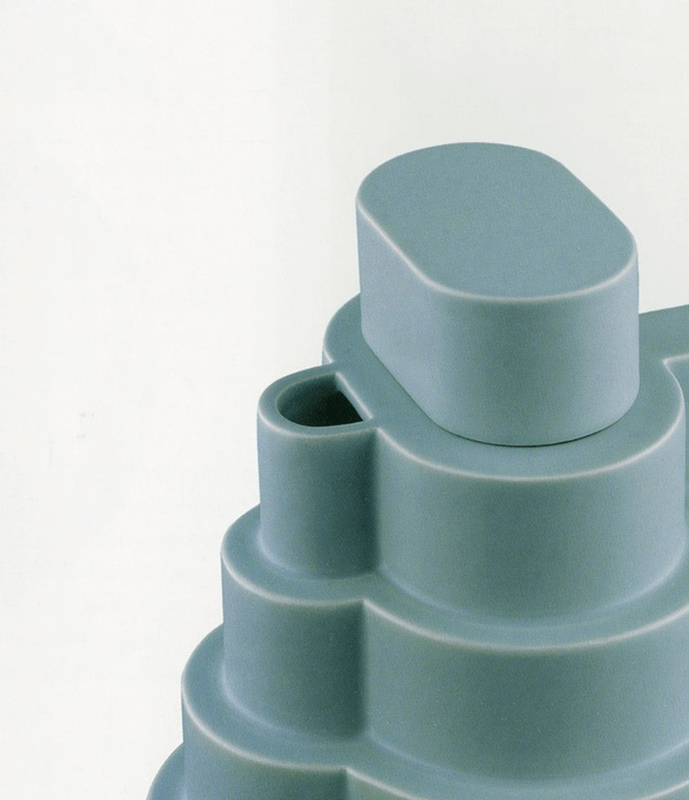 Ettore Sottsass (Italian, 1917-2007) Lapislazzuli 1968-1972 8 × 7 1/2 × 7 in. Private Collection, Holland © Studio Ettore Sottsass Srl