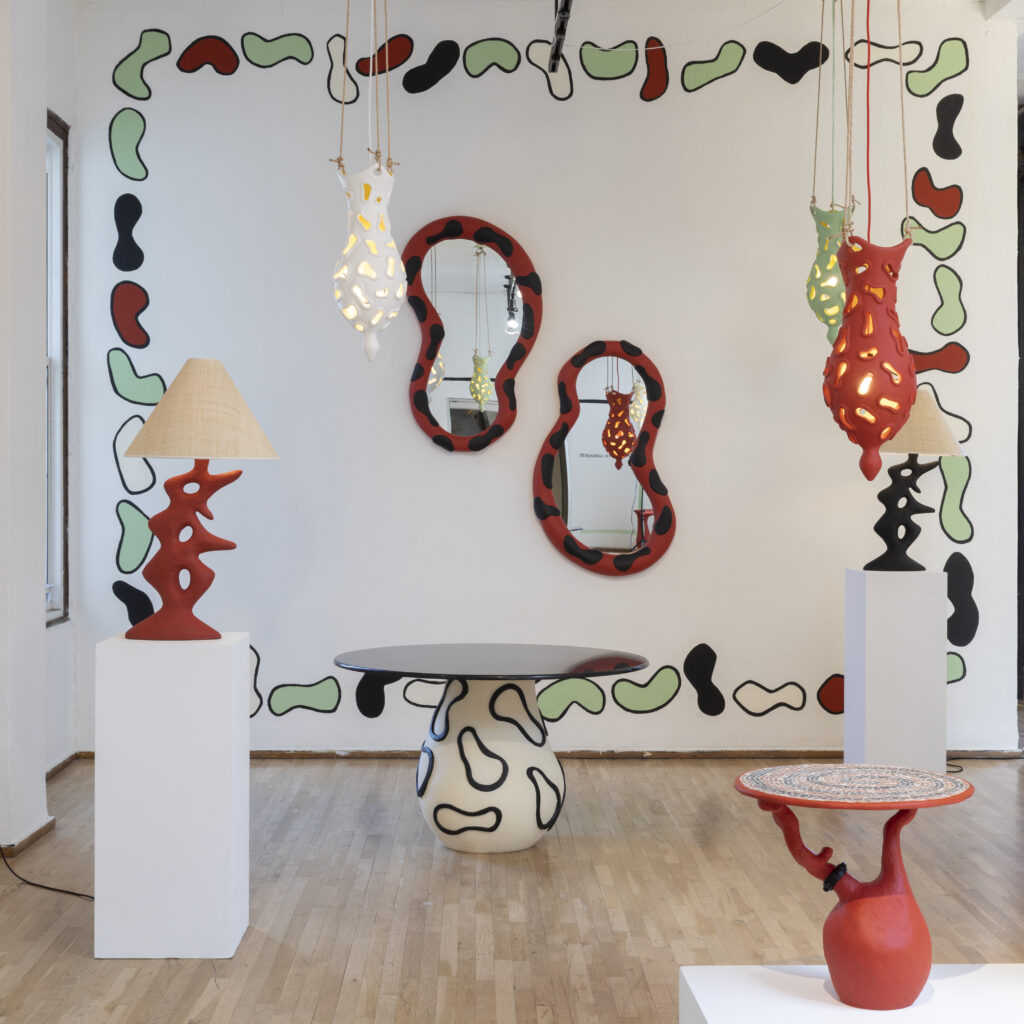 When I think of a plaster workshop, what comes to mind is the famed atelier of Alberto Giacometti located in Montparnasse, Paris, where the Swiss artist created his magical and iconic sculptures and lamps in plaster until his death in 1966. Plaster has since developed into many variations and incarnations beyond the basic white deposits of gypsum found in nature. These days at RALPH PUCCI Sculpture Studio in New York, craftspeople are working with a newly invented substance called 'Plasterglass,' which was gradually developed and perfected by the American designer and entrepreneur. For years he has been using plaster to create mannequins and later began to apply it to furniture. Pucci approached his new material with this extensive experience. The roster of artists includes some of the world's most prolific furniture designers who are now offered the rare opportunity to create furnishing collections in Plasterglass at his atelier—set at the back of the flagship showroom. I asked Pucci, "Why not pure plaster?" to which he then explained that the new material is more durable and resilient to everyday use of furniture.
Now for her new solo show, French designer Elizabeth Garouste introduces her Bean Collection, which she has crafted entirely of Plasterglass while residing at the RALPH PUCCI Sculpture Studio. In this series, she has demonstrated the expansive possibilities of the new material by forging forms and decorations of her fantasy world. Garouste's deep passion for materials has been the engine of her work for years and she has had an extensive experience with ceramics and bronze. Now after using Plasterglass for the first time, she has found it to be suitable for her contemporary interpretations of the history of decorative arts—her influence. This time it is the whimsical visage of antiquity and 18th-century embellishments. Each of the seven new pieces bears a name that points to its poetic identity: Priscilla chandelier, Priscilla sconce, Tom dining table, Leon table lamp, and Herman mirror. The mix of pigments into the Plasterglass has enabled her to achieve, in her words, "cheerfulness and joy," and to introduce the type of motion she admires in the oeuvre of Henti Matisse. The colour scheme is particularly attractive and unusual, capturing the joie de vivre of the interior space.
Garouste, who came to the world stage of furniture design in the 80s and 90s while partnering with Mattia Bonetti, had created avant-garde furniture in the era of Christian Lacroix, for whom the duo designed the interiors of his highly publicized showroom. Her initial role as a set designer in theatre productions has always had its trace in her furniture design and her passion for theatrical aesthetic. What I find most intriguing about the collection is the duality and tension between the whimsical, colourful, vibrant, dramatic, and the old-world allure that this collection promotes. It is enhanced by stones mosaic and suspensions reminiscent of antique oil lamps held by ropes, linking to past civilizations, or the chic lifestyle in South of France. Garouste has been represented by Pucci for the past decade, showcasing furniture in her own personal language; an extension of the identity she had forged in the 80s when she was a pioneer in the creation of functional sculptures. The New York exhibition will move to the new showroom, which PUCCI will open in Miami this fall.