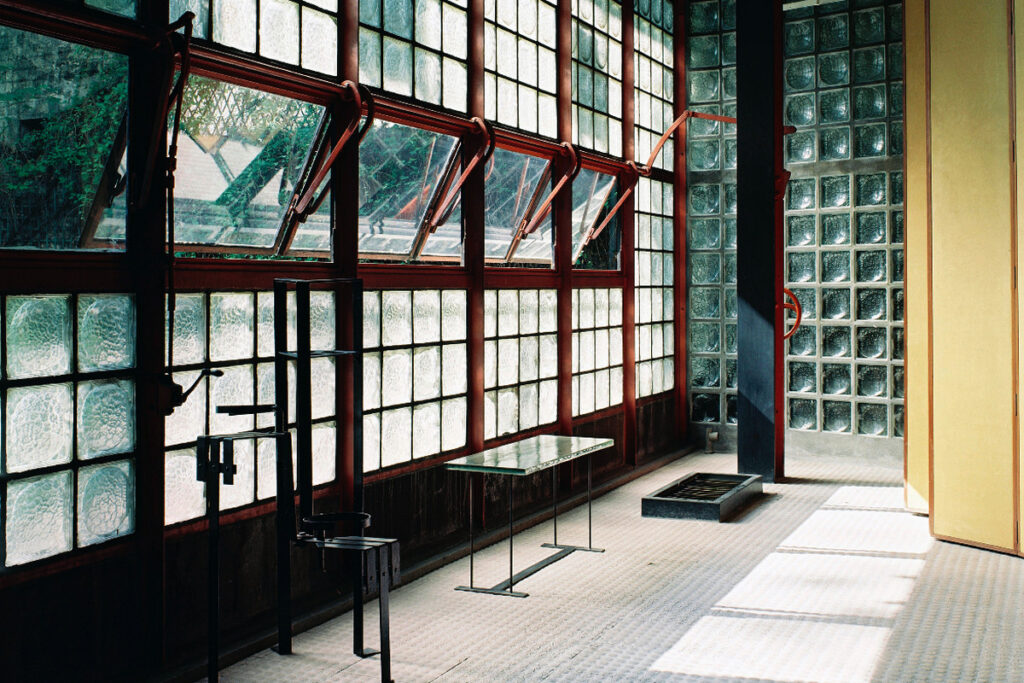 Their names are unknown to most people, but the Parisian architecture masterpiece which Dr. Jean Dalsace and his wife Annie called 'home,' has been largely considered a marvel of modern architecture. Since its completion in 1932, it has been known as a mythical, poetic machine, a cult building. He was a successful gynecologist and together with his wealthy wife, an active member in French Communist Party. The two were prominent patrons of modern art, and true fans of the French avant-garde, even before they commissioned Pierre Chareau to design their Maison de Verre. In October, Christie's Paris will hold a sale of their collection which will be the true highlight of the season. The sale will include works by Georges Braque, Giorgio de Chirico, Max Ernst, and Pablo Picasso, along with furniture by Chareau never seen before.
It was Dollie, Annie Bernheim's childhood tutor who introduced the two to her husband, Pierre Chareau (1883-1950) years before he completed the architectural icon. In 1918, the Dalsaces had him designing the interior of their apartment on boulevard Saint Germain, just around the corner from the future glass masterpiece on rue Saint-Guillaume. While they utilized Maison de Verre as a showcase of their progressive taste and intellectual curiosity — where they hosted concerts and an art salon, attend by the top talents of that era: André Breton, Max Ernst, Pablo Picasso – the apartment was the home of their extensive art collection. After all, most walls of Maison de Verre were made of glass blocks, and that monument to machine aesthetic was unfriendly place to hang art; it was an art sculpture in its own right. Even though this interior was Chareau's earliest commission, it fully captured his genius, as the later Maison de Verre was largely designed by Dutch architect Bernard Bijvoet, a partner in Chareau's.
Preserved in the Dalsace family from the outset, this corpus of around sixty pieces of furniture and furnishings offers a complete overview of his stylistic approach, his conception of the layout of space, and his highly architectural vision of furniture, conceived as an elegant, powerful and functional construction with a solid, pure line. The selection of armchairs, chairs, stools, desks – including the wood and metal desk; typist desk; tables such as the 'Mouchoir' game table; and three variations of the table MB106; pedestal tables; coat rack, and the amazing 'Masque – LP180' lamp. While a number of models have been published several times, the pieces from the Dalsace family collections have remained unattainable from the market until now.
Although Pierre Chareau was still largely unknown at the beginning of his career in 1918, he gained real critical, peer and public recognition very quickly, and in 1925 when Annie and Jean Dalsace asked him to design their future home, Maison de Verre, he was awarded the 'Bureau d'une Ambassade Française', an interior presented at the International Exhibition, and now part of the collections of the Musée National d'Art Moderne and on deposit at the MAD in Paris, before taking an active part in the foundation of the C.I.A.M. (Congrès Internationaux d'Architecture Moderne) in 1928, then joining the U.A.M. in 1929. I am looking forward to this historic event. The tragic end of Chareau is a story for another time. Photo above: Courtesy of The Jewish Museum.