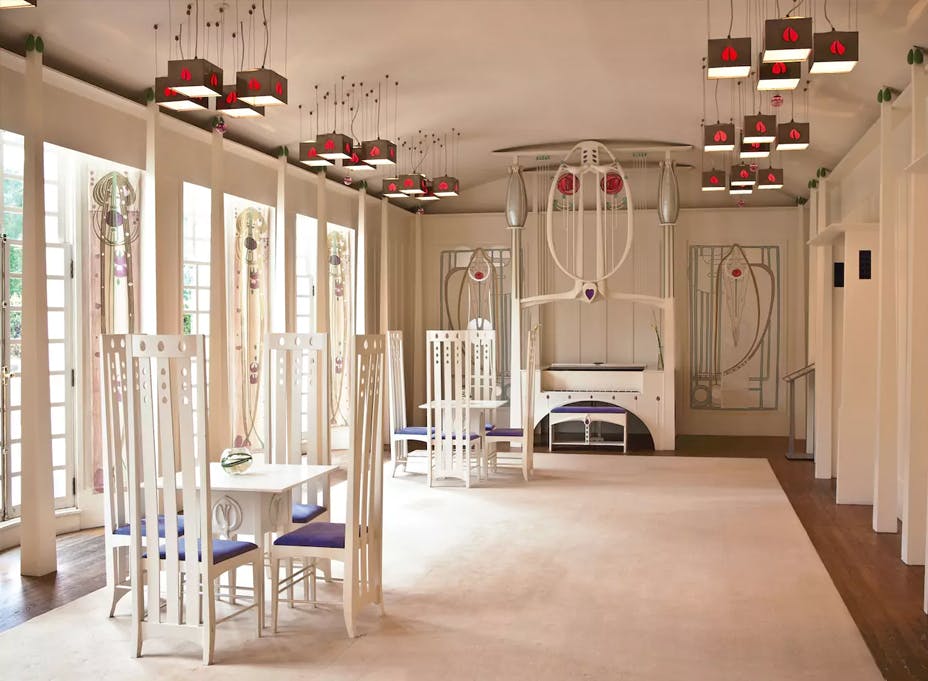 Born on June 7th, Scottish architect and designer Charles Rennie Mackintosh (1868–1928). Since his legacy was rediscovered in the 1990s, he has been hailed as the radical hero, who pioneered early modern design,bridging from the traditional values of the Arts and Crafts Movement, his contemporary, to plant the seeds of Modernism.
Mackintosh was a visionary, who formulated personal and sensual vocabulary, where he combined new, modern, and artistic visual in the spirit of the Art Nouveau Movement, with roots of Scottish traditions. He enjoyed a brief successful career, which he shared with his wife and partner Margaret MacDonald, and which concentrated in their hometown Glasgow, where they are praised as national icons. There, design pilgrims, who traveled to the industrial city, can witness his apartment and his ambitious Hill House, both open to the public, as well as a couple of reconstructed projects; his major building, the Glasgow School of Art was recently demolished by fire.
During his lifetime, Mackintosh's reputation was admired in Vienna, where he completed a few rooms in the home of tastemaker textile industrialist Friedrich Waerndorfer, who supported to the establishment of the Wiener Werkstätte, and who invited Mackintosh to participate in a local exhibition at the Secession in 1900. The striking black-and-white room which he presented there (below) was so sensational and modern that it became a fundamental influence for the proponents of modern design in Vienna, and particularly Josef Hoffmann.
Ultimately, like other brilliant designers of his generation, Louis Comfort Tiffany and Emile Galle, just to mention two, Mackintosh was not able to emerge from the design culture of the fin de siècle, where the ideal of the gesamskunstwerk had lead designers to execute entire projects to the smallest details. When the rest of the world moved to machine-age ideology, his career came to its end. In the last fifteen years of his life, Mackintosh worked as a watercolorist, received one commission in London, and moved to Port-Vendres in southern France. There, far from leading a lifestyle of a hero, he died of head cancer at 60 penniless and unknown.